Google, one of the biggest search engine has come up with a new innovation, a new mobile app named Tez. This app basically enables you to make payments simple and convenient for the users, any small or big either online or offline payment can be transferred easily in a secure manner. Tez is primarily made for Indian users with the best Unified Payments Interface standard. This attempt can be called the first major move to enter into the mobile payment sector in India. Tez is linked to almost all India banks, especially those who are supported by National Payments Corporation of India (NPCI). Moreover, Tez App is separately designed for business purpose. Here is a list of relevant things you should know about Google Tea:
Direct account transaction possible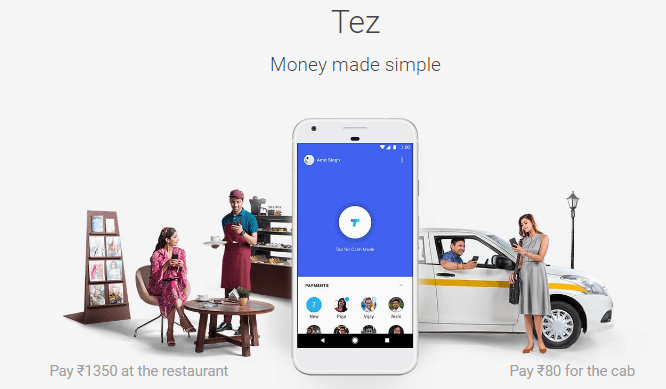 Tez sync with your bank account and one doesn't have to add a separate wallet. And this facility is valid for all UPI supported Indian banks.
Comfortable with large payments
You can easily afford to transfer a large amount of payment as well. Anyone who is the user of Tez App or any other UPI supported app can send and receive money by choosing a name from the contact list and UPI ID.
No security issues
A lot of layers are added in this system, firstly the bank ensures the process is strictly followed, then UPI and Google proceed with the designated action. Tea shies is capable enough to track any fraud, hacking and emphasizes on cross-checking your identity. All the transactions are secured with UPI PIN and Google finger point or PIN makes the app secure.
Active cash mode facility
A cash amount can be transferred to anyone nearby without filing in personal details such as phone numbers or the particular transaction.
Supports regional languages
All leading banks of India are supporting this attempt. The language support system for customers has made handling easy for the customers from different banks of different regions. Languages like English, Hindi, Bengali, Gujarati, Marathi. Tamil, Telugu and more are supported by Tea provided h user has an active bank account in any Indian bank synced with Indian phone number.
Special offers
Tez likes to surprise its customers with Scratch cards and gives them a chance to win cash price of say 1000 INR, (if the user is eligible) Also, a weekly transaction will automatically will  put you in Tez's Lucky Sundays contest, where you are listed as the eligible candidate to win 1lakh INR if your trisections are more than 50 INR.
Convenient for small shops
For quick and easy payments, cash mode option will pay the amount instantly without sharing any of your details.
Additional charges
Up to the transaction of 50k per month, there is no charge for sending and receiving money but after that as per Google, banks might charge an additional fee.
Keeps History intact
All your previous transactions are kept safe in the history tab, where they are listed in a defined hierarchy.
Compatible with both iOS and Android
Tez app has not restricted its services to a particular mobile device. Plus, Google ensures to update the app within few weeks on regular basis.