Backlinking is not going to fade away anytime soon. The link building strategies you choose leads the traffic to the website. To understand the essential factors and methods in order to create high-quality backlinks, you should know about the statistics that goes behind building quality backlinks.

In order to support a website's authority and traffic, the first SEO strategy is to build 'backlinks'. Link Building is the most effective and strong tool to make all other SEO techniques work. An SEO strategist's foremost concern is how to get quality backlinks for a website, which can help in improving website rank on Google. Google considers such websites trustworthy and identifies them easily through backlinks that pushes the website ranking among others.
What are Backlinks?
In simple words, backlinks are a type of link or URL, which you get from other websites. When another web page is linked to yours is called backlinking. Backlinking is also known as 'inbound link', these links determine the reliability, popularity, and ranking on Google or any other search engine.
Please do not confuse 'outbound linking' with 'backlinking'. Outbound links are outgoing links from your page, which is exactly opposite to 'inbound links'.
(See also: How to Write SEO-Friendly Content?)
Why are backlinks essential?
• Determines the page rank on Google
• Linking creates the web
• Leads traffic to good content
• Backlinks boost trust and power to the web page
• Without backlinks, a website is unidentifiable as per Google
• Backlinks allow Google to discover any website
Search Quality Senior Strategist at Google, Andrey Lipattsev quoted," I can tell you what they are. It is content. And its links pointing to your site."
This is a confirmation from Google itself that backlinks are important to identify a website and ranking is dependent on those links.
(See also: Local SEO: Top 10 Things That You Should Know)
Types of Backlinks
• Do-follow: Those links that allow link juice or authority to your website
• No-follow: Links that do not let the link juice go to your website. These links are non-beneficial links, placed only as users' resource.
The ratio of these two types is a bit tricky to conclude but both backlinks are required to make a website popular on the search engine. So, to solve the ratio problem, it is recommended to go with the natural requirement of the content. But most of the SEO specialists ideally go with 50:50 ratio of do-follow and no-follow backlinks as it safe to go with, irrespective of the website/business.
Points to consider while link Building:
1. Domain Authority (DA)
DA defines the authority of domain on the web, and this factor was introduced by Moz. The evaluation of DA score depends on various factors such as the quality of the content, links, keywords, and number of mentions, which furthermore helps in ranking. Usually, if a website has a DA more than 30, it is considered to be a trusted source on the internet.
2. Spam Score
Spam score is another ranking factor by Moz that indicated chances of Google penalty if any. In case, a website has spam score > 2, avoid links from such source.
3. TF and CF (Trust Flow and Citation Flow)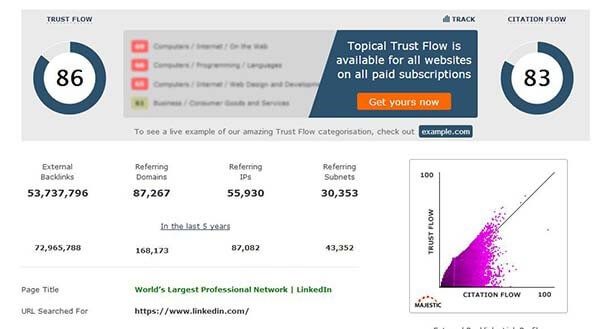 Majestic SEO introduced these two factors, which indicate the influence of a website. Trust flow is determined by the quality of the links, while citation flow is decided by the quantity of the links.
4. Age of Domain
Domain age is the time duration of a website since its establishment on the web. A website for more than two years old is eligible for link building.
5. Traffic
Websites with at least 1000 visitors per day are considered eligible link building sites. The traffic can be estimated by using Similar Web.
How to create high-quality backlinks?
To get high ranking on search engine, a website needs to do backlinking but to have high-quality backlinks is equally important. Otherwise, attaining high DA, trust, and popularity is a tough game. Conventionally, domain names with .edu or .org are quality connections, hence are potential enough to provide a high-quality backlink.
(See also: How you can use Tumblr for Social Media Marketing and SEO)
With high rank and domain authority, a website's backlink can be considered high-quality. To know the right methods, you should go through the following points, they will help you to know how to build backlinks for a new website:
1. Design Infographics
Infographics are one of the effective ways to help a website ranked higher on search engines. They are a trusted method to create quality links from high DA websites. The content of infographics has to be rich and based on trending topics, in order to get quality link building. Make sure you submit them to local directories, find quality submission sites for infographics.
2. Stealing links
Before working on backlinks, it is suggested to analyze competitors' keywords and niche. Learn to differentiate between primary keywords and secondary keywords. For instance, a website selling gym equipment will use 'gym equipment' as the primary keyword and other supportive keywords like 'Best Gym equipment' to create backlinks.
There are tools to find competitor websites on Google, namely, Ahref, Moz, Semrush and Kwfinder. It is recommended to install SEO quake plugin to get better results.
3. Guest posting
This is one of the traditional methods for link building, Guest Posting can increase authority, ranking, and traffic of a website. You can find a free website that accepts guest posts, few websites also charge for the same. Implementing this method enhances the confidence of a writer and improves content quality, as guest posts are ruled by some guidelines. So many free websites can be found on Google for free guest posting.
4. Become a part of interviews
When your brand earns popularity, it is easier to conduct online interviews. This enables your website to get quality backlinks from the interviewer as the blog/website becomes valuable in every way. You don't have to buy backlinks, rather you should search for websites that accept online interviews. Simply type – 'interview' + 'your niche/industry' in the search bar of Google and find a suitable list of websites.
5. Internal Linking
To get your articles/blog linked to the website, it an easy and effective method to produce high-quality backlinks. This activity also leads to a high ranking of the source. In this way, you can create possibilities of link building by depending on your own blogs, without asking from outsiders for help or support. Internal linking can improve the website's ranking and authority if the content quality is good.
The formula to find the right guest post opportunities:
• Check the domain authority, it should be above 30
• Check whether the website has Alexa rank of 500000 or less
• Website on which you want to post should be relevant to yours
• Ensure that the website has less than 20 spam score
If all the above criteria are fulfilled, such website is a good for guest posting opportunity.
How to find Guest posts online?
You can use the following keywords to search for such websites:
Keyword intitle:"contribute to"
keyword intitle:"write for me"
keyword intitle:"write for us"
Keyword intitle:"submit" + inurl:blog
Keyword "submit a guest post"
Keyword inurl:/guest-post/
All these commands can help you find the resources on Google.