What could be the easiest way to make money online today? Yes, YouTube is one of the easiest ways for most of us to earn a decent amount of income. But, how much would you be paid for a video? Does every Youtuber earn equally? or is it a game of channel's popularity. How much will you earn for every 1000 views on your YouTube video? Well, there are few facts that will certainly be an eye-opener for most of you trying to earn using YouTube. Let us have an insight into all the ways you can earn from YouTube and how much you'll be earning per 1000 views.
How much does Youtube pay per 1000 Views explained
Usually earning from ads varies from region to region. You can earn around 2x more if you get views or clicks on your ads from the US as compared to India. You can earn up to $.80 (Rs. 50) per 1000 views on an average if you are placing banner ads on your video. But if you are choosing Roll out Ads, you can earn up to 5x times than banner ads.
What are Roll out Ads?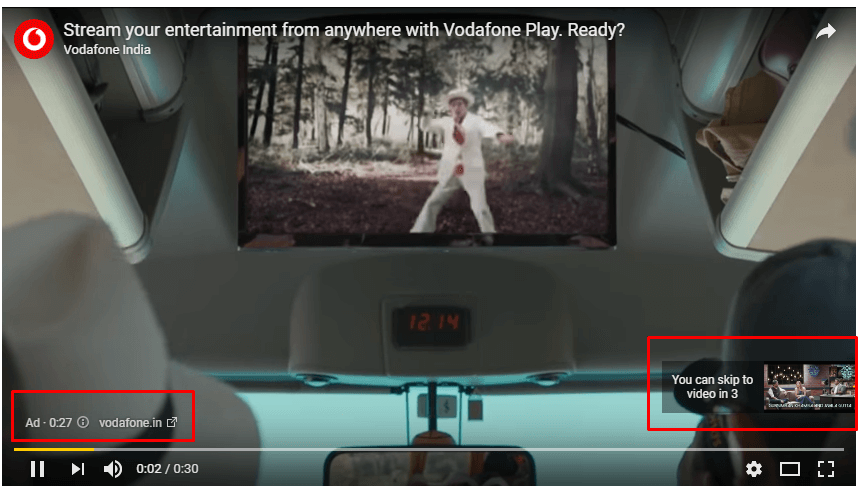 These are the commercials which start even before the actual video starts and can be skipped after watching it for few seconds. Because of this nature, Roll out ads are annoying to the users. But Roll out ads generate more revenue than banner ads which are less annoying.
How can you earn money on YouTube?
Here are the legitimate methods or tips to earn on YouTube.
1) Advertising: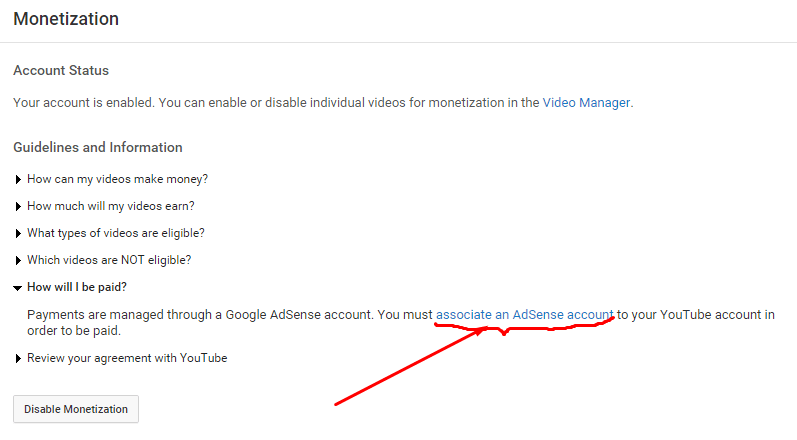 On an average, most of us must have seen ads on our favorite YouTube channel's videos. It is one of the ways most of the Youtube channel owner earn from Youtube. They monetize their youtube videos for showing advertisement at the starting of a video. They also connect their YouTube channel with Google AdSense application to monitor all the activities or how well their channel has been doing lately.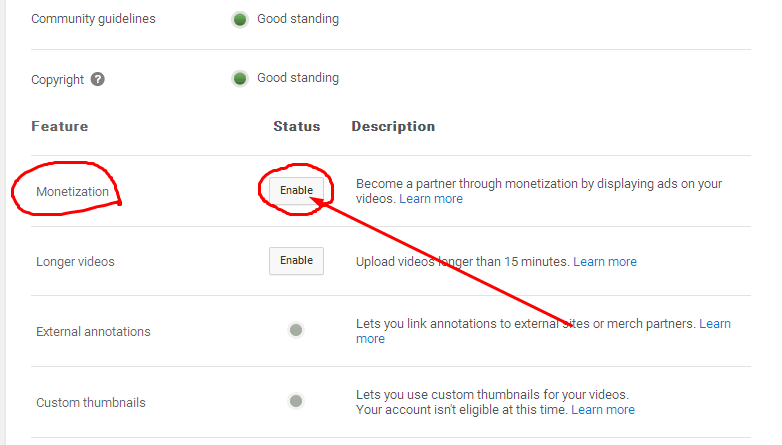 a) Monetize: Monetize option is facilitated for every YouTube channel.To enable monetization option, follow the steps
1) On the navigation menu, click on channel
2) Click on enable in front of monetization
3) Agree to terms and conditions
b) AdSense: After monetization is completed, you can associate it with your Adsense account. If you don't have an Adsense account, you can signup and wait for its verification.
2) Affiliate Marketing:
Marketing companies who make thick profits aren't entirely dependent on their own. They need a medium through which they can attract more customers. Most of the times these companies have a limited time and instead of marketing it by themselves, they outsource it to bloggers and YouTubers.
You can make money from YouTube if your channel has a lot of fan following and viewers. Marketing companies only affiliate with popular channels.
3) Paid videos:
The Paid video has been a new strategy for YouTube earning. Most of the latest movies or popular animated series are available on the YouTube in the form of paid videos. A viewer can pay directly to a YouTuber for seeing the content. Generally, a video which has a lot of valuable content and is indeed a need for most of the audience fall under paid video criteria. If you think you can add really good content that has a lot of value for your viewers. then earning on YouTube can be a piece of cake for you.
(See also: Why You Should Buy YouTube Likes?)
4) Donations:
If you are a humble YouTuber who provides a lot of valuable content for free, then you can ask for the donation. This is another easy but humble way to earn on youtube. You can add a link to patron or PayPal account in the video description which will directly take the viewer towards payment option. You can also add your PayTm number to make a direct hassle free transaction for your viewers.
This was few of the valuable tips to earn from youtube but still, a lot of myths have to be busted.
Ugly facts about earning per 1000 views on YouTube
1) Advertisements:
Though monetizing your YouTube videos will show various advertisement but still, it is not a reliable way to earn from Youtube.Advertisement rate varies from region to region. If you are a Youtuber from U.S then you'll have a lot of chances to earn more than an Asian YouTuber.
The advertisement rate in U.S will be generally high when compared to other countries. If an advertisement in U.S pays $0.5 dollars then in the country like India, it will only be $0.2 per view.
(See also: Buy Youtube Views)
2) Skippable and non-skippable ads:
Ads on a YouTube either appear in the form of skippable or non-skippable. If ads appear in form of skippable then you won't make money from YouTube unless the ad is completely viewed. The payment will be done for a complete view of an ad only.
Mobile users more often see ads on the video than a desktop user because desktop user uses browser extensions like ad blocker which will prevent to show an ad in the video. Same couldn't be expected but mobile users are much likely to click on skip option of an ad which will sabotage or shatter your Earn on YouTube dream.
3) Impartial Monetization:
This will really shatter your Earning on YouTube dream. Not every viewer will be able to see an ad on your video. In fact, there is a lot of impartial monetization done on your channel. Only 40% of the YouTube viewers will be able to see an ad on your video while rest won't see it. This will affect your earnings to a greater extent but these guidelines are set by Google which could be available in terms and conditions of monetization option.
4) Google commission:
If you have a lot of views on your video, it really won't affect how you can earn on youtube. About 65% of the ad commission goes into Google's treasure while the rest will be yours. Even if you have a highest grossing or trending Youtube channel, you won't make much money from it.
5) Affiliate marketing:
Marketing companies over the years have been playing an ugly game of views. They set a standard price for every 1000 views on the video and this could also vary depending on the channel's popularity. If you have a popular YouTube channel then you will make a good living. Sometimes, YouTubers bow down to these marketing agencies and negotiate for the rates also.
Hope, you got a complete insight into "How much you earn for every 1000 views on YouTube". This will raise a lot of questions in your mind for starting a Youtube channel but it is good for promoting your personal business. Though, today we really can't consider Youtube a reliable source of income.