10 Tips for Successful Twitter Marketing
Twitter, one of the most popular social platforms across the globe with 230 million monthly active users, delivering 500 million tweets per day. Though it cannot be considered a single platform to have such huge user base as Facebook has three times more users. Unlike Facebook, twitter allows your tweets to reach all of your followers. No chance of declining organic reach, no Edgerank, it reaches all irrespective of any term or condition.
Also, according to the studies, 72% of the users make their purchasing decisions based on the small businesses they follow on the network. Here are some tips to market your business on Twitter whether small or big:
Understand your industry and competitors
To stand out in the market, one must know about the current conditions and trending topics of the industry in order to strive in the same race for success. The more relevant you are as per the trends people are searching for or participating in, the more attention you can expect from them.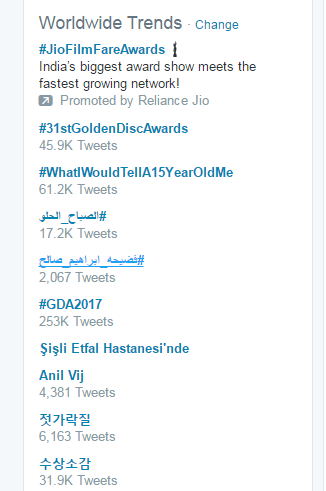 Add blog posts to your tweets
While posting a blog, the first thing you should do as a marketer is to disseminate it through different channels, so that it gets more visibility on all social media networks. But the most effective of all is still Twitter, due to its vast reach and accessible functioning.
Support original content
Unique content and original ideas is something you should always remain open towards. Whether it's coming from a small entity or big one, you got to pay attention and encourage them all. There are many discussion forums where you will find so many valuable links and URLs for those who are looking for original content.
Make a list of relevant points to be shared

As a marketer, stay focused upon the topics that you think will keep the followers engaged plus it should depict the business proposal you target to promote on the network. For example, products/services range, achievements, upcoming arrivals, discounts, benefits, USP, customers' experience. It's all about giving them they want to know and simultaneously luring them to know more about your business.
Give answers to the queries
Anytime a query is blown over you just take it like a hot ball and revert immediately, is the golden rule to retain your followers. As social platforms are meant to engage and interact, therefore, when you ignore the questions knowingly or unknowingly, it leaves the follower unsatisfied and unworthy, which is something not on your to-do-list.
Do not delay your responses
Time factor plays a major part on social networks as well, a few minutes delay is excusable but not of days. For example, in case a customer complains publicly against your service or product, you got to apologize and take a replaceable action immediately.
Utilize the charm of influencers
Few influencers of your industry on the network should be among the ones you follow that too keenly. You should not miss out any 'breaking new' moment, plus their daily updates must be shared by you once in a while. Give them space and importance on your timeline, you shall see a big ratio of their fans and followers coming in.
Give rewards to your followers
To respond them is good, to respond them with immediately is better, and to respond them with rewards is best. So go with the last one, it will grow your list of followers automatically. There are two types of rewards; first is when you declare a reward for a contest and second is when you do it on a random basis.
Add twitter button to the website
Website have so many information listed on your homepage already, now you also have to put an icon of few social networks like Twitter, This shows the visitors that you are very much there and have a serious outlook towards doing the business.
Come up with special offers
Give a push to your existing offers by adding some discount offers to them. Like, a special offer for those who would participate in so and so contest, or special coupons for those who would answer this question within 10 minutes.
Bonus tip: Stay cool, calm and honest
Don't be too desperate for attention, stay in your own skin. Without being too vocal about it, simply put your ideas across and wait for the right time to react on it. Don't go out of the way to grab eye balls.