Subscription boxes don't just act as containers of your products. They hold your brand name and identity. This is why it is very important for you to have an attractive and distinct subscription box. Think about it this way: the moment subscribers look at your subscription box, he or she must be able to remember your brand name and the little details around the box. In short, your box must be unforgettable. It should have a great and lasting first impression on clients. They should feel like they are about to uncover a big surprise as they open the subscription box. The appearance of your subscription box matters as much as the product(s) it holds. Here are some essential tips for you to build your own subscription box successfully.
Consider the material of the box
Are you aware of the common materials used in making subscription boxes? When creating custom packaging, you can choose from mailer boxes, shipping boxes, folding cartons, and padded bubble mailers. Firstly, keep in mind the purpose of your subscription box. What kind of products will be placed inside the box? Make sure to consider quantity, size, and shipping costs. For instance, mailer boxes are heavier and more rigid than paperboard boxes, and they make great boxes for fragile products. Meanwhile, shipping boxes are more corrugated for extra protection and have more heft than mailer boxes.
Bring life to your subscription box
Don't allow your subscription box to land in subscribers' hands with a bare and dull appearance. If you know how to design your box graphically, you can start designing minimalist yet gorgeous logos. Use brand colors that make sense in line with the business. For instance, if you are shipping out beauty products, opt for pastel and peachy colors. Dark colors will work well with hardware products and jewelry. You can research more on mixing colors for graphic designs. If you want optimal results, you can also hire a graphic designer to help you out.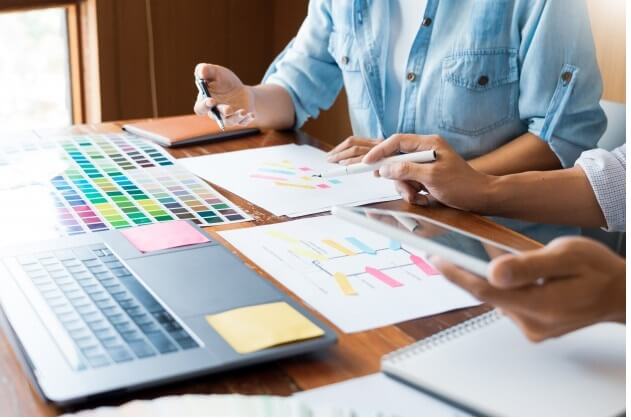 (Image source:  https://www.freepik.com)
Decide on how the box should be printed. There are three primary printing methods for subscription boxes; namely, digital printing, flexographic printing, and lithographic label printing. Digital printing is common for small orders, but it can also cater to large orders at a higher price range. On the other hand, flexographic printing typically requires 1,000 boxes per order. It is also the most common method used in custom box printing. Lastly, lithographic label printing offers a cleaner and higher resolution printing that functions like a wallpaper. If you go for this type of printing, go for a reliable provider as low-quality lithographic label printing might turn out badly.
Think about potential additional materials to ensure the safety of your product. Although adding other materials can also increase packaging and shipping costs, it is always best to think about the safety of your products, especially if they are fragile. Subscribers often complain whenever there is no special packaging for fragile products. If you want to add paper, bubble wrap, or other materials, make sure it fits your box. If possible, customize their colors to match your subscription box's colors. Whatever materials you choose for making your subscription box more organized and presentable, make sure it is aligned with the whole appearance of the box for consistency purposes.
Pay attention to details and keep your box clean and organized. Once your subscription box has been printed and assembled, look closely at its details. Is the surface smooth enough? Are there any ink blots? Do the products fit in the box properly? Are there folds or holes around the edges of the box? Make sure that your subscription box is clean and well organized so it lands in subscribers' hands in perfect condition. If ever you spot any strange details on your box, make sure to report to the provider immediately so the problem can be addressed.
Once again, subscription boxes are essential because of its power to attract new subscribers and retain loyal subscribers. If you have a gorgeous subscription box, chances are that subscribers will happily talk about it on their social media accounts. This is why it is very important to invest on an exceptional graphic design for your box. Everything will be worth the penny once you see unboxing videos or appreciation posts about your subscription box online. Once you are finished with your subscription boxes, be proud of them and flaunt your efforts!