Making a channel on Youtube to earn money online is no more a new thing for people. Every day more and more creators are joining Youtube to create content. But making money with Youtube in 2021 is not that simple. Many famous content creators are earning vast amounts of money through their Youtube videos, but you must be consistent and creative with your content to reach that level. Also, along with the content creation, it is crucial to know how much you can earn per 1000 youtube views in 2021 to make up your mind accordingly.
If you are a newbie to Youtube monetization and thinking about how people earn money from Youtube, this article is for you. We will tell you all the possible ways to make money through Youtube videos in this article. Let's begin.
Check: Should you leave your job to become a full-time YouTuber
How much you can earn per 1000 Youtube views?
Youtube has updated its monetization policy. Now, how much money you are going to make on Youtube depends upon your Channel, target audience, audience's location, and how much time you will invest in it.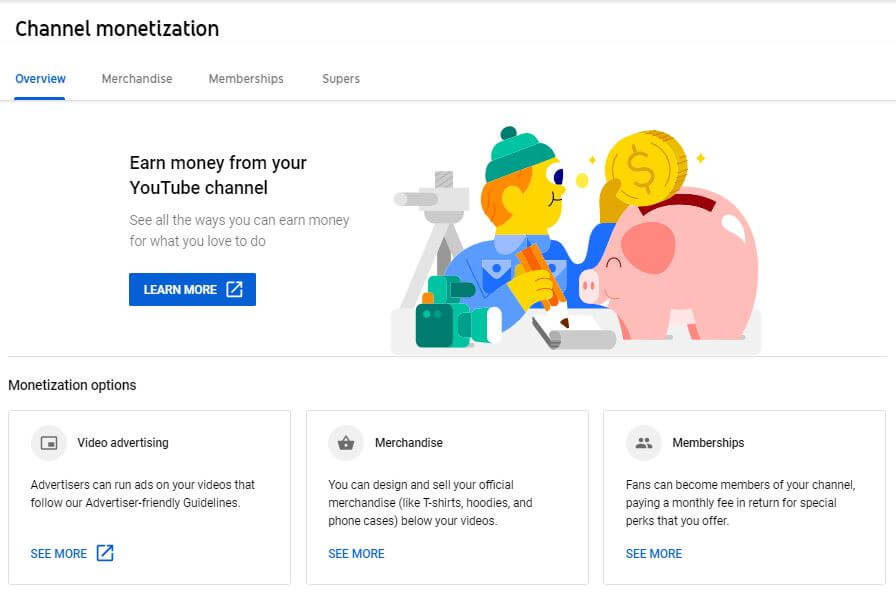 Depending upon the location of viewers and the target audience, you can earn on an average of 0.5 to 6 USD per 1000 views. According to Youtube Partner's program, the platform offers you 1$ per 1000 views if your audience is from UK, USA, Canada, Australia, New Zealand, and European countries. But if your audience is from India, you will get approx. 0.5$ per 1000 views as Indian audience spend less money on advertisement. 
This amount varies depending upon the watch time, audience type, and many other factors like:
Video Views
Traffic arrives on your video
Countries from which the viewers are coming
How much time a viewer is spending on your video
Your channel age
But you will get around this much per 1000 views on Youtube on an average.
Also Check: Youtube Monetization Eligibility
What are the ways to earn money via Youtube Videos?
1) Through Adsense or Ad Views
The primary way to make money via Youtube Videos is through ad views. To earn via ad views, a user must have an Adsense account and be registered under Youtube Partner Program (YPP). To be eligible for the YPP, the user must have:
More than 1,000 subscribers
More than 4,000 valid public watch hours over the last year
Have a linked Adsense account
Must be in a Country where YPP is eligible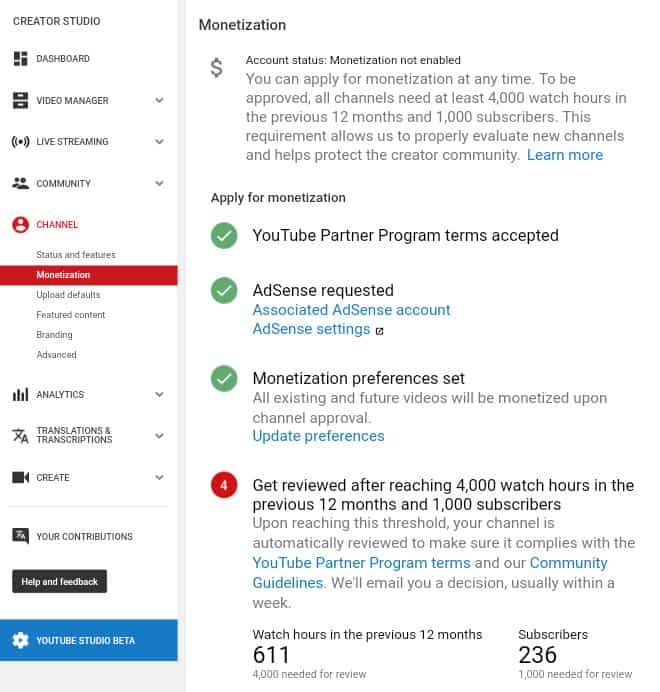 Once you get eligible for YPP, you can earn money from:
Youtube Advertising Income
Videos watched by Youtube Premium Subscribers
Channel Membership paid by members for the perks
Fans paying to get their messages featured with super chat and super stickers
By selling merchandise
2) Paid Promotions
Most YouTubers earn a massive amount of income via brand endorsing and paid promotions of various brands through their content. There are various brands that pay you for branding and marketing if you have a large subscriber base or decent engagement on your channel. You can always negotiate with the brands according to your channel insights and engagement rate and earn a good amount via a partnership with various brands for various videos.
3) Shout out or Sponsored Video
Another way to earn money via Youtube videos is to make shout-out videos for small brands, influencers, and celebrities. Many small brands pay you a decent amount to give them shout-outs, like asking your subscribers to Follow them or subscribe to their channel in exchange for a decent amount.
4) Affiliate Income
Youtube affiliate marketing is another excellent way to generate income online by adding affiliate links for products or services you recommend your viewers to use or buy. There are many categories like Makeup tutorials, how-to tutorials, technical videos, etc. You can review the technical gadgets or makeup products and add your affiliate link in the description as a recommendation to your viewers.
Whenever someone purchases anything via your link, you get a commission on it as per youtube standards. There are the following types of videos on which you can apply affiliate links:
Product Reviews Videos
Unboxing Videos
Best of Videos
How-to Videos
Final Words!
We hope that now you are clear about how much you can earn per 1000 youtube views. To earn a decent amount of money via Youtube videos, you must be consistent and creative with your content. Also, don't forget to optimize your content according to Youtube SEO guidelines, as it will help your videos appear in search results better. For any other youtube marketing queries, check our related articles or get in touch with us in the comments section. Keep learning, keep earning!