In today's digital age, ensuring the privacy and security of our online communications has become increasingly important. Twitter, one of the popular social media platforms, understands this concern and provides users with the ability to send encrypted direct messages (DMs). This guide will walk you through the process of sending encrypted DMs on Twitter, ensuring that your private conversations remain confidential and protected.
Step 1: Accessing Twitter's DM Feature
To begin, log in to your Twitter account using your credentials. Once you're on the home page, locate the envelope icon in the top-right corner and click on it. This will open your Direct Messages inbox.
Step 2: Initiating a New Direct Message
In the Direct Messages inbox, you'll find a "New Message" button on the top-right side. Click on it to start a new conversation.
Quick question: Who can send the encrypted DM on Twitter?
Both the sender and recipient must be verified users and have the latest version of the Twitter app installed. Additionally, they should be connected as followers or have accepted a Direct Message (DM) request from each other.
| Read also: Reddit Vs Twitter: Which is better and why?
Step 3: Selecting the Recipient
Choose an eligible receiver to compose a message. Twitter will provide suggestions as you start typing. Select the correct user from the suggestions.
Step 4: Sending an Encrypted DM
Now, you can type your message in the text box provided. It's essential to note that by default, Twitter does not encrypt DMs. To enable encryption for this conversation, click on the lock icon located at the bottom of the text box. This action will activate end-to-end encryption for your message.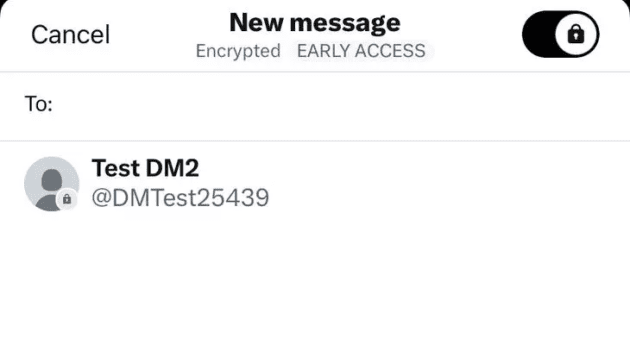 Step 5: Confirming Encryption
After clicking the lock icon, a prompt will appear, asking you to confirm enabling encryption. Read the information provided carefully and click on the "Enable" button to proceed. Your message will now be encrypted and secure from potential eavesdropping.
Step 6: Additional Features
Twitter offers several additional features to enhance your encrypted DM experience. You can react to messages with emojis by hovering over a message and selecting the emoji icon that appears. You can also delete or forward messages by clicking on the respective icons.
An alternate method which Twitter revealed is as it goes :
From your inbox, Tap on an un-encrypted message.
Click on information icon.
Select "Start an encrypted message"
Limitations of this new feature
At present, users can send encrypted messages to only one user.
Encrypted messages are limited to only texts and links and not media attachments.
Only 10 devices per user are allotted for encrypted messages.
Encrypted messages cannot be reported. However, one can block a user for sending the messages.
Conclusion
As privacy concerns grow in the digital era, Twitter recognizes the need for secure communication and provides users with the ability to send encrypted direct messages. By following the steps outlined in this guide, you can easily enable end-to-end encryption for your conversations, ensuring that your private information remains confidential and protected. Take advantage of this feature to have peace of mind when sharing sensitive information on Twitter.