In this era of online shopping & eCommerce, bringing a sale to the website is the most challenging thing to accomplish for marketers. Whenever a customer purchases something online or offline, some crucial factors influence their purchasing decision, and once you learned about those factors, you will be able to get better sales for your online store or business. To help all the marketers out there, we have curated 10 important factors that influence the buying decision of customers in this article. So read this till last to understand the buying psychology and use it smartly in your business for remarkable growth. Let's begin.
Check: How to Improve Google Ads Quality Score
Factors that Influence the Buying Decision – Things to Consider
Here are the ten most crucial factors that influence the purchasing decision directly or indirectly:
Product Quality
The quality of the product is the primary deciding factor whether a customer will buy that product or not. No matter how good your marketing campaigns are, but if your product has low quality, you will end up generating low sales with bad ratings & reviews.
According to the research, a customer always checks the product quality before buying it, and 56% of purchasing decisions are based on Product Quality.
Competitive Price
Another major factor that influences the buying decision of any customer is the competitive price, or you can say the economic factor. Everyone wants to get a good quality product at an affordable price, and thus they like to compare the price at different websites. If you want to stand out amongst the competition, you have to offer such a price that increases the chances of a sale.
Ratings & Reviews
Nobody wants to get a fake or damaged item or a product with a low/poor quality, and thus customers prefer to check the ratings and reviews of the products before buying it. Ratings and Reviews come under the trust factor as people believe what they hear or read & this factor directly influences their buying decision.
If a product has a good reputation in the market with 5-star ratings & decent reviews, its purchase chances automatically increase compared to the one with low or poor ratings/reviews.
Return Policy
Whenever buying from a new or less-known website, the customers' main concern apart from the product quality is the return policy. Every customer wants an easy return policy, so they don't have to hassle much return a product. If a site has an easy return policy, it will definitely influence the customer's purchasing decision.
If you have an online store, keep an easy return policy with active customer support to handle all the queries related to refund & return policies.
Easy Delivery Options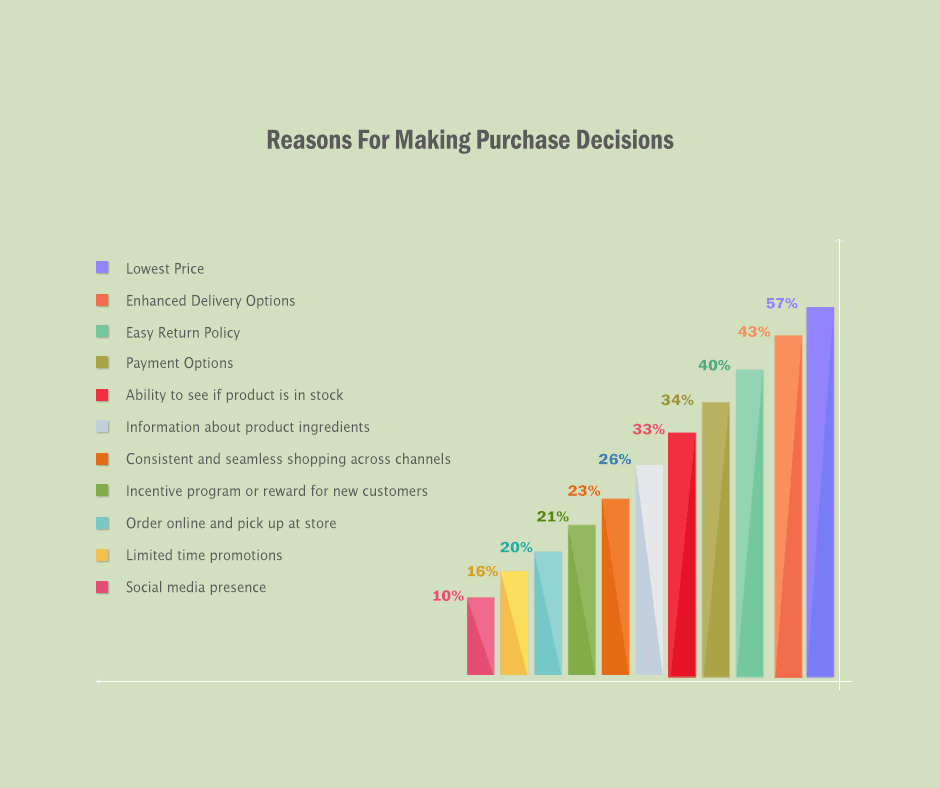 Every customer wants Free & Early delivery to get their product delivered as soon as possible and that too in the safe condition. Try to work on your delivery options. If possible, try to provide Free delivery as many people tend to leave their cart after adding the product when they see additional delivery charges. Also, partner with reliable courier companies for fast, secure & quick delivery.
Payment Options
Payment is another factor that determines the purchasing power of a customer as every customer wants convenience & quick payment options. That is why people prefer to pay with UPI or digital payment apps. You can also provide a Cash on Delivery option to increase the traction as it also influences the buying decision. To make the payment process smooth & fast, you should integrate a reliable & reputable payment gateway with your online store to enhance your sales.
Exclusive Deals or Discounts
Who doesn't love getting extra discounts or exclusive deals on their wishlist items? Sometimes, people don't know that they want to purchase a particular item, but after seeing an exclusive or tempting deal on the product, they decide to buy it.
So deals and discounts are one such factor that directly influences the customers' purchase decision, and as a marketer, you must work on discounted deals to get better sales in your store.
Buyer's Preference
Every buyer has its own preference or choice while they buy an item online or offline. Based on buyer's past shopping behaviour or preferences, you can present similar items to them as they tend to purchase things according to their past preferences or experience.
For example: If a customer had an excellent experience with a particular brand in the past, the chances are more that he/she will prefer that brand again to buy more items, which directly influences their purchase decision.
Social Influence
Social Influence is one of the most prominent deciding factors in purchasing any item in today's digital era. People tend to get influenced by the items popular on social media platforms or recommended by their favourite influencers. Social media directly influences people's purchase decisions these days, and every marketer must use these platforms in their favour to increase traction & sales.
Emotional Factor
The emotional factor plays a crucial role in online or offline shopping. People feel connected with the brands who put an emotional angle in their brand's story or an advertisement. Although an emotional factor not directly influences the purchase decision, it somehow helps customers think rationally before deciding.
Also Check: Facebook Shop Feature Expansion
Final Words!
So, these are the ten most crucial factors that influence the buying decision in online or offline shopping. If you are a marketer or an online store owner struggling to get sales initially, you must focus on these factors to improve your sales. For more marketing tips, stay tuned with us or keep reading our latest blogs.