Becoming a Youtube Influencer is one of the most promising career choices in this digital era, especially when the video content is everywhere & appreciated by the viewers. Also, when we see the famous youtube influencers and their success rate, this career option pleases us more. But is it that simple to become a youtube influencer? We all know how much competition is there on Youtube, with so many new creators emerging every day on the platform with something creative & unique.
In such a scenario, if you want to really stand out in the crowd, you have to choose some promising ways & we are here to help you out with that. We have curated some really effective & profitable ways to become a Youtube Influencer that will indeed help you to gain subscribers and popularity with your content. So let's begin.
Check: Should you leave your job to become a full-time Youtuber
7 best ways to become a Youtube Influencer & achieve success
1) Define Your Niche and Audience First
When starting their channel, many creators on Youtube remain confused about their target audience and the niche and thus ends up making vague and irrelevant content that doesn't gain much traction. So it is crucial first to decide which niche can be the best for you according to your interest & personality.
Once you have decided the niche, you can research your target audience and create content to get the relevant people to engage with your content & subscribe to your channel.
2) Create Your Own Style
Every famous Youtube Influencer you have witnessed so far is popular because of the unique style that reflects their personalities and let viewers engage with them.
If you want to become a successful Youtube Influencer, never try to copy someone's style as it won't work. Instead, let your own style make the noise & attract the crowd so people can love & engage with you for being you.
See also: How Do You Become a Social Media Influencer without Showing Your Face?
3) Understand the Youtube Algorithm
Once you have started creating content for your target audience, it is crucial to understand how Youtube Algorithm works to rank your videos better. There are some crucial key ranking factors that decide your video's search appearance and performance -things like the number of comments, views, likes, plus video length and resolution.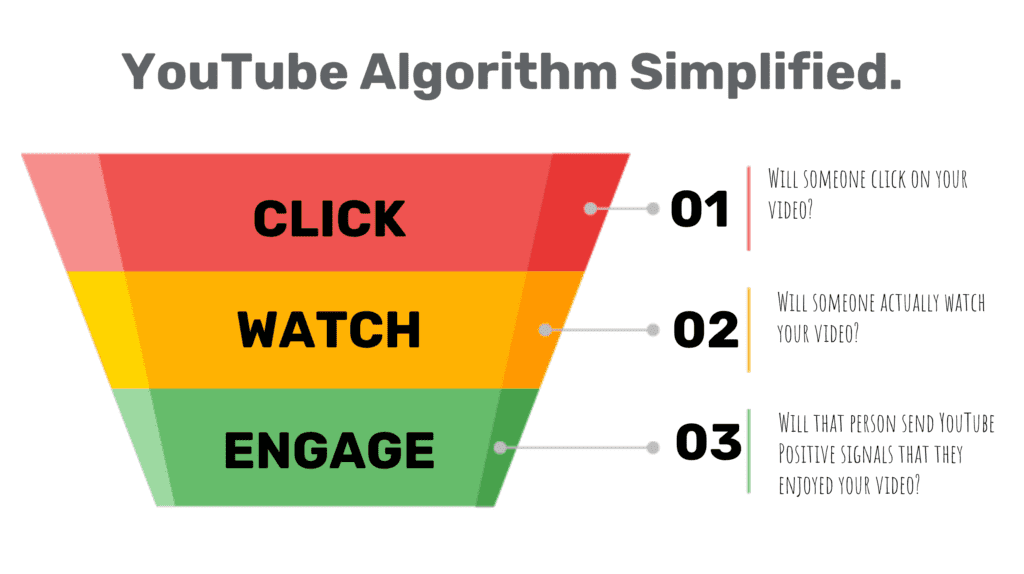 You can improve your videos' ranking by working on these key ranking factors that will help you to garner more subscribers and engagement on your content.
4) Be Consistent
One of the keys to Youtube success is Consistency. Data shows that people who remain consistent with their content and upload videos often get better responses than those who post the content at irregular intervals.
The reason behind this is when you post content regularly, your subscribers tend to engage more with your content and wait eagerly for the next content to be uploaded. But when you post the content at irregular intervals, they lose their interest, and you might lose your loyal subscribers in that case.
5) Understand Youtube's Audience Retention Graph
The Youtube Audience Retention Graphs in Youtube analytics let you understand your audience's behaviour, interest, & interaction with your content to understand what kind of content is performing well for your target audience.
You can also use branded watermarks or add a subscribe link pop-up in your every video to get more subscribers in a single click.
6) Keep your audience real & interact with them
Yes, the subscriber count matters on Youtube, especially when you want to become a successful youtube influencer. But at the same time, it is crucial to have genuine followers that engage, like & share your content instead of fake or paid followers/likes.
That is why big brands are also approaching the micro-influencers on Youtube despite their lower subscriber count because they have the genuine interaction and engagement rate that provides quality results.
7) Use attractive thumbnails
Thumbnails can change the whole game of your Youtube engagement as they are the first thing a viewer notices before clicking on your content. If your thumbnails aren't attractive or related to the content, people won't click on it or watch the content for a long time. So always keep your video thumbnails attractive, catchy and creative to get more subscribers and engagement.
Also Check: How much you earn per 1000 views on Youtube
Final Words!
To become a successful Youtube influencer, it is crucial to gain real subscribers who can engage with your content, be creative with your content and stay consistent. These are some of the best-promising ways to achieve success as a Youtube influencer. If you have any queries related to Youtube marketing or any other social media platform, get in touch with us. Keep experimenting, keep growing!