Twitter has finally launched a story-telling feature for the users; it might look a bit like Snapchat story or a slight feel of it. But this one has few improved enhancements attached to it. You can pick tweets and photos to add into your story, or you can say "Moments" as Twitter has named them. It's a sort of leap by Twitter involve a wider section of influencers and brands. Also, it seems that Twitter is soon going to make Moments feature more consumer-friendly. This feature came into existence for encouraging sharing of short content conveniently with many on mobiles like Snapchat stories does.
On the whole, this introduction will improve the way of sharing on twitter. Tweetstorms would automatically take the shape of Moment. They are more likely to get response and engagement from the viewers as its open for all and anyone can use this tool in promoting any product or even sometimes use it as an entertaining tool.
Now to know more regarding how to create Moment, according to your customized selection of the content, please follow the following steps and suggestions to bring out the best of Moments through your tweets:
Get started with Moment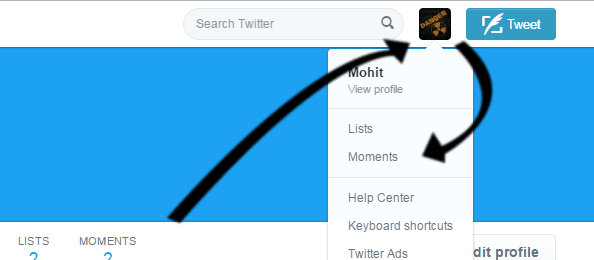 Click to "new moment" option when you open the Moments tab, which already includes the list of moments that you have created earlier.
Select suitable images and title
Choose the cover you wish to display for your moment to give the viewers a vague idea of what the Moment is about. Now cover might be photos or videos from the tweets you posted previously. And give an apt title to the story.
See also: 10 Tips for Successful Twitter Marketing
Compile series of tweets
After that find out tweets that explains your story and add value to the content not only in visual-terms but should help in maintaining a flow of the events and make it effortless. You are allowed to pick tweets from the list of favorites, or find tweets through search option or by using an account or even a direct tweet link can be added. Please note that it's recommended to include 10 tweets, not more than that.
Time to make it public
When you feel, the moment needs no more changes or effects to be added, you can proceed to publish and share it will all your followers. Make it look appealing and brief for the viewers and make it easy for them to share and post it further.
 See also: 7 Things About Twitter That You Didn't Know
Share embedded version on other networks
In case you want to post it somewhere outside the network, it can be done too. All you need to do is to embed the moment you have published and share it on other social channels, website or blog.
The best part is that you can get include any tweet of a particular account or subject even if you don't follow them. However, the feature is currently available for desktop format, but expected to be launched soon on mobile phone as well.