If you are a Facebook enthusiast, then probably, you must be aware of this mysterious lady. She has been trending on the social media giant for befriending strangers not only across the nation but across the globe. More than 30 fake accounts exist by her name and same profile picture features in all of them. A lot of Facebook users have reported it spam, therefore, the concerned authorities have started investigating the matter. After receiving thousands of complaints, Facebook officials in India and the cyber cell is also started taking note of this serious issue.  The buzz is that no real woman exists by this name, so, there is no familiarity between the name and the picture used in these accounts. It is advisable to be careful rather than feeling sorry later.
The real purpose of sending these unsolicited messages is still not known to anyone, but as the problem persists at such a large scale, it cannot be ruled out that she must be intruding in the personal lives/data of those added in her profile. It is common to receive friend requests from strangers and it times we tend to believe them after seeing mutual friends in that person's list. But from now onwards, first, verify the true identity of the person and then befriends with him. So, if you have anyone by the name of Madhu Shah in your friend list, immediately block her and also inform your friends about this scandal. Moreover, cyber experts suggest not sharing your confidential details with anyone online, especially your passwords, usernames, credit or debit card details.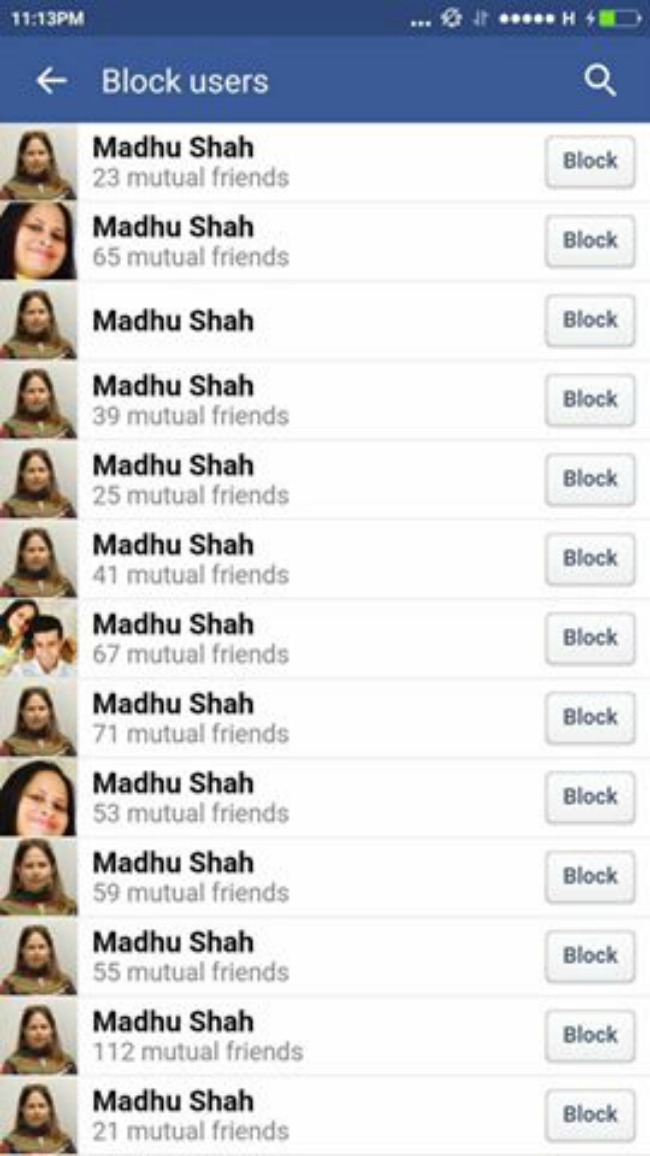 One Facebook user Pawan Manghnani was one of the few who has unfolded the scam on the hugely popular social networking giant. He reported that he shared more than 150 mutual friends with Madhu and that too from over four years. However, on further inquiry on his part, he realised that none of his friends actually know about this suspicious lady. What is even more disturbing is the fact that evidence suggests the original owner of the photograph being used in the fake profiles may not even be aware of this illicit trafficking. This face account is a serious threat for your confidential data. It is advisable to search for 'Madhu Shah' in your friend list and block her from your list and also warn your friends to report this issue to Facebook or to the concerned authorities. As keeping her in your friend list might get you in trouble. As I said earlier, it is better to be cautious rather than felling sorry later.