If you are looking for the shortest possible answer, then here it is. Signal is quite easily the most secure messaging platform currently. Stick around to find out why exactly it is so.
WhatsApp currently holds the top spot in the messaging service niche. Why? Simply because of the convenience. With around 2 billion active monthly users, the user-base of WhatsApp is light years away from both Telegram and Signal. While the former has a current monthly user count of about 400 million, Signal only has around 10-20 million. This number is a drop in the ocean compared to WhatsApp, and one of the main reasons why a shift at this point will be an uphill task.
The Data Collected by WhatsApp
With WhatsApp's new policy update, this task has become easier. Here is all the data that they will be collecting (if they aren't already). WhatsApp collects phone number, email address, contacts, device and user IDs, purchase history and payment info, IP address, performance and diagnostic data as well as other user content. Add to this that they also collect data regarding who you message, when you message them, and how you interact with the app in general, and you have yourself a nice basket full of data. The thought that one application has such a vast amount of data from around 2 billion active monthly users is in itself a worrying thought. Chat backups on WhatsApp are held on Google Drive or iCloud and are not encrypted. It also does not encrypt meta-data which, effectively, in certain situations, is as good as not encrypting anything.
Not to mention, WhatsApp is owned by Facebook who are infamous for how they handle user data. Between Facebook, WhatsApp, and Instagram, the amount of user data being possibly retrieved and compromised is exponential. Recently WhatsApp has given a clarification on their policy update.
Data Collected by Telegram
Telegram on the other hand only collects contact information, contacts, and user ID. They provide end-to-end encryption only for secret chats. This has led to Telegram taking the second spot to Signal when it comes to security since it's effectively optional. Where Telegram truly shines is the ton of features including the huge file transfer limit (2GB), and the capacity of groups (upto 200,000). Secret chats provide end-to-end encryption, along with other restrictions for added security like disabled screenshots, etc. Read how to buy telegram members.
Check out 10 Amazing tips to increase your Telegram Channel Members article.
Data Collected by Signal
Signal is the most secure among the three and for good reason. First off, it collects no data except your phone number. Chats are not backed up to any cloud service and can be stored locally, but is disabled by default. Although this also means that transferring to a new phone could mean losing all your chats, many users would prefer this over having their entire data possibly compromised. Signal is also open-source. This means that the entire code-base of the application is free to be seen by anyone. This ensures a level of transparency that both Telegram and WhatsApp do not have. In the event that they ever do start collecting data, this will reflect in the code-base and people will find out.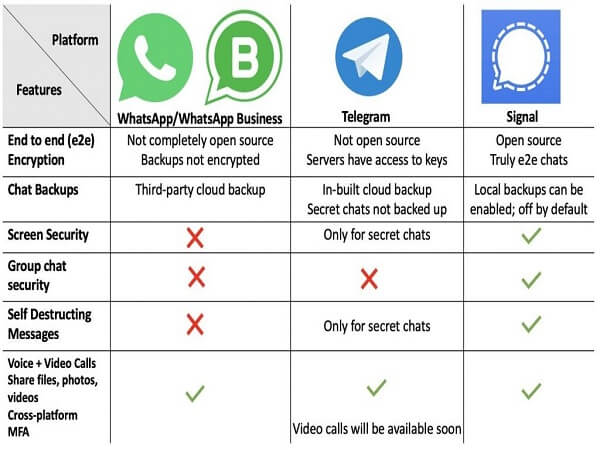 Image Credits : Fractional CISO
All the pushback WhatsApp has received ever since they started rolling out the updates has prompted them to hold back the release of the new privacy policy till May. By the looks of it, WhatsApp seems to be confident that this will not affect their status as the top messaging application. The main reason being there are way too many people using the application and expecting a full switch from WhatsApp to either Telegram or Signal seems highly unlikely. What happens when you switch to Signal and have to message someone who hasn't transitioned? While we might ideally talk about communicating via calls, the most common option would be to message them on WhatsApp, which will defeat the purpose of switching to an alternative in the first place.
With that said, if enough people transition, the converse would also work. People remaining on WhatsApp will have to get one of the alternatives to message contacts who have already transitioned. It then becomes only a matter of time before WhatsApp starts to have a serious problem.
Ideally, a revert back to the old policies would be WhatsApp's best way out. Without that, it becomes hard to recommend it to anyone valuing their privacy. Signal thus becomes your most secure option, with Telegram coming in second if you want a boatload of features with slightly less security.