Creating a YouTube Channel has become a trending business in the market these days. If you are also thinking to start off your business, then we have come up with a blog that you can use as a ready reference while creating your own YouTube Channel. So, let's get started.
Initiate and Create Your channel:
First of all, follow the steps that are mentioned on the YouTube in order to create your own channel.  Sign into your YouTube account and hit the user icon which is at the right hand side of your screen. Once done, go to the settings part and hit the gear icon.  Select the option to create your new channel. Choose between business name and other name. Add the brand name of your channel and click on create.
(See also: When Do Youtube Views Update?)
Create your channel Description:
Once your channel is created, you will have to fill in various details that are related to the description of the channel and profile. In this section, you are supposed to mention about your brand and about the content that you will be delivering to your viewers. You can even add links that shall direct the viewers to your different social media accounts. Ensure that you make the content as catchy as possible. This will make your audience more connected with you and your channel.
Banner your YouTube Channel as a BRAND: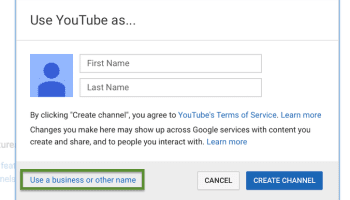 This is the section where you can articulate your channel as a real brand name. You can create a beautiful, attractive and catchy cover photo for your channel in this section. Always remember that such cover photos work as a first impression while the viewer browse through YouTube Videos and "First impression works usually as a last impression". Hence, attract the audience through this section to enter in to your channel. You can use various types of available tools in this section to create a catchy and sassy cover for your channel.
(See also: How to Get Paid for Youtube Video Views?)
Know Your Audience:
This is one of the most important steps while you enter in this entire YouTube channel business. Before you start your business, it Is important that you know your target audience. Knowing your audience will help you decide the kind of content you should make. Keep the demographics of your business in mind and accordingly create a content to cater to your audience.
Roll sound, Camera and Action:
Create a channel trailer as an introduction for your viewers. The channel trailer will let your viewers know about your channel content, business and future videos that you might be creating. Try to keep your trailer short, sweet and attractive for your viewers.
(See also: Buy Youtube Views)
Upload your first video:
By this step, you would have surely gained ample amount of information regards to your first video. Film your video appropriately and get the editing done for the same. When you log in to your account on YouTube, you will see an upload button from where you can upload your official and first ever video. Ensure that you fill details such as description, title of the video, tags etc. properly as it will make your video SEO friendly. Try to include rich but easy keywords at such places. Also, you can put the various links that will direct your viewers to your social media accounts to integrate even more.
Consistency & creativity are the keys to successful YouTube Channel:
Creating a successful YouTube channel is a time taking and creative process. Thus, ensure that you become consistent in making and uploading the videos as this is a basic expectation from your subscribers. It will create a great impact on your bond that you share with your audience. Design a schedule to release your video at least once a week.
(See also: Buy Youtube Subscribers)
Get involved with your audience:
Build your own community through your channel. Engage with viewers by replying to their comments. Nurture your community by listening to them. Ask the views from your audience and act on the suggestions given by them. It will be a great advantage as word-of-mouth advertising, too!
Invest in YouTube Ads:
Once you are ready to take your channel to the next level, you must start investing in YouTube advertisements. You can choose the same according to your target audience's gender, age, location, interest etc. if you can chose the right combination according to the content, such ads can be proven as an ice on the cake for you.
Analyse and Repeat:
YouTube Analytics will guide you on the performance of your channel. See what area works more for you, and enhance the reach of the same. You can even come to know as to which of your video has performed better and you can act upon building such more videos.