To make the most searched and viewed YouTube videos, you need to learn some productive YouTube Tricks and Tips in 2019. A pinch of precision will add value to your content, find out how.
YouTube is the most liked video library even if you combine Netflix, Facebook, and Hulu. The reason for its popularity is easy to share feature on multiple platforms. As per Alexa ranking, YouTube owns number two spot, as the first spot is reserved for Google.
After reaching its magnanimity YouTube has become one of the first content sharing platforms that a marketer would choose. Creating content, and making it reach out the audience needs to be done with precision. With over 1.9 billion monthly active users, you can get your audience, it the strategies and procedure are absolute.
As a marketer, you need to follow a few YouTube tricks and tips in 2019 that will make your content reach out to maximum viewers at multiple platforms.
Here are some YouTube tips to follow to improve your content and its distribution:
1. Add links with a specific start playback time
If you want to share video content, YouTube is flexible and enables you to do it without any questions asked. But in some cases, you need to share a small portion of a lengthy video. Like you want to share a small clipping of an interview, you can change the start playback time easily while sharing the link. Make sure you know the right point while pausing the video.
You can change the start time of the video by clicking on the share button. You need to pause the video at the point you want it to start from and check the button to fix the timer on. Now, the URL will play from the specific time marked, like 1:46 or whatever the chosen point would be.
(See also: 5 Reasons Why You Should Buy YouTube Views)
2. Include transcript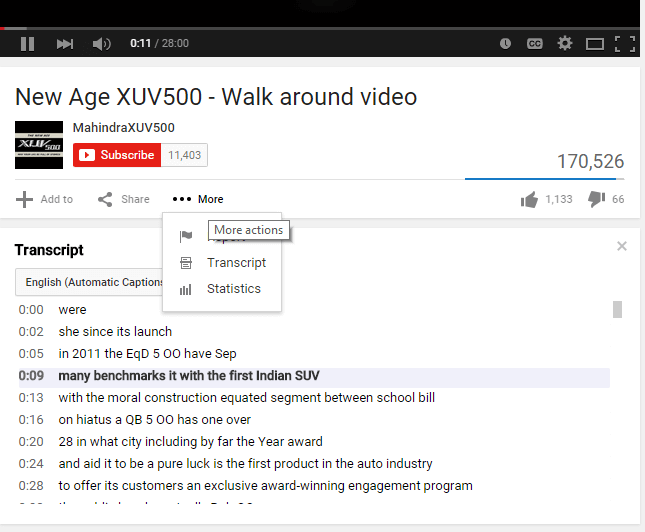 Transcript of your videos has the power to rank your videos on Google. By adding relevant words into the transcript you make it searchable and technically stronger to compete with other channels' content.
YouTube will anyhow upload a transcript while uploading any video, so you just need to make it well for the audience to see and find your content easily. Do not choose to hide the transcript, rather review and edit it before getting uploaded. Also, if you want to manually write it on your own, you can do it too.
Sometimes, due to language issue videos. Need to be transcribed for different purposes, in that case, you can add a word to word text into the transcript. Mostly, it is used to translate a conversation in a live event, seminar or interview. So that viewers can refer to the information through written text.
Please note that you can get the transcript of your video for free and choose to keep it private as well. It is not mandatory to make it public all the time.
(See also: When Do YouTube Views Update?)
3. Categorize videos by using Playlists
When you upload so many videos on a gradual basis, the audience might get confused with the content. Rather, it becomes hard to navigate and find out the right video they are looking for. For instance, a food recipe channel would upload categorically as per occasions, and purpose. Therefore, this formula works for all channels whether they belong to the food industry, technology, fashion, health or gadgets. Plus, it allows your viewers to see all the content they can excess on your channel.
In addition to this, YouTube asks you whether you want to collaborate with someone you wish to. Once you select the option, from 'collaborate' tab, it will allow the collaborator to add videos on the playlist (on which you granted permission).
This is the best way to strengthen social influencers, as one (influencer) can support the other by adding videos and value to their playlists.
4. Make GIFs with YouTube URLs
YouTube is a strong visual platform, and GIFs have become equally supportive to create a visual impact more effective from a marketing perspective. The most recent invention is to create GIFs from YouTube videos, which is easy to do and even more fun for the viewers.
To create a GIF, you need to find the YouTube video and write 'gif' with www., this will make the URL look like this: www.gifyoutube.com/watchxyz—.
Now, this command will take you to gifs.com and you will be asked to review and edit the GIF. The window will show many suitable changes for you to apply, you can make you GIF attractive and entertaining by adding those effects. Options like crop, edit, and filters help you make it unique. Once you finalize the effects, the GIF can be downloaded straight away and is ready to be shared on different social marketing channels.
5. Know how to create a custom URL
YouTube offers you a channel URL by default, but you need to have a custom URL for promotional and branding purposes. Please note that this cannot be done with a new YouTube account. There are certain conditions before qualifying for the same. It requires you to have: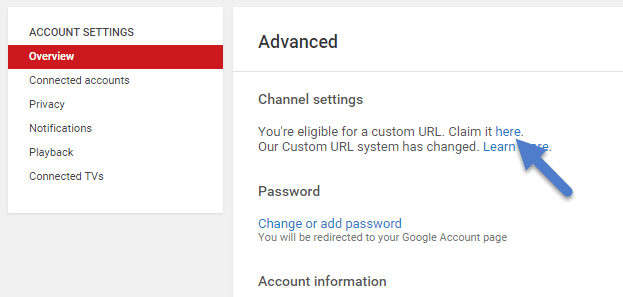 a 30 days old account
an icon image of the channel
channel art placed
minimum of 100 subscribers
After you fulfill the above, your account is eligible to have a custom URL. Simply go to the Advanced channel settings, and push the 'claim' option to create custom URL  only if you are sure to do it. Please note that this option cannot be changed in future, once it is approved it would remain as it is. So, make sure you are confident about the change, you cannot undo it afterward.
6. Be more precise with end screen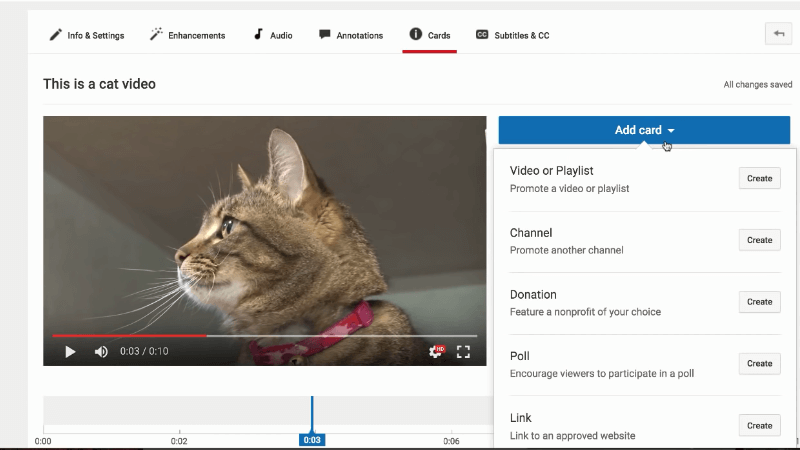 Mostly end screens are about adding CTAs (Call to action) to the videos as it is an effective way to make your viewers watch more of your content or either like or subscribe to the channel. Therefore, depending on the marketing goals, you choose the right option from the list such as:
Video or playlist
Subscribe
Channel
Link
Among these given options, the most suitable element for your brand can be added.
7.    Edit directly on YouTube
Being a YouTuber, influencer or marketer, you might have many options to edit and sharpen the video content for YouTube. But beyond those third-party options, you can simply choose to cut it out and go with YouTube enhancement features to edit and post the video directly on the network.
These enhancement features will allow you to add and remove audio, filters, trim sections and even blur selected portions if you wish to. Plus, you can also make changes in the uploaded video only if you are registered with YouTube Partner program and have less than 1,00,000 views on the video.
To add protection to the identity of the people, YouTube allows you to blur out any face even if you are not a registered YouTube partner and have more than 1,00,000 views.
8.    Use live streaming often
YouTube Live streaming is preferred by more than 82% of viewers on social media networks. Most of the viewers are interested to watch a live broadcast on YouTube rather than an edited version. Live broadcast of an event connects well with the audience as it is in real-time and candid. As per reports, 87% of the viewers prefer behind the scene visuals, that is the reason behind liking YouTube Live more.
9. 360-degree videos are cool
The ROI of 360-degree video is 14% more than the traditional videos uploaded on YouTube. People find them interesting and engaging to see for a longer time, which is good news for marketers. In the US, 90 % of the viewers are more inclined to watch a 360-degree video and the trend is growing in other regions as well. Even marketers have started uploading these videos have improved the business with 70%. So, you must focus on creating them, and buying YouTube views would help you grow tremendously. You will get more 50% likes automatically if 360-degree videos are uploaded on your channel.
10. Let Google trends be your guide
You need to be updated about what is being searched and likes most if you want to create engaging content for the viewers. For which Google trends is the best tool to give you essential information without charging any fee.
The most searched keywords would determine the content of your channel and then the quality would decide its reach. You must find out keywords used for 'web search' and specifically 'YouTube search' to create videos.
Bonus Tip:
YouTube Ads and other paid promotions
YouTube Ads is equal to Google Ads, you should know your audience, location, budget to place the ad and the results will be in your favor. Apart from Google Ads, you can opt to buy YouTube views/ subscribers so that they can increase YouTube views eventually.
Such promotional plans will help you in a better way if the above-mentioned tips are implemented well. In such a competitive situation, you need some extraordinary ingredients to become likable, try to take your content to another level.
Apply these tips, growth is definite.
Tell us more, if you have further tips or experience to share.