After pausing the blue badge verification since 2017, Twitter has finally resumed the process for specific categories on its app globally. Yesterday Twitter announced that it would begin rolling out its new verification application system for Public figures, Government officials, Journalists, Celebrities, and other brands with high public interest/reputation. Over the next few weeks, the new Twitter Blue Badge Verification will begin to display directly in the account settings tab of all users globally. Check here how you can get it in just a few simple steps.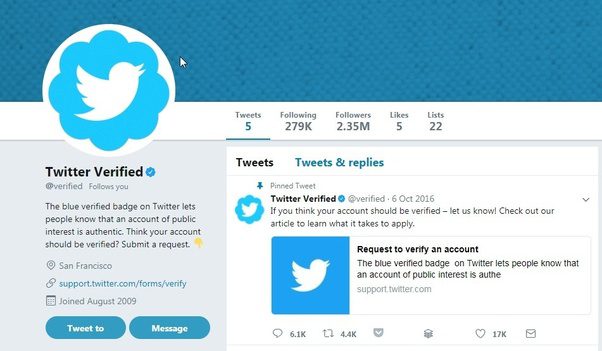 Check: How to Increase your Twitter Followers
How to apply for Twitter Blue Badge Verification Process?
People who want to be labeled as "Verified Account" on Twitter can apply through their mobile app once the software update takes effect, which will be soon as Thursday for some people, as the company stated.
To apply for the Verification process, users must have to follow the following criteria and steps:
An account must first establish its authority by providing a photo of an official government-issued ID card.
Suppose you don't have official id proof. In that case, you can provide an official email address relevant to the category you have chosen for the verification or an official website referencing your official Twitter account like a stable Wikipedia article or news mentions on official media websites.
Currently, there are six categories available to qualify for the Verification process. To be verified, you must be qualified in one of these categories:
Government Officials
Organizations, Brands, and Companies
Journalists and Media Companies
Sports and Gaming
Entertainment
Activists, Organisers, or any other influencer profile
If you fit in any of the categories mentioned above and criteria, you can apply for the verification process through the account settings tab in your mobile app. Twitter will review your application and documents, and you will get your verification badge automatically in few days if you are eligible for it. In case your application gets rejected, you can reapply for the verification process.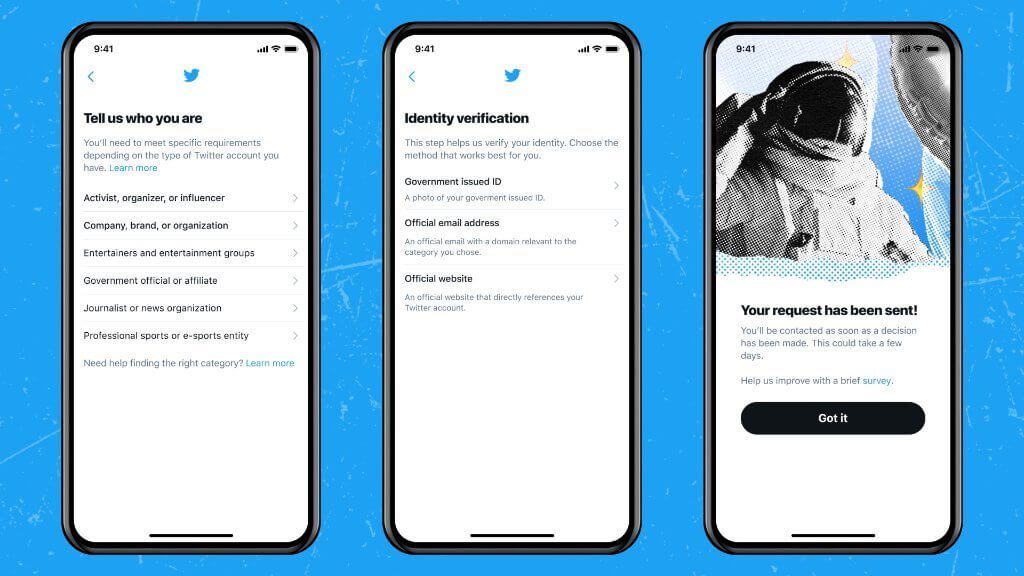 There are some strict verification rules for each category set by Twitter which you must check before applying. For example, suppose you are a journalist. In that case, you have to adhere to professional standards, like fact-checking, to qualify and must be mentioned in some verified media portals regarding your achievements or profession.
Here are some of the worth mentioning Twitter rules that every verified account must have to follow:
Verified accounts will be accountable for their tweets. In case of some hated or offensive tweet against the public interest, the account must face the penalty (varies case-by-case) by Twitter.
In case of an egregious violation, the badge will be removed immediately.
Verified accounts must have a complete profile with the profile name, profile picture, and a confirmed email/mobile number. The account must be active for atleast six months without any Twitter violation history in the last twelve months.
Twitter says verification is only one way it's changing how profiles on its platform will work. In the future, it will introduce new ways to designate other types of accounts, including helpful bots providing helpful information like Covid-19 updates or earthquake warnings.
Twitter will keep updating new policies and features regarding its verification process to make the process more convenient and secure for users. We will keep updating this thread when the latest updates will release by the officials. Till then, stay tuned with us for the latest social media and technology updates.