Bringing the best work on SoundCloud is as crucial as your bio on Instagram. Also, beware of certain aspects that you cannot afford to neglect. While you try to expand your reach, you should be careful about a few things that can unknowingly make you look dumb.
SoundCloud is the most relevant platform for a musician to be active on, either a beginner or an established one you will find all kinds of artists on SoundCloud. To keep on increasing SoundCloud plays and followers, it is suggested to remain interactive and try to get feedback from the viewers. The most attractive feature of SoundCloud is its free of cost accessibility for all kinds of listeners from all over. Also, it indicates the power and reach of the network. Therefore, while enhancing your network, you should not do certain things that are not supposed to be done or might deteriorate your listeners or community.
There are some common mistakes that are made by many artists or users on SoundCloud unknowingly. To avoid those unwanted activities, you need to be aware of them. Firstly, you should make sure that these three aspects are taken care of properly, and one should confirm these elements are well in place.
Here are a few major elements that must never go wrong on SoundCloud:
A. Set Up
Your first impression will be the first and last thing that will stick with the listeners throughout. You cannot be casual about it. While filling in the details about your channel, make sure the entries are correct and have no silly mistakes. Think and type carefully. Your account details have to look proper and in place, make it look presentable and readable.
(See also: How to Download Songs from SoundCloud?)
Mistake 1: URL is not compatible with other platforms
The branding of your channel should be identified on other channels as well, your SoundCloud URL should be identifiable on Other networks like Facebook, or Twitter. For example, If the brand name is 'Rockbank5', the URL on Facebook should be exactly the same as on SoundCloud. Otherwise, the profile on SoundCloud will not be identified by the listeners on other networks and vice versa. Make sure you do not do that.
Mistake 2: Social media links are not added
When your reach can be everywhere, why would you want to restrict to one platform? Exactly, you should not do it. It is recommended that you as an artist on SoundCloud should target the listeners that are mostly between the age group of 15-25 years. Therefore, to target them and make an impact on their minds, you should build a network on Facebook, Tumblr, Twitter, Instagram, wherever you might find an audience for your genre. At least, your brand will get popularity as the audience will begin to recognize your brand.
B. Description
SoundCloud is primarily a network that allows music listeners from all over to explore and discover new music and genres of their choice. Therefore, to make the tracks accessible and identified, you need to mention accurate details about the music in the description details of your account.
Some might disagree and suggest to buy SoundCloud followers and get the initial 1000 followers. But that is not the ultimate solution to fix your weak account. It is essential to understand the value of small aspects that SoundCloud asks you to fulfill.
Mistake 3: Basic info or bio is not complete
Your SoundCloud plays and followers cannot increase if you do not fill in all the details appropriately. The music you upload will not get its right reach of listeners that it deserves to have. If you do not want to buy SoundCloud Plays, it is the best way to improve the number of plays organically.
According to the experts, SoundCloud bio should be short and to the point but that doesn't mean that you leave them incomplete. For example, the character limit is 50-250 words, in this limitation you are supposed to give all relevant info about the music, artist, genre, and ideation behind it. Without describing the basic, the listener will not find it reliable or original. This is the biggest mistake most of the beginners do unknowingly that makes them look dumb.
C. Content
When the listeners visit your profile, it is obvious that they will be interested in checking out your previous work. For this, they will either listen to the first track or the most popular one. So, in both the cases your tracks should be titled properly and well-placed. To buy SoundCloud likes and get some Reposts can be a short-term fix but cannot assure you a loyal community of listeners. Try to build your network with your work and get connected to other SoundCloud artists.
Mistake 4: Posted work isn't well-presented
When you are confident about work that you have done, make sure it reaches out to the audience. It should reflect through your presentation, otherwise, it will be a useless track which will never get through to its listeners. Make sure, you explain the genre and mention sub-genres for the clarity of the listeners. Stay specific and descriptive about accurate things.
Mistake 5: Bombardment of uploads
Too much of anything can be devastating and it is no different with SoundCloud. If you wish to share your work with the community it's good to do that but make sure you do not overdo it. You should post your work categorically and on a stable frequency. The listeners should not be overwhelmed with too many tracks at a time. Leave a sophisticated impression instead of a moody artist.
D. Track details
While posting a track, you need to submit its title, genre, artists and other essential details in order to make it identifiable and searchable by the listeners. All these elements are part of track details.
Mistake 6: Irrelevant tagging or labelling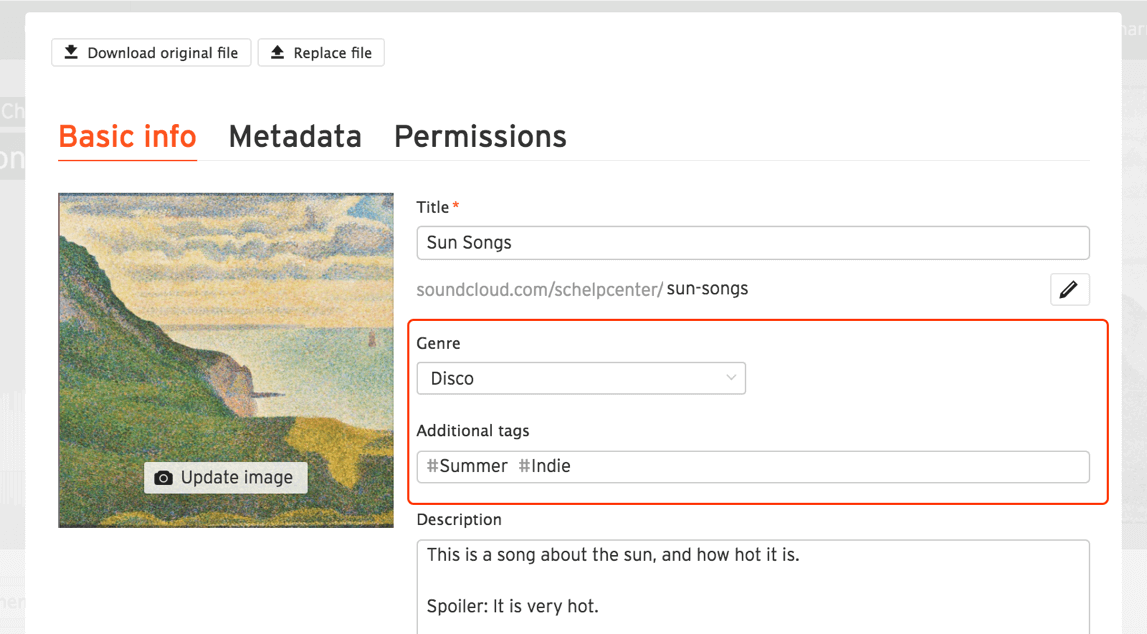 While uploading the track on SoundCloud, you should not forget to add suitable tags, titles, and genres. Sometimes, artists tend to avoid it considering it unwanted but tagging right keywords with your track is mandatory to maximize the reach.
Mistake 7: Unidentified genre
Beware of adding opposite keywords, this might go wrong on the network, and your work will never get its listeners. Plus, it would make you look stupid and ignorant on the network.