Morgan Wallen has secured the top spot on the Billboard Artist 100 chart for the record seventh time with his recent album, One Thing at a Time, released on March 3.
Not only that, Wallen's latest album, is on track to achieve the fifth-highest streaming week in history.
Wallen's climb to the top of the Artist 100 is attributed to his six songs on the Billboard Hot 100, all of which are included on One Thing at a Time.
Moreover, Wallen's previous album, Dangerous: The Double Album, is ranked at No. 6 on the Billboard 200, adding to his resurgence. The album has spent an impressive 109 weeks in the top 10, tying with the 1965 soundtrack to The Sound of Music as the second-longest-running album in the region, following the My Fair Lady original cast recording from 1956, which spent 173 weeks in the top 10.
Album sales record held by Morgan Wallen
Wallen's album "Dangerous: The Double Album" which released in the year 2021 is his highest selling album till date, crossing more 3.4 million in sales till date.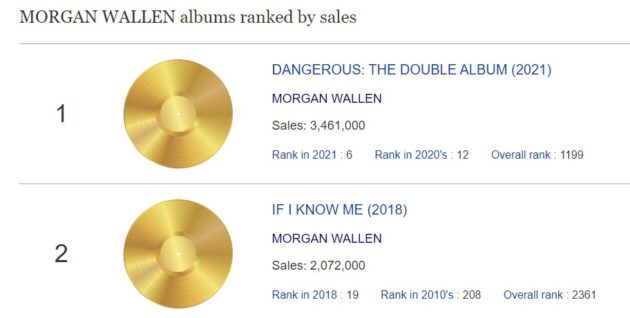 Among core country acts, Wallen has extended his record for the most weeks atop the Artist 100, with a total of seven weeks. Jason Aldean and Luke Combs trail with three weeks each, while Taylor Swift holds the record for the most weeks at the summit with 64 weeks in total.
Note: This article was created with the help of an AI and curated by our team of editors.