Just after the massive success of the Audio-Chat app named Clubhouse, every known social media app/platform, whether it is Twitter or Facebook, trying to compete with it by launching their own audio-chat feature. To be part of this list, one of the largest discussion communities, Reddit, has also announced the launch of its latest social audio feature named Reddit Talk.
This new feature is very much similar to its famous rival Clubhouse and currently available as a "Sneak Preview" only for moderators to try in their Subreddits. If you are a Reddit community moderator, you can try and test this feature by joining the waitlist here. Let's see how this feature will work and what all users can expect from it.
What is the purpose of Reddit Talk?
The clubhouse is the famous audio chat app known for its primary feature to allow users to create audio spaces called "rooms" to discuss anything with other users in just audio format. Similarly, Reddit Talk is a place for all Reddit users to join the audio conversations started by the various moderators in their respective subreddits.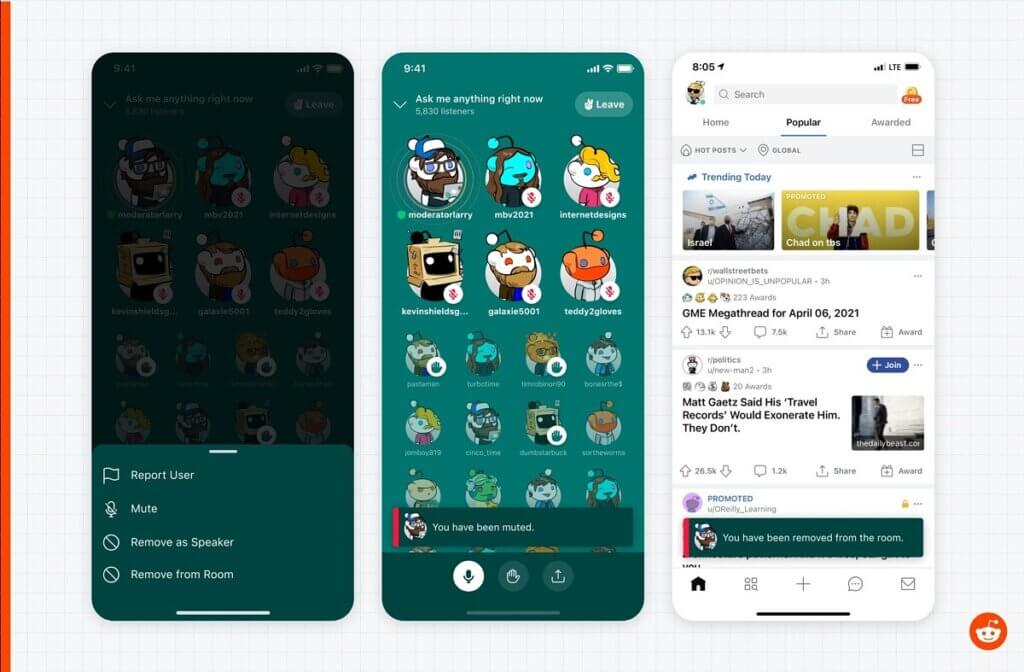 According to the company, "The latest talk feature is a place for you to start talks about "Q&As, AMAs, lectures, sports-radio-style discussions, community feedback sessions." Currently, users can use Reddit threads to find solutions or discuss ideas using text threads, images, videos, chats, and live streams, but sometimes the audio conversation is what you need, and by launching this feature, Reddit is providing a fun way for its users to interact with each other.
How will this latest Talk feature work in Reddit Communities?
As the company stated, the Reddit talk feature will be available within SubReddits, aka Reddit Communities. While only the moderators of the Subreddits will be able to start a talk, any user on their Android or iOS device will be able to join and react via emojis during the conversation. If the listeners have any queries, they can raise their hands, and moderators can invite them to speak.
The platform is testing new tools to provide to the Moderators to make this talk feature more valuable and accessible to other users. Moderators will be able to host a talk, invite, mute, and remove speakers on violating the community guidelines. Also, Mods will be able to completely prevent the users from rejoining the conversation in case of any violation of community rules. In the future, the mods will be able to invite and co-host multiple speakers in their talk.
How is Reddit Talk different from Clubhouse and other competitors?
According to the company, The latest audio talk feature will be launched with the liberty to personalize talks through emojis and background colors. Also, the users will be able to change their avatars to fit into the conversation. These features are still lacking in other social audio competitors, and with such a massive userbase, Reddit can surely benefit from this latest feature.
What can advertisers expect from this latest talk feature?
Currently, the platform has not revealed any advertising plans on this latest feature, but the latest audio chat feature will indeed give advertisers a new and creative space to showcase their products and services in a better & fun way. Reddit already has a huge user base, and by sticking to the platform, advertisers will soon be able to reach large audiences soon.
Related: How to use Reddit Ads
Final Words!
Currently, the feature is not launched in its full mode, and you can join the waitlist to try it in your community. With so many competitors available online, it will be interested to see how Reddit will maintain its place with this new feature. For more latest technology or social media updates, stay tuned with us. Keep learning, keep growing!