When it comes to music streaming apps, Audiomack and Soundcloud are two popular competitors we all have heard about. For the past few years, people are constantly debating about Audiomack vs Soundcloud to decide which one is better to listen to their genre of music. On the surface, both Audiomack and Soundcloud seem similar to each other: both allow emerging artists to upload music and find the right audience.
But unlike Soundcloud, which allows any artist from any genre to upload their music, audiomack is genre-specific and focuses majorly on hip-hop music. Like this, there are many other significant differences that we need to talk about to understand which platform is better for you and why? So without a further delay, let's begin with their fundamental differences.
Check: Mixcloud vs. Soundcloud
Read : buy soundcloud plays
Audiomack vs Soundcloud: Which music streaming platform is a better deal for you?
Established in 2007, Soundcloud is much older than Audiomack (2012), still, the latter is giving tough competition to the former due to its some significant differences, which we have highlighted below:
1) Pricing:
In terms of pricing, there is a significant difference between both the on-demand music streaming platforms that you must consider to decide which one is better:
a) Soundcloud: The app allows users to listen to unlimited music for free after registering with their details. But for the creators/artists to upload their music for free, there is a time limit of up to 180 minutes. If the user wishes to upload an audio file of an extended duration, they must have to take any of these two subscriptions:
Soundcloud Pro: It offers premium services for musicians like the freedom to upload up to six hours of audio, with additional features such as disabling comments on the tracks, unlimited uploads, and enhanced analytics. The plan starts with $12/month.
Soundcloud Go: This plan was launched to provide an ad-free experience with features like offline playback and integration of licensed music from major labels into the existing, user-uploaded content of the service. Soundcloud has later launched one more subscription named Soundcloud Go+ with a bit of addition of exclusive tracks.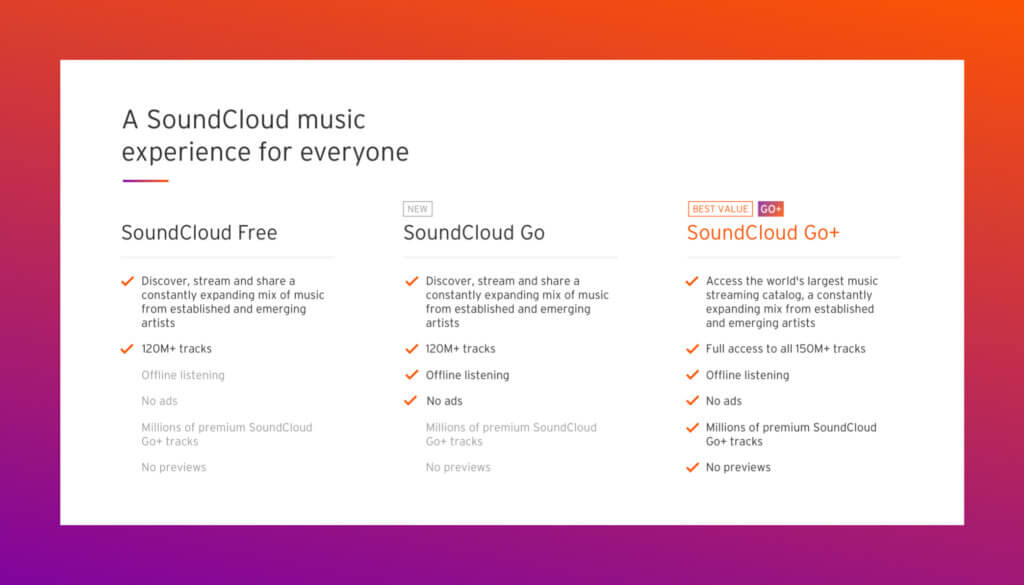 After taking a 30-days free trial of Soundcloud Go or Go+, the following monthly fees apply on both plans:
SoundCloud Go: $4.99 (web/Android)/$5.99 (iOS) per month in the US, SoundCloud Go+ : $9.99 (web/Android)/$12.99 (iOS) per month in the US.
b) Audiomack: Unlike Soundcloud, Audiomack doesn't charge its users or creators to upload or listen to their favorite tracks. In other words, Audiomack is a free music streaming platform that allows users to share, download, upload, and hear music without any limitations or fees. The platform generates revenue via google ads, which is not a big problem for users as they can use adblocker to block the ads if they want.
So, if you will ask who is the winner amongst these two platforms in terms of Pricing, Audiomack is the clear answer.
Also Check: Hacks to Increase Soundcloud Downloads, Plays & Likes
2) Social Media Integration:
Both platforms allow users to add their social media network links to their profile, but in a little bit different way from each other: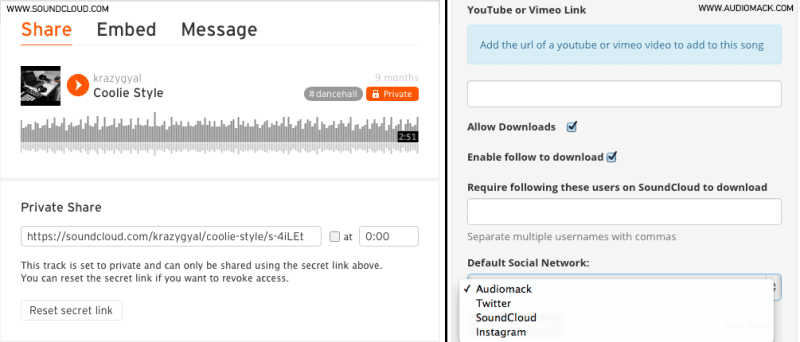 SoundCloud: The platform allows to embed sound files directly on social media platforms like Facebook or Twitter via inserting the Unique URLs. You can automatically share the song on your social media platforms via ticking the box after uploading it on Soundcloud.
Audiomack: The platform doesn't offer you the completely automated process like Soundcloud to share your track on other social media platforms. To share the track, you have first to pick the social media platform, and then you will be redirected to it via a pop-up window, including the link of your song to be reshared on that platform.
This makes Soundcloud a better option than Audiomack regarding reposting or social media integration of the tracks.
3) Track Labelling:
Both platforms allow you to label the tracks with some essential information regarding the song like artist name, track title, genre, iTunes link, etc. But here is one exciting feature offering by Audiomack which you won't find in Soundcloud:
Audiomack allows you to label the tracks by retrieving the information from the id3 tags. That means if you have correctly added the id3 tags in iTunes or other applications, you don't have to modify anything in Audiomack after uploading the track.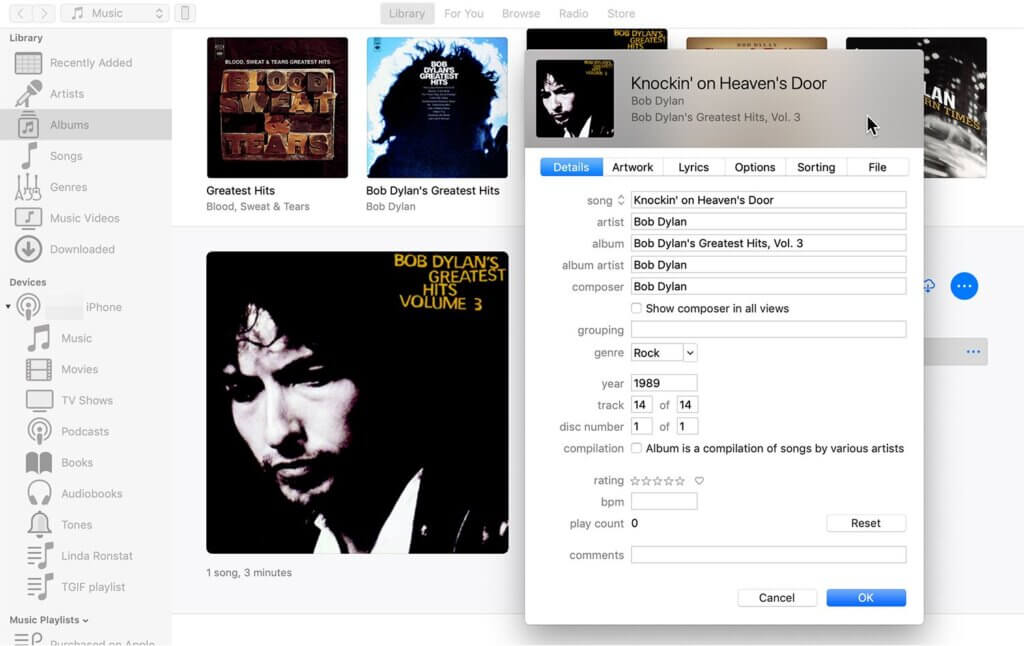 So, in terms of Track labeling, Audiomack saves both your time and effort than Soundcloud.
4) Upload Formats:
It is one of the crucial aspects for creators to decide which music streaming platform is better for them. While Soundcloud offers a wide range of upload formats like mp3, wav, AIFF, and m4a to upload the track, Audiomacks only allows mp3 files as an upload format. However, Audiomack allows you to share the song which is already hosted on Soundcloud.
Also Check: How to Download Songs from Soundcloud
Final Words!
Both Audiomack and Soundcloud have their own pros and cons, as we have mentioned above. So before deciding which one is the better music streaming platform for you, consider all these points. If you have any other queries related to Audiomack vs Soundcloud, feel free to ask us in the comments. Keep learning, keep growing!
Quick Access