Twitch is a dedicated and largest live streaming platform for video games worldwide. With 140 million monthly active users, sometimes, you might find yourself lost. And if you don't get results that can motivate you, it becomes harder to keep going. And when I say results, I am talking about Viewers and Followers on Twitch. If nobody is watching your live stream or following you, then you may wonder what the purpose of streaming is.
Why do you need more Twitch Followers?
Twitch Followers or viewers are indicators of good and like-able live stream content. Having a good number of Twitch Followers will not only make your Twitch profile stand out, but it will also give an impression that what you create is loved by many people. The more followers you have, it's more likely that others will follow you too.
Related: What is Twitch and should you live stream non-gaming content?
10 simple hacks to gain more Twitch Followers
There is no shortcut to success, but if you can avoid mistakes and follow the tips below, it will make your journey to success much easier.
1. Use social media as a quick weapon.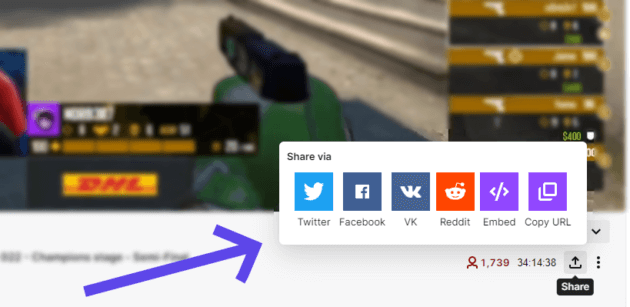 Stumbling upon a few loyal followers and constantly working to improve the viewership can be done quickly using social media. Streamers can post a quick byte about their upcoming videos and post videos on social platforms. This could kindle the curiosity of the viewers and will help improve the viewership count.
2. Allow people to host your content.
Apart from gaining followers through social media platforms, one easy way would be to find people who can host your content on them. When hosted by someone who has a more significant number of followers, there are better chances for you to gain new followers. In that case, how do you get hosts for your account? Initially, you can use whim by using your friends to host your content, or it can be an exchange forum where you can host theirs.
3. Stick to a schedule
Nothing works better than often communicating with your streamed videos among your viewers. Make a schedule and stick to it. Your schedule pattern must let you meet your viewers often along the journey of your twitch streaming. This will make your viewers expect and curious about your upcoming video.
4. Buy Twitch Followers from a trusted source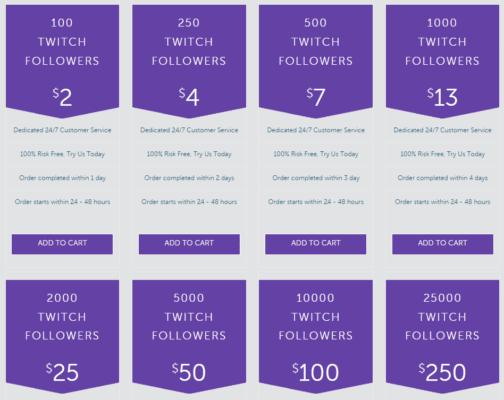 This option is for beginners who need a push in the beginning of their Twitch streaming journey. Twitch streamers don't necessarily get rewarded for their work and that's when they think they should buy Twitch Followers or viewers. There are plenty of websites which are safe and reliable to choose from, select the package, make payment and wait for results. It's that easy.
5. Choose the right set of games to stream.
Streaming popular games like Valorant, CS:GO, Call of Duty, etc will get you more competition, and the viewership of your videos will face a heavy struggle. On the other hand, if you are focusing your content on rare and under rated games, you can develop a dedicated fan base. The growth will be slow but this method pays off eventually.
6. Moderate your streaming content
Moderating a live chat sounds easier than done. People just react without giving much thought and you never know the age of the users watching your stream. So, you can assign a moderator or switch on AutoMod to moderate chat automatically. This can create a friendly and less toxic environment for your viewers.
7. Engage with your viewers
Twitch allows viewers to communicate and talks with the content providers through the chat window. It allows viewers to ask questions, interact with the streamers, and comment on the videos streamed by a channel. Acknowledging and replying viewers will increase your Twitch channel engagement and earn valuable followers in the process.
Related: YouTube Streaming Vs Twitch Streaming: Which is better and why
8. Invest in a more suitable layout
Nothing is more attractive than a better layout for your channel. So, spend some quality time defining and refining your channel layout. On the whole, make it more attractive and highly professional to look at. After all, your stream channel's attractive layout helps attract more viewers. So, encourage using widgets like webcam, chatbot, social media accounts that you own, followers list, and hosts. This creates a unique outlook for the viewers and is an easy way to increase Twitch views.
9. Stream your videos on several other platforms
In total, there are specific tools that help you stream your Twitch videos on several other video streaming platforms like mixer or YouTube. You can use tools like restream, which helps you collect audience across different platforms, increasing your viewership.
10. Invest in quality equipment
Any video with horrible sound, audio, or video quality is lackluster and will create a wrong impression among the audience. Invest in procuring some quality equipment for video creation and editing. If you want to improve the quality of your content, investing in these may improve your videos' display.
Summary
So, you must appear and remain active, positive, and fun to your verses and fan base so that they return to your channel. On the whole, it's not advisable to go behind procuring fake viewership followers. Spend more time, stream the right content, and attract viewership but pulling in more engaging and exciting content can help you build a better viewership stat for your account.