Facebook is a phenomenal social network to earn money for marketers through different channels such as Facebook groups or pages. It has become first choice for bloggers to promote their content, for publishers to gain viewership for their videos, and so on. Through advertising Facebook is giving a tough time to even Google Adwords. Despite all this, Facebook has become a profit making network for all kinds of users, provided they know the tricks and techniques required to be successful in the trade. The following are the points to know before initiating any project to earn in return:
Earn through Facebook Groups: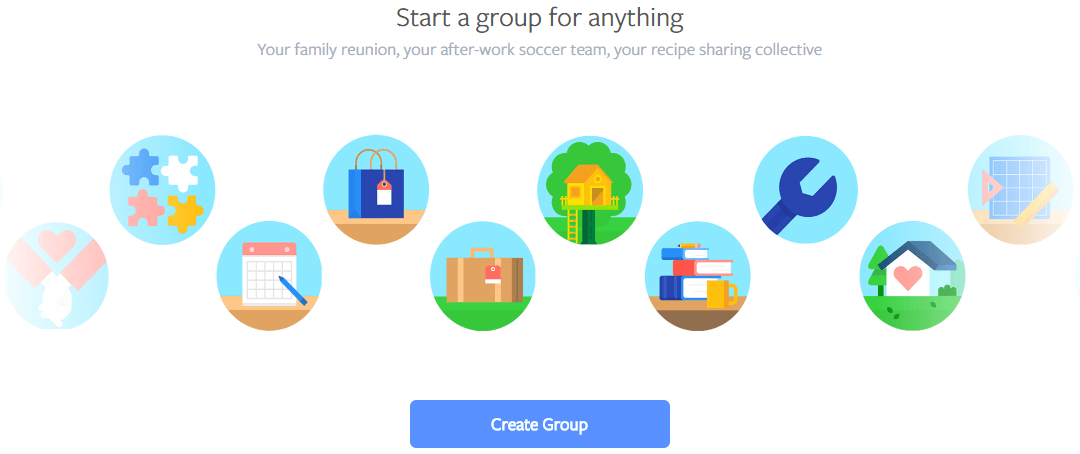 Similar to the Facebook pages, Facebook groups have a few differences in their processes. For instance, Facebook page is only controlled, monitored and handled by the group admin, while on the other hand, a group can allow every member to post or share any update. Hence, it's more participative in nature. There isn't any restriction on anyone to not add or invite anyone from their respective contacts. By establishing groups on Facebook people are promoting their businesses and expanding their network. This can further help in earning some money for those who are clear about the target they want to accomplish. The following are the steps involved in starting a profitable Facebook Group:
Make a list of as many contacts as possible
Check your contacts and shortlist a minimum of 500 people so that a substantial amount of response can be received. More and more people would be added and the word would spread across the network without any hassle. Get as many members to successfully execute the idea and incur profit out of it.
Gain their trust
To accelerate any network, you got to drive it fast but to gain the momentum you have to earn faith of the audience first. To make that happen. Stick to your niche and try to match up with the expectations of your network. This would help you gain political affiliation, plus in case you wish to market a product through your group or page, don't forget to link it with your posts.
Get in touch with other groups
It's not just about you, there are numerous other groups who are targeting a set of similar audience like you are. So, beware while entering into the club. Join other relevant groups as well and only then you would be able to invite them as well. Maintain a professional outlook and see the bigger picture, which will allow you to enter some prospective opportunities by getting associated to the influencers and making a difference for your group with time.
Gradual response will begin to add up
No one would be interest immediately when you would want them to. Things take time, especially in the digital world; if you want sustainability then go for a long term solution. Else a temporary trick would only fix your problem for a limited time period, which no one would want for a start-up to have. Slow growth would be promising rather than an immediate expansion that is the golden rule to remember.
Assist in establishing your brand
While your Facebook group expands consistently, it automatically elevates the impact of your business as a brand. Improved visibility and steady development of your network adds value to your entity in an indirect manner. This would help you expand your reach, wait patiently, maintain regularity in content, give it sometime, it will generate more connection and earning prospects eventually.
Get paid for reviews
There are many organizations who believe in the power of social media, have made Facebook as a tool to connect and market their products and services. For instance, admins of a food club page on Facebook are making profit by posting offers, events of other restaurants and food joints. Also, posting a review about them is a good source of earning for few members.
See also: Increase Likes, Reach and Engagement on Facebook.
Earn through Facebook pages:
Make your presence count
Creating a page would only allow you to project the next best thing you want the audience to remember. Therefore, associate something worthy and self-promoting on your page. While sharing content, ensure that it has to be interesting for he viewers, such as a thoughtful idea, a funny commentary, a famous quotation, market analysis or anything entertaining that can go viral. But the priority is to get noticeable attention and increase your Facebook Likes.
Promote it via all channels
Though it's already a part of Social network, yet its reach can be further multiplied, through sharing the URL on other platforms like Twitter, Google+, LinkedIn, etc. Even blogs can support and promote your, although ideally it goes vice versa. Still it can be an effective method in increasing the visibility of your page.
Affiliate marketing of products
It's like selling a product of third party on your page and earning profit share out of it. Basically, your page would function as a medium to promote and sell a product; therefore, you would be getting a percentage of revenue incurred through selling of the product from the actual seller. For example: Create a new Facebook account for each affiliate program, this enables the users to follow your page depending upon their interest. It can be used as a tool to repost things from more than two accounts, which will get exposed to large audience. And for each click on your post or buys anything from your affiliate, you automatically earn money.
Make use of your ' Page likes'
Once you reach a mark of likes, say 1000 likes or 5000 likes, you can begin to endorse other pages or small start-ups. You would a mediator between the two; the business would gain visibility through your community, while the community would get to see some relevant updates that they might be interested in. Hence, it's a win-win for all, and a smart way of earning for your page. Shopsomething.com is one such platform that allows you to sign up your fan page as an owner and lets you set a price per post. Pricing should not be too high. To increase Likes on your Facebook Page, you can advertise on Facebook or directly buy Likes if you are looking for numbers.
Notable suggestion:
Maintain consistency while you are putting your effort on Facebook, as it would turn out to be profitable only if you move into the right direction and have the patience to see the success.