Your name is an essential part of your online identity, and having it correctly displayed on Facebook is crucial to staying connected with friends, family, and colleagues. Whether you've recently gotten married, changed your legal name, or simply want to go by a different name, Facebook provides a straightforward process for updating your profile name.
But there are cases where you will not be allowed to change your name on Facebook. Let's jump into it.
Steps to Change Your Name on Facebook
Login into your Facebook account. On the top right corner, click on your profile photo to show Account settings. (Check the screenshot below)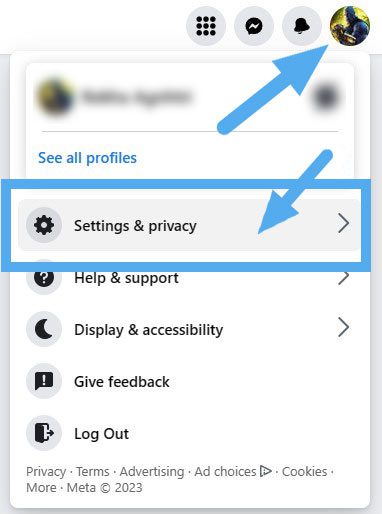 Click on Settings and privacy from the options displayed.
From Settings & privacy option, click on Settings option. (Screenshot below)
Now you are on the General profile settings page. Click on the Edit option corresponding to your name. If you want to change your Facebook username you can select the second option.

Now enter your new First name, Middle name (which is optional) and Surname and click on the Review Change button below.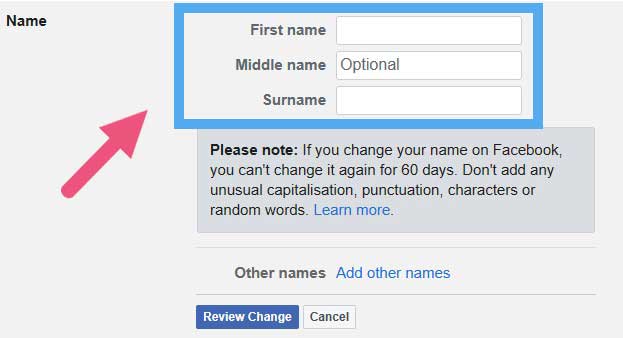 As the warning suggests, if you change your name on Facebook, you can't make any further changes to your name for the next 60 days.
Select your new name, enter password and hit the Save changes button.
That's it. You have successfully changed your name on Facebook.
| Read also: 5 Reasons Why Reddit is Better than Facebook
Some frequently asked questions below which I have tried to answer as correct as possible with the latest data from Facebook.
Why can't I change my name even after 60 days have passed?
If you are not able to change your name on Facebook even if you haven't changed it before is because you have confirmed your name in one of the confirmations asked by Facebook.
Since you have already given your approval for the existing name, Facebook will not allow you to make any changes.
Can I change my name on Facebook even if I have confirmed my name?
Yes, you can change it but the process is tedious. You can fill up a form to change your Facebook name. You have to provide a valid government ID and the name you are trying to add on Facebook and the name on the ID card should match.
Can I enter a fancy word for my Facebook name?
You can sometimes get away with it, but if your profile gets locked for security reasons, you will be asked to submit an ID document and when that doesn't match, your profile will be permanently lost. So, if you are serious about your Facebook account, then you should never write anything else other than your correct name.
What is not allowed as a name on Facebook?
Symbols, numbers, unusual characters, words from more than one language, abusive or offensive words, all these are not allowed. There is an extensive list on what is not allowed on Facebook.
Quick Access