If you are reading this article and have come to find where the option to delete all of your Tweets is located on Twitter, then prepare to get disappointed because there is no such option on Twitter.
But you don't have to lose hope, because we have found a solution. There are third-party sites which can help you delete all of your Tweets at once. Most of the sites are paid but we have shortlisted top 4 websites which helps in deleting all of the tweets. But if everything is free then what's the catch? We will discuss the catch later in this article.
How to Use TweetDelete to Mass Delete Tweets
1. Sign in to your Twitter account.
2. Visit https://tweetdelete.net and click on Sign in with Twitter button as shown in the screenshot below.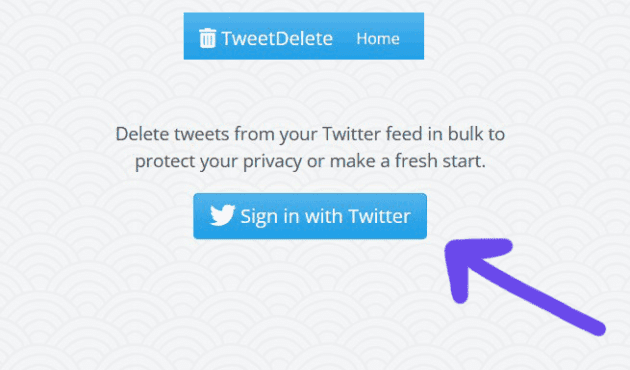 3. Now comes the hard part. You have to read all the access it requires to function and you need to click on the Authorize app button.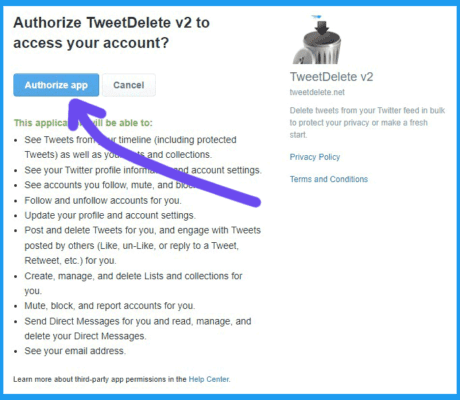 4. You will be redirected to a page which looks like something in the image below.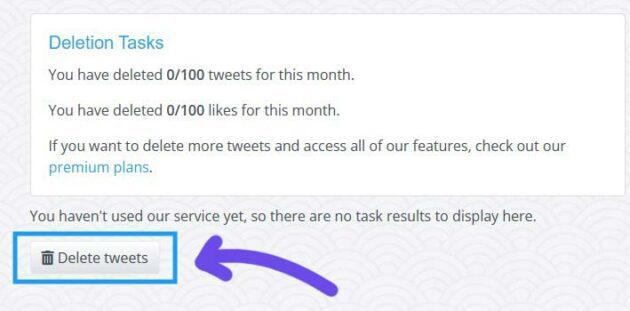 Click on the Delete tweets button to move on to the next step. Do not worry, your tweets are not deleted yet. If you want to change your mind, this is the time to do so.
5. Now this is the last part. Select "All my tweets" option from this drop down menu or you can select the tweets by age filter here. The free plan helps you to delete up to 100 Tweets or 100 Likes per month. So, even if you select All my tweets option, the maximum it will delete is 100 Tweets.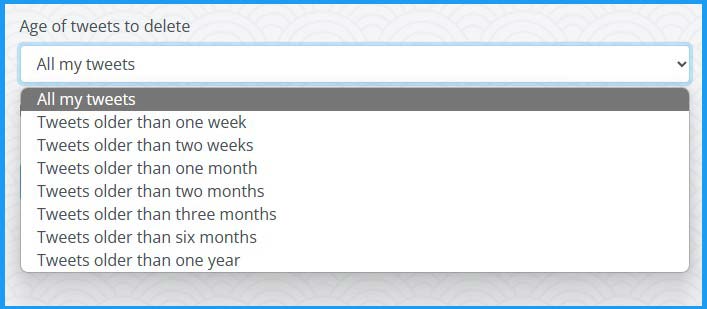 As shown in the screenshot below, click on the Delete my tweets! button to finally trash at least 100 Tweets if you are using the free version.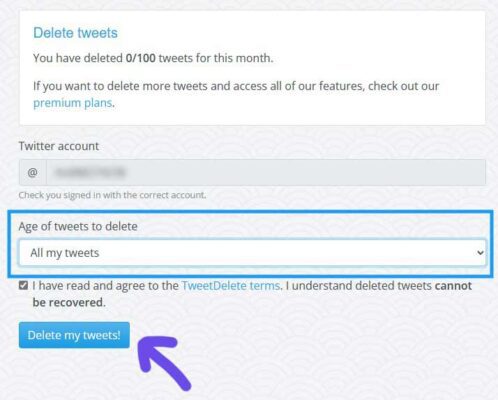 If you don't want to delete all of your Tweets, there is another option where you can make your Twitter profile private and keep your Tweets to your followers only.
How Can You Delete More than 3200 Tweets All at Once
There is a limit for deleting all the Tweets at once and that is 3200 most recent Tweets. This is because of a limit set by Twitter API for the developers to fetch only the most recent 3200 Tweets. But there is a way to delete more than 3200 Tweets all at once. But it will not be free, you will have to shell out $3.6 for a premium plan at TweetDelete website to delete more than 3200 Tweets.
If you create an archive of your Twitter data, then these third-party websites will be able to access the data past those 3200 Tweets. Once third-party sites get access to that data, it will be able to delete any number of Tweets, be it 5000 or 10,000.
So, how to create an archive of your Twitter data?
Follow these steps:
Sign in to Twitter
Settings and Support > Settings and privacy > Your account > Download an archive of your data
Here you will be asked to enter your password, a code will be sent to your email. Enter that code. Then click on the "Request archive" button.
Soon Twitter will send you a notification when the archive is ready for download.
Once your archive is ready, you can opt for the premium plan to begin deleting more than 3200 Tweets all at once.
Once you are done with deleting all the Tweets from your Twitter profile, remember to revoke access of these third-party websites/apps for security purposes.
| Read also: Buy Twitter Followers at Low Price, High-Quality and Safe
Top 4 Free Mass Tweet Delete Options
1. TweetDelete
TweetDelete gives both a free and paid option. You can delete your most recent 100 Tweets or Likes per month in the free version. If you want to delete more than 100 Tweets then you need to opt for a paid plan starting at $2.91/month.
2. TweetEraser
TweetEraser is very similar to TweetDelete. Below are the similarities shared between both the sites.
Same free option to delete 100 Tweets per month.
Same number of packages and their rates.

Same features in the premium packages.

You can't find any difference between both sites as if they both are managed by the same person.
3. Twitwipe
Another free option is Twitwipe. But at the time of writing this article, their service was under maintenance, So we couldn't test their services for quality. Nevertheless, they are one of the free Tweets deleting service providers.
4. TweetDeleter
TweetDeleter is another free option. But do not get fooled, the options this website gives as free barely make any difference. Use TweetDeleter only if you are too lazy to find out other better methods. Below are the features offered for free:
Delete up to 5 Tweets per month
If you spend 2 minutes, you can get more job done than this website.
What's the catch in using third-party sites for deleting all of your Tweets
Now is the time to discuss the real catch, the drawback of using such sites.The real problem is with the access these third-party sites require to perform their task. No matter how trusting a website looks but if you share access to sensitive information, there is always a possibility of data leak. Let's look at the access it requires from you before you can even use such websites.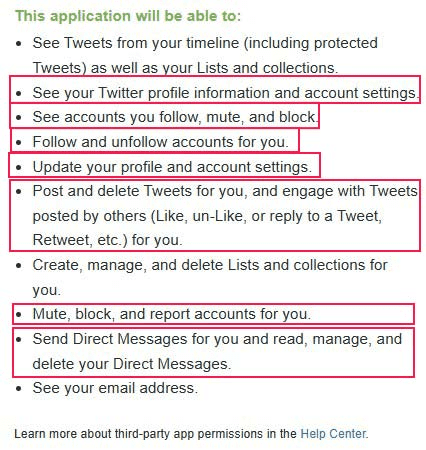 The requirements highlighted in the red are the ones you just can not compromise on.
If access is given to these requirements, you will not only compromise your data but also the data of the person you were in conversation with.
With all this access, such sites can use your profile to send DMs, read, manage your DMs, Post and engage with your Tweets, Follow and unfollow users and also see your account settings.
If your Tweets are giving you a headache or might create a problem in your new employment, our suggestion is to just deactivate your Twitter account and start a new one.
How to Revoke Access of Third-Party Apps and Secure Your Twitter Account
If you have knowingly or unknowingly given access to any strange app on Twitter, follow the below steps to revoke their access and make your Twitter account secure.
Sign in to your Twitter
Go to Settings and Support and then Settings and privacy
From Security and account access select Apps and sessions
Select Connected Apps option
You can see all the apps which you have given access to. Click on the name of the app for which you want to revoke the access.
Click on Revoke app permissions.
That's it, you have finally secured your account from unwanted third-party apps.