Stories are a great way to engage and interact with your audience in a more exciting and relatable way, whether on Instagram, Facebook, Twitter, Snapchat, or any other platform. With the same thought, LinkedIn had also launched the "LinkedIn Stories" feature on its platform a few weeks ago. Although LinkedIn is a more serious and professional social media platform than Facebook or Instagram, you can indeed grow your personal or professional brand reach using this new story feature.
Whether you are looking to connect with reputable companies and employers for a job change or want more reach for your latest product launch, you can use the "LinkedIn stories" marketing strategies in five excellent ways to boost your reach. But before jumping to these ways, let's learn more about this feature and how it works.
Also Check: How to Optimize Your Linkedin Profile
What are LinkedIn Stories and How it works?
Just like Instagram or Snapchat stories, LinkedIn stories is a way to share your thoughts, activities, latest announcement, or any other experience with users in the form of text or video that lasts for 24 hours.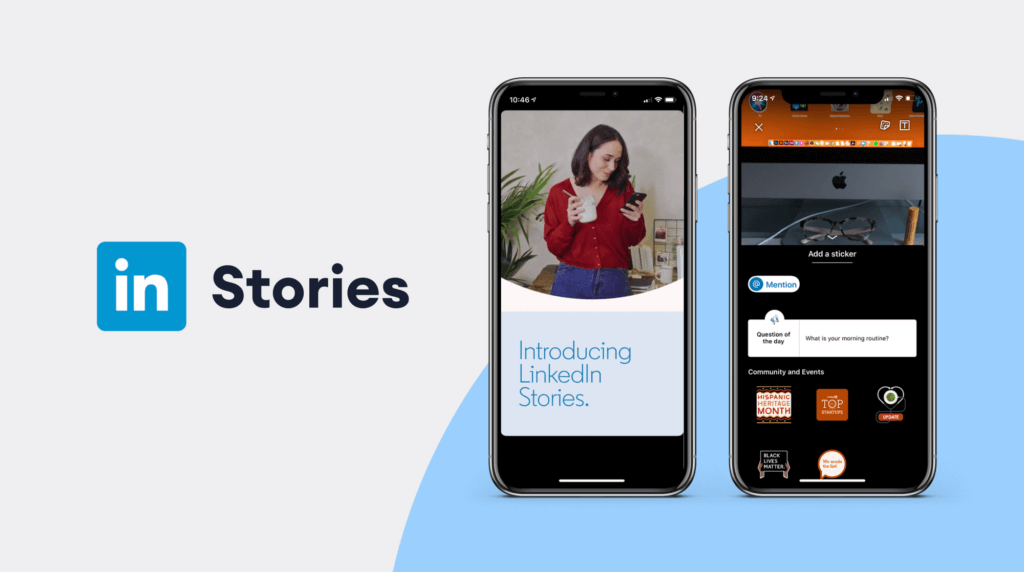 You can add text overlay, stickers, Q/A, and mention accounts in LinkedIn stories to reach potential clients and brands. Once you publish the story, it will appear on the top of the user's LinkedIn feed as a tappable bubble.
Specifications You Need to Post LinkedIn Story:
To post a story on your LinkedIn story, you need:
Resolution: 1080 (w) x 1920 (h) px
Aspect Ratio: 9:16
Frame: 30 FPS, square pixels
Supported file types: H264, MP4
Step-By-Step Process to Post a LinkedIn Story:
1) Open your Linkedin app and tap on the profile picture on the top left corner. There you will be able to see + sign near your profile picture.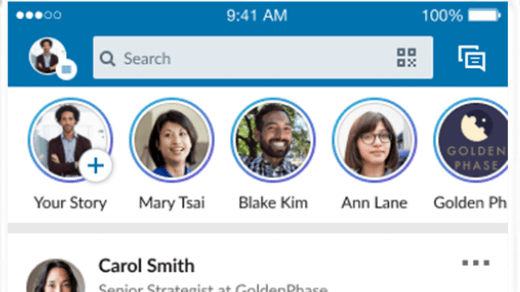 2) Now, select media from your Camera Roll or take a video/photo directly to create a story.
3) If you don't want any media, you can create a post using text only. Now add filters, hashtags, and stickers if you wish.
4) Mention the relevant accounts to boost your reach and when you're done, hit the "Share Story" button.
5) Now, after posting the story, you will be able to see the list of all the users who have viewed your story, including their job title, company name, and other details.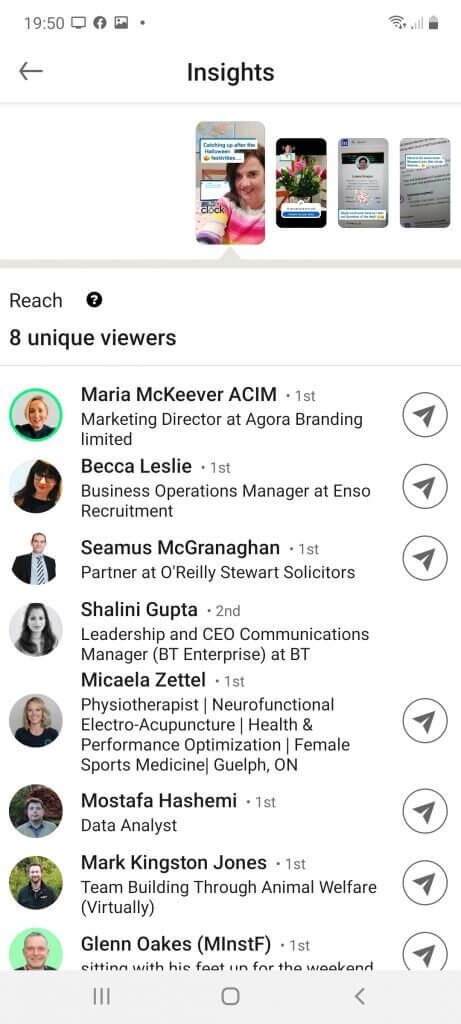 One thing you need to notice is that you cannot choose who can view your story or not. Everyone who can view your post can also view your story, and if you want to stop someone from seeing your story, you have to block them.
LinkedIn Stories Marketing Strategies- 5 Ways to Boost your reach via story feature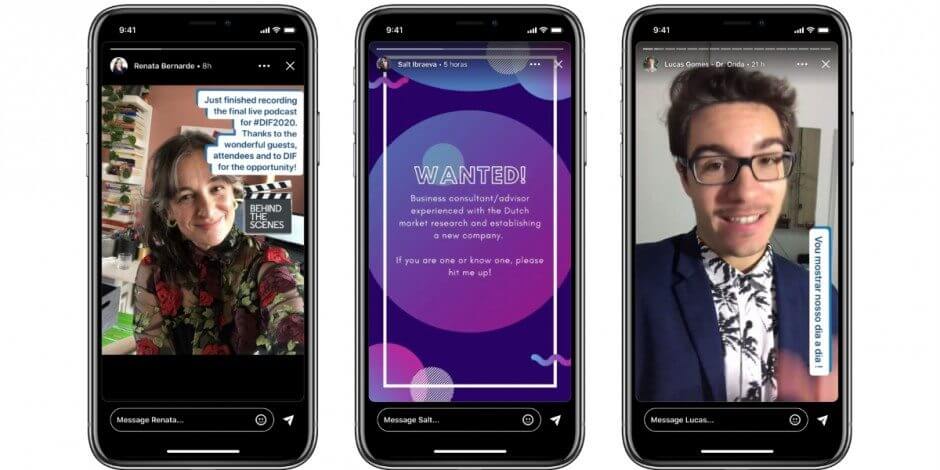 1) Share Real-Time Events Updates
If you are a brand that wants to create hype around your network on LinkedIn, then nothing can work better than LinkedIn stories for you. From award ceremonies to promotion celebration or speaker talk, you can share short videos or calendar updates of real-life events in stories to attract more eyeballs. Also, you can mention the guests or speakers in your stories to boost your account's engagement.
2) Make Short Videos of Upcoming or Trending Product
You can also showcase your best-selling product or upcoming product by making a short video and adding it to your story. The best thing about LinkedIn stories is that they gain more attention than usual feed posts. So you can benefit from this reach to showcase the features of your product or any discount coupon you are offering to increase your sale.
3) Share Professional Tips and Quotes
Apart from videos, one thing that gains more attention on LinkedIn is professional tips or quotes. Everyone needs motivation in one way or another. You can showcase all your professional experience in the form of some infographics to help your followers by sharing them on your LinkedIn stories.
4) Share your achievements or current work-life status
Whether you are a company that is looking to hire new talent or an employee actively looking for a job change, you can use LinkedIn stories to update your work-life status so your network can know what you are up to and reach out to you. Also, you can directly share your story with other recruiters or companies via dm to get hired fast.
If you are a brand, you can share exciting videos of work desks, office culture, celebrations, etc., to let people know how your company works and what are benefits your company offers to the employees for a better impression.
5) Host corporate Q&A session
One of the best features of LinkedIn stories is the Q/A section. Using this feature, you can interestingly engage with your followers by hosting an interesting Q/A session on startup, corporate culture, work ethics, and whatnot. This way, your followers will be able to know you better both personally and professionally.
Useful: How to Build Your Network on LinkedIn
Conclusion
In the end, it all depends on how creative you can become with the content that you share on LinkedIn stories, but these are some of the best LinkedIn Stories Marketing Strategies to boost your reach. Apart from it, you can also use the story feature to give shoutouts, post testimonials, etc. So keep experimenting and share your experience with us!

A professional content creator who loves to write about the latest trends, fashion, technology, and everything you might probably looking to search on Google. Every news or story is worth sharing if you know how to write it!

Latest posts by Divya Gupta (see all)