Instagram Stories Highlights can be valuable to any brand's digital marketing strategy. Here are 14 ways to curate Instagram stories and create highlights that support a host of business and marketing objectives.
Product Launches and New Features
Due to their transient nature, stories create an ideal platform for sharing time-sensitive content, such as product launches and new features. Although these topics may not be timeless, they may remain pertinent for longer than a single day.
Instagram Stories Highlights are an ideal way to showcase product launches and new features, allowing you to keep followers up-to-date. Not only can you generate interest in products and features, but you can also leverage tagged stories to drive sales even after stories expire.
@evernote's 'What's New' story highlight makes it simple for followers to keep themselves updated on the app's most recent changes. Notable stories include link stickers that direct to new features, posts and reels shared on the feed and tutorials the development team shares.
Related: Instagram Reels vs. Stories: Which is better?
User Toolkits
Demonstrate to potential customers how your products or services can provide solutions to their needs. Your website could showcase examples of various customer profiles. However, it can be difficult to implement this idea on Instagram.
Instagram stories highlights offer the opportunity to provide potential customers with a comprehensive overview of your product or service, demonstrating how it can be used to achieve their objectives. Highlights can be tailored for various goals and target customer profiles for an even more comprehensive approach.
@leadpages has provided story highlights for a multitude of needs for their customers. Its Convert highlight provides users with a wealth of stories demonstrating how the landing page builder's tools and features can facilitate the conversion of prospects into customers.
Related: How to Use Instagram for Affiliate Marketing
Lead Magnets
Toolkits can be extremely useful in raising awareness of your brand. Lead magnets can then convert prospects into leads and further engage them by encouraging them to subscribe to your list or trial a product.
Identifying and implementing a high-performance lead magnet into your Instagram presence is beneficial to maximize your lead conversion potential. This can be done by sharing it in your feed or stories and adding it to your story highlights for further promotion.
This allows the lead magnet to stay visible and accessible to those who view your page.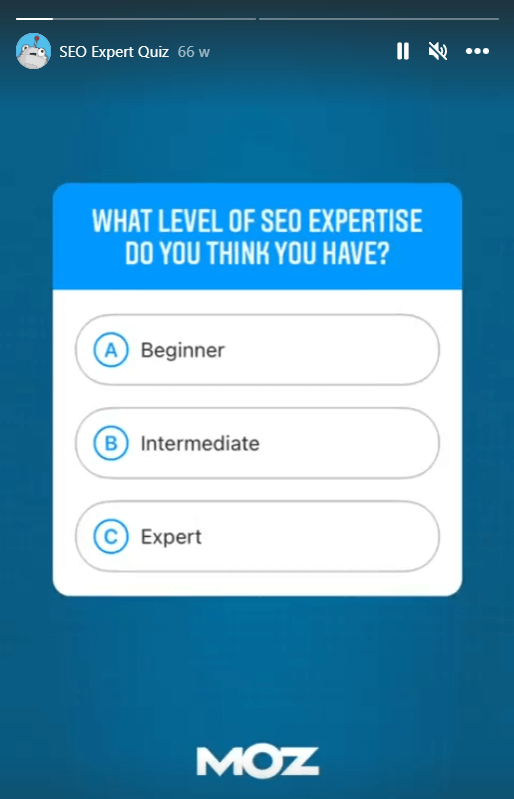 @moz_hq's SEO Expert Quiz illustrates the knowledge points of interest to one of the company's targets consumers. By participating in the quiz, customers are then presented with options to deepen their engagement with the brand, such as signing up for a complimentary trial or taking an SEO course.
Resources and Guides
Once customers have been converted, providing them with helpful resources to make the most of your products is beneficial. Offering how-to guides and information on getting started will ensure customers have a positive experience and the ability to enhance their proficiency continually.
Creating evergreen content is an effective way to engage with users on reels and feed posts. Additionally, adding resources and guides to stories can be beneficial, as this is where users tend to be most engaged. Adding them to your highlights is great to ensure users can easily access these stories.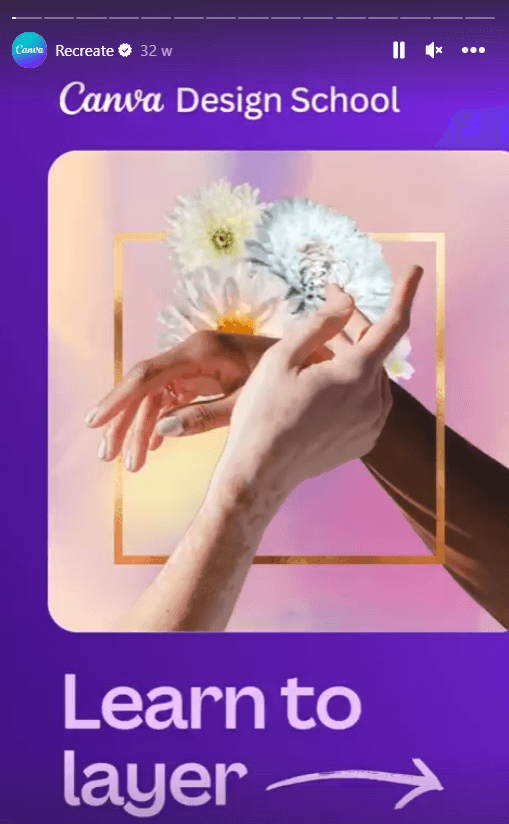 As an illustration, @canva's Recreate highlight provides a range of instructional videos to help customers familiarize themselves with the design app. Moreover, the highlight includes link stickers that direct customers to interactive workbooks, enabling them to deepen their understanding of the app and create more effective designs.
Blog Posts
Due to the restricted linking options available on Instagram, it cannot be easy to advertise blog material in posts and reels. As stories enable link stickers, they offer a better alternative for promoting blog posts and other external content.
Increase the visibility of your organization's most successful blog posts by featuring them in stories and adding them to a highlight. While the posts may be timeless, ensure the highlight is kept up-to-date to remain engaging to your readers.
As an illustration, @grammarly has compiled a selection of its most impactful blog posts in the Blog highlight. These featured posts range from writing advice, such as punctuation rules and differentiating between commonly confused words, to alternative expressions for common phrases.
User-Generated Content and Customer Stories
The inclusion of User-generated Content (UGC) and customer stories can effectively convert new customers. By showcasing customer stories and customer-generated content in one standout, potential customers can easily access and view the social proof.
Your organization's account may be the source of many of these stories. Still, you can post user-generated content (UGC) such as unboxing videos, styling advice, product demonstrations, and other customer-uploaded media to your own stories.
@asana's Customers Highlight comprises many customer stories demonstrating how organizations in various sectors use the project management tool. This highlight includes a combination of case studies and customer statements, providing substantial social proof.
Related: Become social media influencer without showing your identity
Reviews and Testimonials
Are your customers often leaving glowing reviews or providing detailed testimonials? This evergreen content can be just as effective in the feed as it is for stories. Collecting your top reviews in a story highlight makes it easy for potential customers to understand what they can appreciate about your brand.
@maxineheavenly's Testimonials emphasize multiple customer reviews from satisfied customers. Each narrative lets customers tell their experience in their own words, with a link sticker encouraging potential customers to explore the showcased items.
Frequently Asked Questions
If your team is inundated with similar customer inquiries, taking advantage of Instagram's Frequently Asked Questions feature may be beneficial. Furthermore, Instagram Stories Highlights can effectively respond to such queries and provide customers with pertinent product and service information.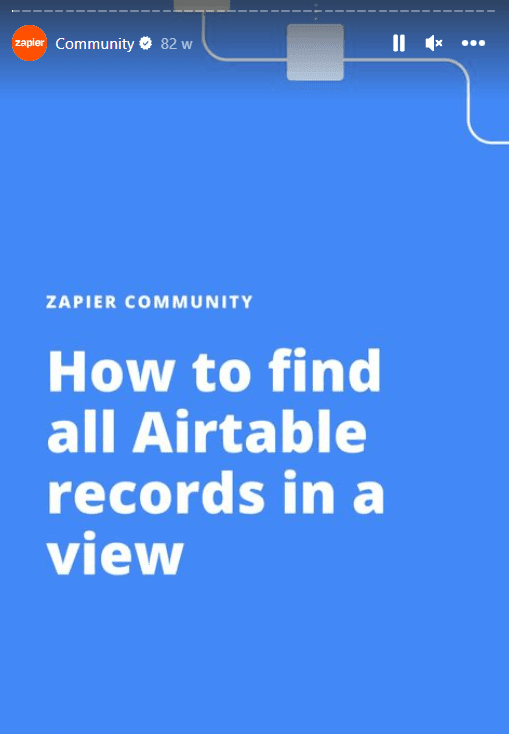 The @zapier Community Highlight offers a variety of stories that link to resources in the automation app's knowledge bank. These stories address common customer issues, provide troubleshooting guidance, and feature advice that enables customers to maximize the app's automation capabilities.
Events and Conferences
Does your organization hold virtual or physical gatherings? Since information concerning events is typically transitory and concentrates on activities that occur offstage, it is well-suited for Instagram Stories.
For events requiring greater attention, it may be beneficial to keep their content accessible for more than 24 hours. This will allow the event to be highlighted and increase interest in future events.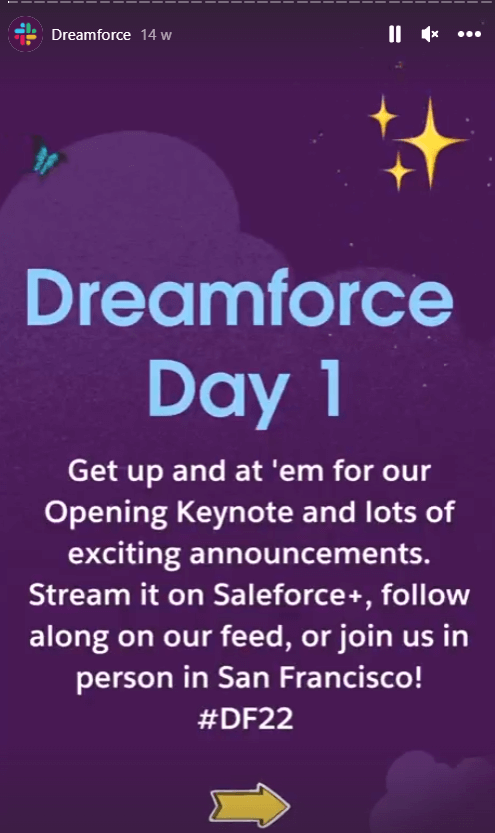 At the annual Dreamforce conference hosted by @slackhq's parent organization, the communication app has created a highlight to commemorate this event, featuring stories from speakers, the schedule of events, and the culture of the conference. Through this, @slackhq can generate anticipation for the next Dreamforce event.
Sales and Special Offers
Events, sales, and special offers tend to be applicable for a finite duration. However, if your promotional offers extend beyond one day, it may be preferable not to allow your sale-oriented stories to end after 24 hours. If your offers are more intricate than what can be portrayed in a single narrative, then additional steps may be necessary.
Highlighting current sales can help increase customer awareness of your offerings. Customers can easily locate important information such as dates, costs, and products by creating a sale-centric focus.
For example, @buffcitysoap's Sale highlight offers customers the chance to purchase products at discounted prices, enabling them to save while shopping. The soap brand ensures the content remains pertinent by consistently keeping the highlights up to date and removing outdated sale-related stories.
Email Signups
Are you looking to encourage potential customers to join your email list? Utilizing Instagram stories can be a great way to accomplish this, as they allow you to include link stickers that will take users directly to the page where they can sign up.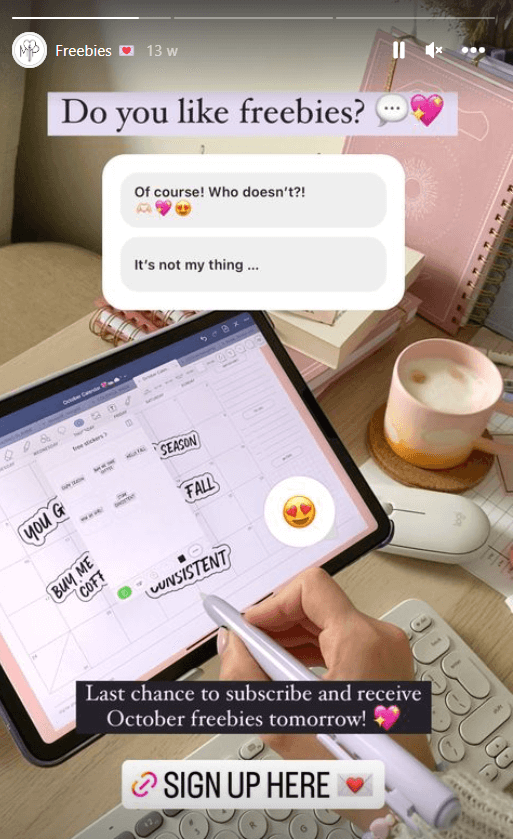 As an illustration, @madetoplan has a designated Freebies highlight that encourages followers to take advantage of the free planner files available. Each story consists of a poll to help the account holder gain feedback and a link sticker for email registration.
Behind-the-Scenes Content
You can benefit immensely from showcasing its culture through stories highlighting team members and day-to-day operations. These stories can be easily compiled into a single highlight to provide followers with insight into the business. This is an invaluable opportunity, especially if your team does not typically post behind-the-scenes content.
The @maxinesheavenly brand's BTS highlight features team members to provide users with an insight into the people behind the company. The highlight includes interviews with the co-founder and content showcasing team-building activities.
Reward Programs
Has your organization initiated a loyalty program for customers or a referral program for affiliates? Promoting these programs in stories allows customers to access more information or register quickly. Through the emphasis of these initiatives, you can maximize visibility and enrollment.
@socksmith's Rewards and Refer Friends highlights provide summaries of their respective loyalty and referral programs. Link stickers are included to facilitate enrollment.
Mission and Values
Incorporating your company's mission and values into your social media marketing strategy is essential to creating a strong presence on Instagram. Utilizing story highlights to reinforce your brand's message will make them a core feature of your profile.
One example of a successful campaign is @peetcoffee's Responsibility Highlight. It focuses on the company's core values and mission and provides information about responsibly sourced coffee. Additionally, it encourages readers to learn more about their mission to make coffee better.
Bottomline
Highlighting special events, product launches, and exclusive offers allow you to capitalize on your Instagram profile's greatest stories. Utilize the ideas presented to ensure your company's marketing objectives are met and make the most of your brand's content.