What is Pinterest Ads?
Pinterest ads are like all other Pins, except that they are sponsored for extra attention in relevant search results. It allows more people to find, view, and discover your products and content on Pinterest. Pinterest Business account owners can also promote their top performing Pins, create new images or videos, or even promote pinned images on their website. You can create, edit, and manage Pinterest campaigns in Pinterest Ads Manager. Once ads are set up in Pinterest Ads Manager, they appear in relevant search results and user's home page feed.
Pinterest ads can be targeted based on demographics, categories, and interests such as age and location, so you can target audiences that are right for your brand. It's one of the most effective ways to drive leads and traffic, increase brand awareness, and increase followers on Pinterest!
Types of Pinterest Ads
The type of Pinterest ad campaign will determine the ad format you use and the types of bids you use. Therefore, it is good to know about each format before launching a campaign.
1. Promoted Pins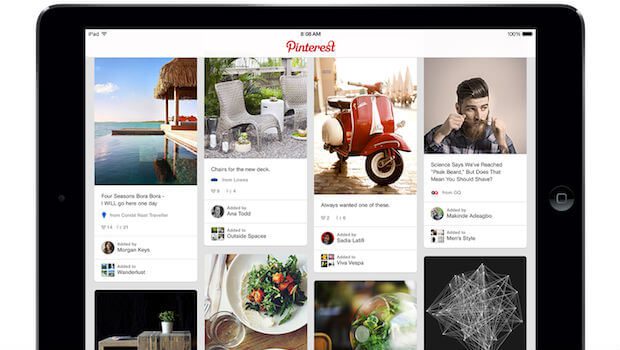 Promoted Pins appear in feed and homepage search results like a regular Pin, except they are enhanced and targeted to provide wider reach. Aside from the "Promoted" label on the pin, they look and behave like other pins. Users can add, share, and comment on the forums. When users taps or clicks on your ad, they are taken directly to your landing page.
2. Promoted Carousels
Promoted carousels started in November 2018. They contain two to five images that users can swipe through. These multi-image ads can appear anywhere the Pins are located and behave in the same way, except for the points below that indicate the swipe option.
Each promoted Carousel ad can have a different image, title, description, and landing page. This format is ideal when you want to showcase multiple products or features, as different images and selling points can attract different winners.
3. Promoted Video Pins
Videos are great for awareness campaigns and a good format for telling a story about a brand or product. Promoted Video Pins are like Promoted Pins, except that the static image is replaced by the video. Like Promoted Pins, Promoted Videos also appears in the home feed and search results.
Pinterest videos will automatically play as soon as they appear at 50%. For better accessibility, and since many viewers watch the video with the audio silently, it is important to produce videos that are not dependent on the audio.
Pinterest offers two sizes for Promoted Video Pins: Max Width and Standard. Standard-width videos are the same size as regular Pins, while max-width videos are spread across the stream, minimizing the distraction of competing Pins. Maximum video exposure can be more expensive because minimum bids start higher.
4. Story Pins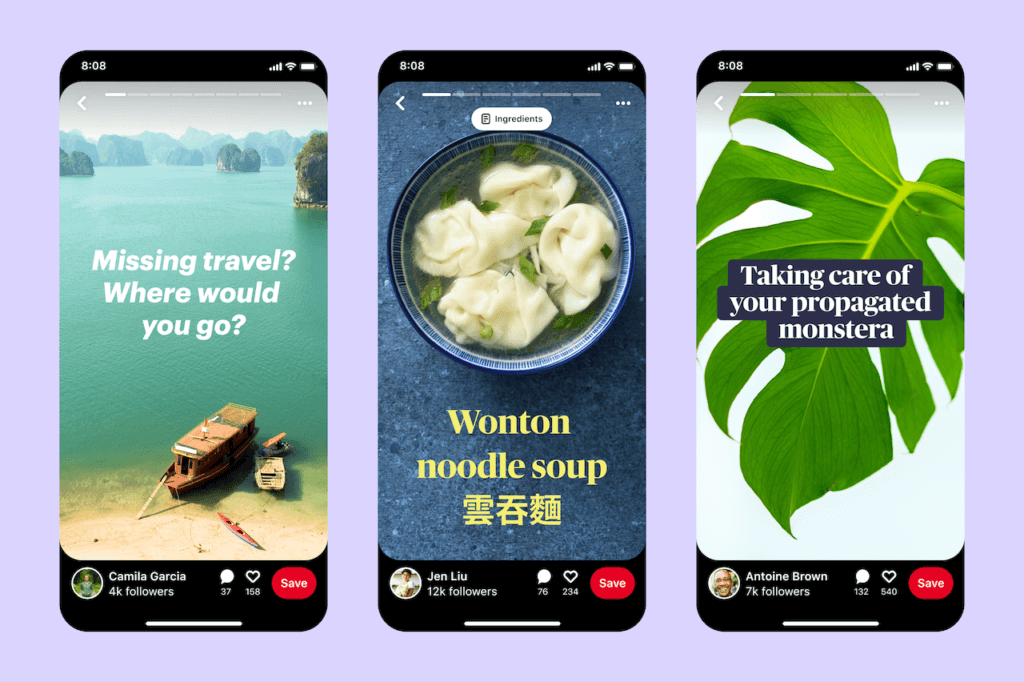 Story Pin is a new type of pin format that is being tested on some business accounts. Provides up to 20 pages with images, text, and links. Story Pins are displayed on the user's homepage feeds with a cover image and title. They also say "story" below. You can see all the pages by tapping a story placeholder.
Story Pins can be saved to boards like any other Pin. This area provides updated information on the behavior of the brand.
5. Buyable Pins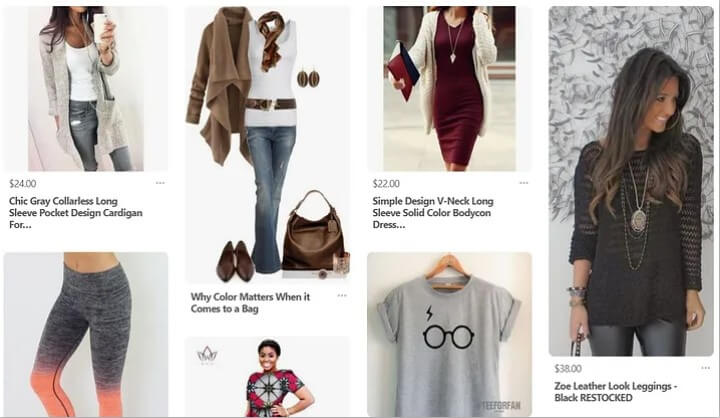 Buy Pins are designed to be sold. These pins, also known as Shop the Look, allow users to find and buy products directly from their Pins.
These Pins work on mobile and web devices and appear in the same places as Sponsored Pins. The only difference is that items in the image are marked with white dots that you can tap or click to view and link to product information. This format is ideal for images where multiple products work together. Pinterest recommends adding 4-6 points to images. Ideally, each point should relate directly to the product page.
6. Promoted App Pins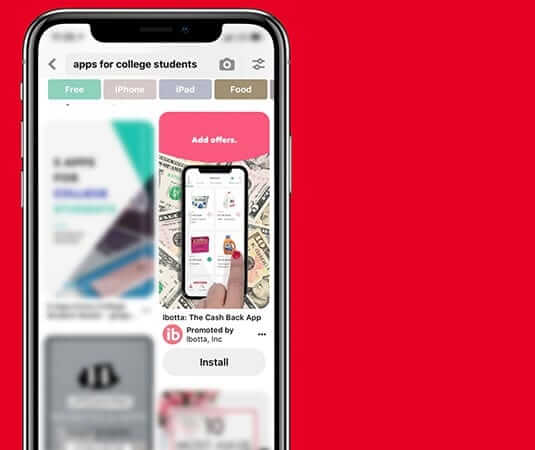 Promoted App Pins allow pinners to download your mobile app directly from Pinterest. These mobile-only ads are great for Pinterest audiences as 80% of Pinterest traffic comes from mobile devices.
Promoted App Pins look and behave like Promoted Pins or Promoted Video Pins, but are linked to a valid URL from iTunes or the Google Play app store. An install button comes with these pins.
Why you Should Use Pinterest Ads?
Pinterest is more than just a social media platform – it's more like a search engine like Google. On social networks, users mainly communicate with each other and exchange content. With Pinterest, users seek inspiration and create panels that they can later view with verified content that interests them. Because Pinterest ads appear as Promoted Pins, which are Company Sponsored Pins, it's easy for users to find and purchase the products they want.
Pinterest Ads empowers marketers to connect and interact with more than 300 million Pinterest monthly active users (MAU's) (Pinterest, global analysis, 2nd quarter 2019). Brands that use Pinterest's ad targeting features can not only increase brand awareness but also achieve results. More than half of Pinterest users make a purchase after viewing commercial content on the site.
With that in mind, it's time to get ready to advertise on Pinterest.