Post, a publisher-focused social media app aiming to be the next Twitter, has officially launched its iOS app. The app entered beta testing shortly after Elon Musk's acquisition of Twitter, with the goal of revolutionizing how people consume news on social platforms. Post offers three distinct feeds: following, explore, and news which are the core features of the app.

The news tab provides users with a stream of new articles from Post's publishing partners, which include reputable outlets such as Reuters, the Los Angeles Times, Wired, Yahoo Finance, Fortune, Insider, and NBC News, among others. While users can view headlines and the beginning of the articles for free, reading the entire content requires a microtransaction using "points" within the Post app. (see the image below)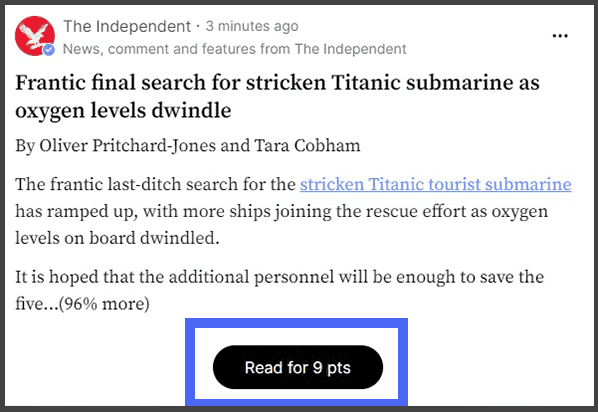 It's important to note that these articles are not behind paywalls on the publishers' websites, and most of them can be accessed for free by visiting the respective sites. However, some users might be willing to pay for the convenience of in-app reading without intrusive pop-up ads.
Publishers receive 100% of the revenue generated from these micropayments, although this model may change in the future as Post looks to generate its own profits. The app is currently backed by Andreessen Horowitz and Scott Galloway, a marketing professor and author at New York University.
You can also cash-out points (1 point = 0.01 USD) with the help Stripe payment gateway.
Post shared in a press release that premium publishers are seeing an average equivalent of $30 CPM (cost per thousand impressions) for paid content and an average equivalent of $1.3 CPM from tips for free content. This indicates that the platform is providing an opportunity for publishers to monetize their content effectively while offering users a seamless reading experience.
| Read also: How to Search a Tweet from a Specific Twitter User: 6 Steps
With its unique approach to news consumption and revenue sharing, Post aims to carve out a space in the competitive landscape of social media platforms. By providing access to high-quality content from reputable publishers and offering an alternative revenue model, the app seeks to attract both users looking for a feed news experience and publishers seeking new monetization avenues.