Is your Youtube Channel not performing well, or are you struggling to get views on your content? Don't worry! You are not alone. Many content creators usually face this challenge and don't understand where they are going wrong. But to help you out, we have listed the 10 most common reasons why your Youtube channel is not getting views.
By understanding and working on these reasons, you can improve the performance of your channel remarkably. So let's see where are you lacking and what all you should do to grow your content & Youtube Channel.
Check: Do's and Don'ts on Youtube to avoid Ban
9 Most Common Reasons of Why Your Youtube Channel is not getting Views
1) Something is Wrong with your Youtube Video Thumbnail
The thumbnail of your video is the first thing that attracts the audience to view your content, so it should always be attractive and catchy. If there is no accurate image or tagline mentioned in the thumbnail, people will skip the video and move on to another. On the other hand, if you use attractive and bright colours with high-resolution images & relevant keywords, your thumbnail will look more beautiful and chances to get more views on your video will automatically increase.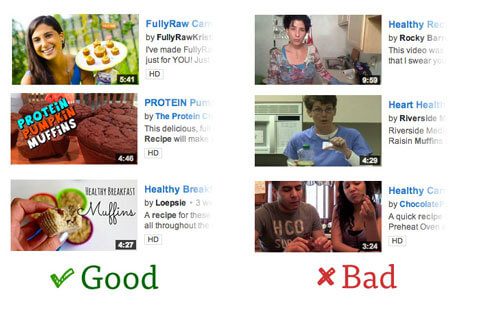 To create bright & attractive Youtube video thumbnails, you can use free tools like Canva, Adobe Spark, Snappa etc. and observe the change in your channel's growth.
2) You are not Consistent in Creating & Uploading Content
As we always say, Consistency is the key, especially in the case of Youtube Marketing. If you are not consistent with content creation & uploading, you will lose your potential audience and existing subscribers. Consistency plays a crucial role in Youtube's Algorithm as experts observed that channels with regular content posting are getting better results in terms of engagement & subscriber count than those who are posting content at irregular intervals.
3) Your Content is not according to the Target Audience
When you start creating content initially related to a particular niche, you start getting engagement and views from people who belong to that niche or want to watch similar content. Now, suppose you will keep making videos for such people. In that case, eventually, your videos will be visible to a similar kind of audience, and you will start getting more video views or engagement.
But suppose you will experiment with your content every time to target a different audience. In that case, your retaining audience will also lose their interest in your content as you have nothing to cater for them now, and you will end up generating low views or engagement on your content. That is why it is crucial first to understand your audience type and then create content according to their interest for better views & engagement.
4) Not using the correct Video Tags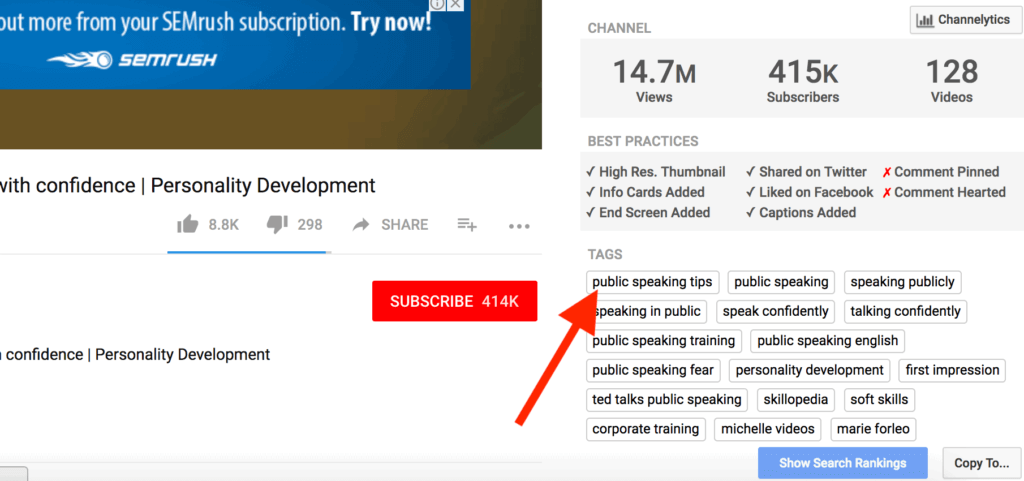 Video Tags helps your video appear in the search results when someone writes their Youtube search bar queries. Based on the keywords you are using in your video tags, your video appears in the search results. Suppose you are not using the relevant keywords related to your video content in the video tags. In that case, your video will not appear in the search result, which could be the possible reason to get low engagement on your content.
You can use tools like Ahrefs Keyword Research or VidIQ to find the relevant keywords for your video tags and increase their ability to appear in the search results. Also, you should use a combination of focus, related & long-tail keywords in the video tags to cover maximum search queries.
(See also: Buy YouTube Views)
5) Not doing Youtube Optimization in the right Way
Apart from video tags, you need to optimize the video description, title, etc., to tell the audience about the content available in your video using the right set of keywords. Youtube optimization is what helps your video to rank in search results to get more video views and interaction.
You must have to take care of keyword research, search volume, custom thumbnails, SEO, etc., to improve the ranking of your video on the platform. Once you start doing it, you will see a remarkable change in your channel's engagement rate & subscriber count.
6) Lack of Social Promotion on other platforms
Are you uploading the content on Youtube just for the sake of posting and expecting it to get viral? If you are doing this, then stop right there! Only posting the content on Youtube will not provide you with more video views or engagement unless you promote that content on other social media handles that might have your potential audience.
Many active communities like Facebook Groups, Reddit groups, Blog sites, and other social media networks are available to reshare your content to make it more visible. Use these platforms to divert the traffic on Youtube for more views and engagement on your content.
7) Poor Audio or Video Quality
This is one of the most common reasons for getting low views on your Youtube Channel. Your content's audio and video quality matter a lot in the ranking and search results. People don't like to watch the video with horrible audio quality or poor video resolution.
In fact, Youtube itself doesn't encourage such videos, and if you want to improve your search performance, you need to work on your audio and video quality using good video recording equipment.
8) Low or No Engagement with the Audience
Only creating content for your audience and posting it on the platform won't generate good engagement as you must engage with people through your video content & comment section. If your content isn't engaging enough, people will not like or recommend it to others.
Try to make the content engaging by asking questions, storytelling or various contests so people can engage with it and tag others to watch your content at the same time.
9) Low Audience Retention Rate

Last but one of the crucial reasons behind getting low views on your Youtube Channel could be the low audience retention rate. A low audience retention rate reflects that people come to watch your video but leaves only after a few seconds. If that is the scenario, the reason could be the poor content quality or irrelevant content.
You can use Youtube Analytics to determine your audience retention rate by looking at the average watch time of your videos. If it is too low, then you need to work on your content quality to retain the audience on your channel. You can also use video cards to link relevant videos together for those who want to watch similar content.
Also Check: Ways to become a Youtube Influencer
Final Words!
So, these are the nine most common reasons why your Youtube channel is not getting views. I hope by working on all these factors, you will able to see remarkable growth on your channel. Don't forget to share your experience with us in the comments and for more marketing tips, stay tuned with us!