This article is a curated guide, meticulously crafted to present the top 10 budget-friendly hosting solutions tailored to meet the unique needs of Indian businesses. From startups aiming to establish their online presence to established enterprises seeking reliable yet affordable options, this comprehensive compilation intends to serve as a beacon of guidance through the often complex world of web hosting.
There are numerous trustworthy, cost-effective alternatives to expensive website hosting and maintenance. We have tried our best to highlight the top affordable web hosting service providers for Indian users.
Top 10 Web Hosting Services in India for Small Businesses
Hostinger India, GoDaddy, BigRock, Bluehost India, SiteGround India, A2 Hosting India, HostGator India, InMotion Hosting India, DreamHost India, ResellerClub, BigRock, HostPapa India, GoDaddy India, MilesWeb, Hostripples, ZNetLive, and HostingRaja are a few of the well-known web hosting companies in India.
1. Hostinger India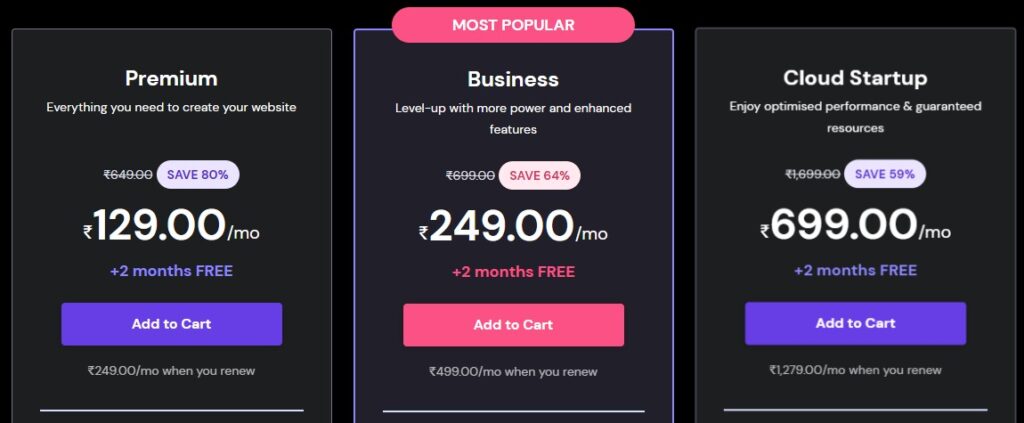 Hostinger India specifically caters to the Indian market, offering localized services, support, and hosting solutions tailored to the needs of users in India. They provide various hosting options, including shared hosting, VPS (Virtual Private Server) hosting, cloud hosting, and more. Their services often come with features such as a user-friendly control panel, one-click installations for popular applications like WordPress, and a range of tools designed to assist users in creating and managing their websites easily. They also have black friday sales offer goin on, so if you are planning to purchase a web hosting, now is the time.
2. GoDADDY
Godaddy is one of the oldest web hosting providers in the world and one of the most trusted name. Although, their price for hosting services can be a little extra but they make that up in their quality of service.
3. Bluehost India

Bluehost India isn't just any web hosting company; it's your digital gateway to a world of hosting possibilities. From the convenience of shared hosting to the power of VPS and dedicated options, they've got it all covered. As a dynamic offshoot of the Endurance International Group, they've built a reputation for rock-solid hosting, top-notch customer support, and an interface that's as user-friendly as a warm welcome.
4. BigRock
BigRock's hosting services offer several advantages. Firstly, their affordability stands out, providing hosting plans at competitive rates suitable for individuals and small businesses. They boast a diverse range of services, encompassing shared hosting, VPS hosting, dedicated servers, and reseller hosting, catering to various business scales and needs. Their user-friendly interface, often facilitated through tools like cPanel, ensures ease of use
5. A2 Hosting India
A2 Hosting typically offers server locations in different parts of the world, including India, which can be advantageous for those targeting an Indian audience as it reduces latency and ensures faster access to their websites.
6. HostGator India

HostGator India typically offers customer support through various channels like live chat, phone, and email, assisting users with technical issues or queries. The support is known for being responsive and helpful.
7. DreamHost India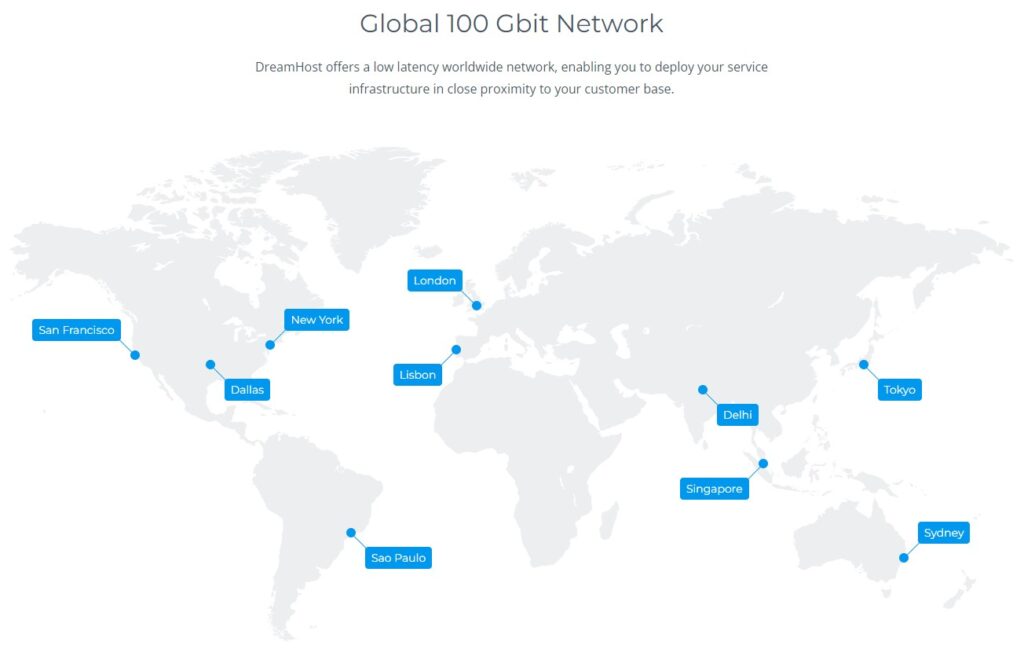 DreamHost India is known for providing good uptime, ensuring that websites hosted on their servers are consistently available to visitors. They have data centers in Delhi, India to ensure content loads superfast for Indian users.
8. HostPapa India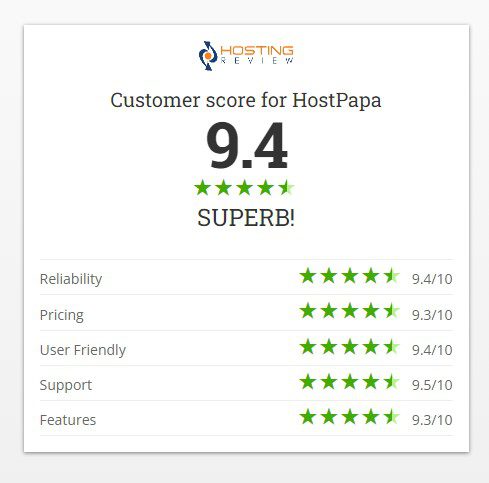 HostPapa prides itself on being an environmentally responsible hosting provider. They use green energy to power their data centers and have a commitment to sustainability.
HostPapa often includes a website builder with its hosting plans, simplifying the process for beginners to create and design their websites. Additionally, they may offer a starter kit with resources and templates to help users kick-start their online presence.
Fast and secure website hosting provider SiteGround also provides free website migration services and top-notch customer support.
9. ResellerClub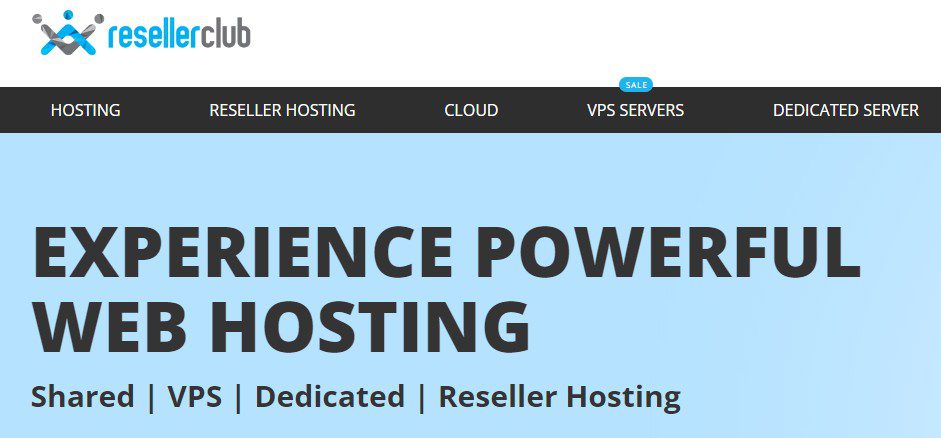 One unique thing about ResellerClub India is that it provides white-label hosting solutions, allowing users to brand their hosting services with their logo and brand identity. This is beneficial for individuals or businesses looking to resell hosting services under their own brand.
10. SiteGround Hosting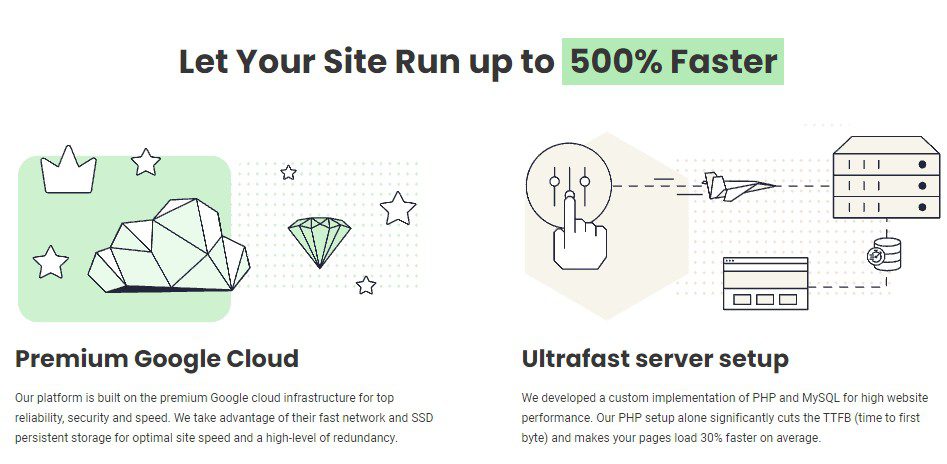 While not specifically an "India-focused" provider, SiteGround offers excellent global hosting services with a strong presence in India.
SiteGround often develops its own innovative technologies for improved performance and security. For instance, their SuperCacher technology significantly enhances website speed.
What are the benefits of having data centers within the country for hosting
Faster Loading Times and Improved User Experience: Customers experience quicker loading times and better performance when accessing websites, applications, or services hosted within the country, resulting in an enhanced user experience.
Compliance and Data Security: For customers dealing with sensitive or regulated data, having data stored within the country ensures compliance with local data protection laws, providing greater peace of mind regarding data security.
Local Support and Service: Local data centers often mean better customer support and service availability during local business hours, facilitating easier communication and problem resolution.
Reliability and Redundancy: Having multiple data centers across the country ensures better redundancy, meaning if one data center faces an issue, services can be maintained through others, ensuring reliability for the customers.
Cultural and Linguistic Relevance: Customers may benefit from locally relevant content, services, and applications tailored to their specific cultural, linguistic, and market needs.
If your content/blog/website is meant for majority of the traffic coming from India, then it's fair to say, you should select data center from India only while purchasing a web hosting plan.