TikTok became a trendsetter in the global social media market soon after its launch. It developed a fandom among youngsters because of its unique concept and the platform it gave to influencers. Talking of the concept, have you ever heard of a social network similar to TikTok?
Kwai, a social media network, is used to create and share short video content, like them, and monetize those likes later. It came into existence a little earlier than TikTok in 2013. Even with the early launch advantage, Kwai did not become as popular but is walking into the global market slowly. The application is all about sharing your daily life videos, funny content, and challenges. Since it is still growing, the content creators have a golden opportunity to become a part of the community and earn big. So just to help, we figured 10 easy ways for you to gain followers on the network and make quick progress.
How to increase Kwai Followers?
1. Buy Followers (Easy way)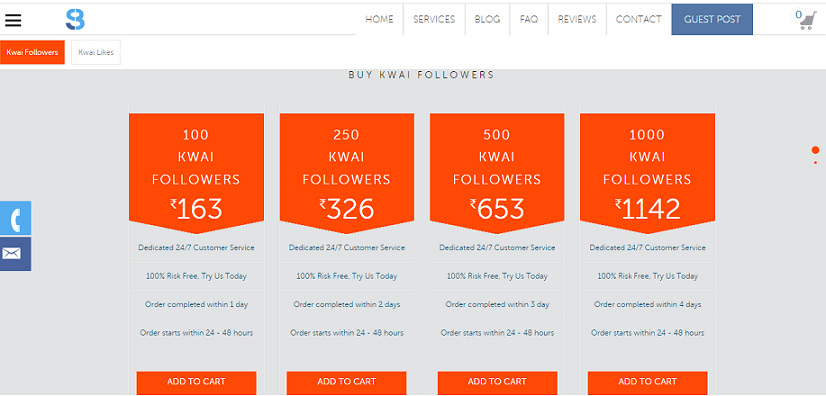 It is the easiest way out of tragedy. As a content creator on the network, you have the privilege to buy yourself some followers and get a go-ahead in the competition. While we support the practice, we suggest you buy Kwai followers only from the sites we have trusted over the years.
2. Create a content strategy
The idea of what to create and when to create is a strategy to understand if you are willing to gain more followers on Kwai. one needs to pay attention to the network's algorithm and its activities to make the best out of it.
3. A strong start will help
The first 3 seconds of your video will decide the future of your video and whether your audience finds it watch-worthy. So, you must ensure that your beginning is as fascinating as possible.
4. Promote, promote and promote!
Like any other social media platform, promotion rules the possibility of your content going viral. Creating content is never enough. You need to select the right space and medium to promote your video to the right audience to gain views and ultimately, followers.
5. Go for an easy-to-trend video
An ongoing trend is always easy to get a hold of. Also, trending challenges go viral rather quickly as compared to an experiment. Create your short videos using recent hot topics to attract a swarm of viewers.
6. Create high-quality content daily
The quality of your videos will matter in the process of gaining popularity. Focus on not giving anything but what your viewers want to watch.
7. Benefit your followers
Kwai application benefits its users if you like their comments or follows and who does not like a deal of advantage? Use your power as bait to make your network mutually beneficial for your fans.
8. Informative content could boost Conversations
If you create tutorials, you might get your comment section going as people would start asking you questions leading to communication and establishing connectivity. Connectivity always boosts followers. Take note!
9. More videos, more chances to go viral
The Kwai algorithm is proactive in comparison to other similar applications. If you procrastinate content creation, you might as well be the last in the race. So you should regulate as much content as possible.
10. Use filters and effects to your benefit
A video without effects? What nonsense, right? Well, the network sure knows that, and thus it offers free visual effects and filters. Using trending effects, you can also manipulate the network algorithm and get your video ahead of the viral list.
11. Create your style with the content
How hard is it to create a few seconds of video? But style does not come easy. Although, style is what sells in the market so well. Try not to replicate someone on the network but be yourself and show what is different about you through your videos. Your style will help you monetize Content on Kwai.
Conclusion
This doppelganger of TikTok developed by Beijing Kuaishou Technology has a lot of similarities but what differentiates it from the former is its user benefit approach. The network is growing steadily and has 700 million global users registered at present and 120 million active users. So, if you are already signed up make sure you try these methods to gain more followers on the network.