Social marketers need a platform to represent their offers to their probable customers. Undoubtedly, Facebook marketing ensembles almost every aspect of a promotional strategy that one wishes to experiment with on a social network. The most likable factor of its popularity is its enormous reach and instant feedback to make the plans go round smoothly. Though it's a demanding job to keep up with everything on a regular basis but where else you will be able to cater a specified demographic audience at low-costs? Therefore, some of the points are listed below to implement while you are planning to pitch yourself on Facebook as a marketer:
Add a like box to your website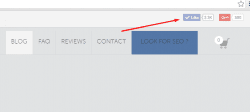 To get more traffic on your website you must attach a like button on your website, so as the fans of Facebook page can visit your respective site and get to know more about the project you have been updating in your Facebook posts.
Complement personal profile with your page
Constant updates on your page will not be as much influential as your personal profile will be, when it would be linked to the page. It's a smarter way to keep things genuine and reliable.
See also: Tumblr for Social Media Marketing and SEO
Invite email contacts
To let more people peak into your start-up plan, its important that you invite as many friends or contact as you can. This circle of friends' of friends is an organic way to initiate anything from zero to a reasonable reach.
Contribute to related Facebook pages
Association with the relevant pages gives an instant optimism to both the parties. Its always good to participate on pages that are similar and related to your project or objective. Its appreciated on the receiving end as well as the audience.
Capitalize Facebook advertising
It's a complementary service which works really well for those who decide to take its advantage at the right time. To advertise on Facebook is a sensible outlook to stand with as its cost-effective and know the best targets to reach out to.
Use analytics for placement of posts
Facebook analytics is like an expert opinion that you need to consult with once in a while so that you can make up a strategic placement plan for your upcoming posts and also gauge the best time to attract most of the audience.
Add visual appeal to your posts
Let's not make it boring or usual, try to keep it striking, it should be attention-seeking and at the same time must interact sensibly to its target audience.
Make it fun for fans
Those who are first-time visitors must find it interesting to cling on to and the regular ones must feel compelled to engage and interact, that's how fun the posts should be on your timeline.
See also: Ways to increase Twitter Followers
Brand-image must be relatable
Whatever industry you belong to or whichever target audience you target, the brand image should go with the taste of the public at large. It must not be a brand of few, but one for all.
Convey social proof
To be promoting offers on Facebook is good but can be leveraged by delivering certain social contacts, which are not only related to your brand but is also among the leading ones. You must not avoid such opportunities to get associated with and showcase your relatable factor in your posts.
Problem-solving solves it all
Last but not the least, as a service provider or marketer you must pay attention to customer queries and grievances and should address them well in time. A problem-solver is appreciated and liked irrespective of anything else. Therefore, it's a method that pays off positive results always.