Pinterest is a powerful and engaging visual search engine that allows users to organize information through online pinboards. It's a great way for saving and sharing photos and finding new interests.
Pinterest is increasingly being used as a huge visual search engine and research tool, especially for product purchases as 98% of Pinners report that they are trying new things after browsing on Pinterest.
Pinterest is a great social media platform if you want to introduce your brand to Pinterest marketing and wish to reach a large audience and good revenue, you need a strong online presence. One way to do this is to secure the organic growth of this platform. Here is how you can buy Pinterest Repins and Followers.
When you're ready to start using Pinterest, it's easy to create a free Pinterest account for personal or business use. Let's go through the step by step process on how to create a personal Pinterest account.
1. Create a New Business or Personal Pinterest Account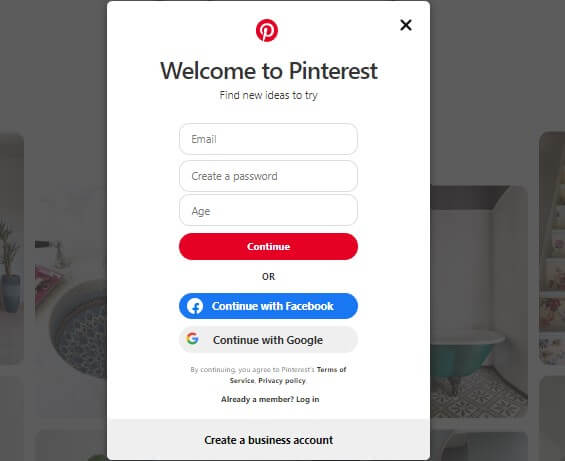 Pinterest offers three convenient methods that you can use to sign up for a new personal Pinterest account. You can create a separate account with your Pinterest specific log in information or you can create a new personal Pinterest account with your existing Google or Facebook ID.
You can also create a Pinterest business account for free. To do this, you can link up to four company profiles to an existing personal account or create a separate new account that is not linked to a personal account. Choose the path that fits best your company's approach to account security and sharing. Ultimately, they both offer the same functionality.
See also: How to Pin Something from Tumblr to Pinterest?
2. Select Topics of Interest
When you establish a connection, Pinterest asks you a few demographic questions and also ask you to choose 5 of your area of interests. In this way, Pinterest can instantly create a relevant home feed that you will love.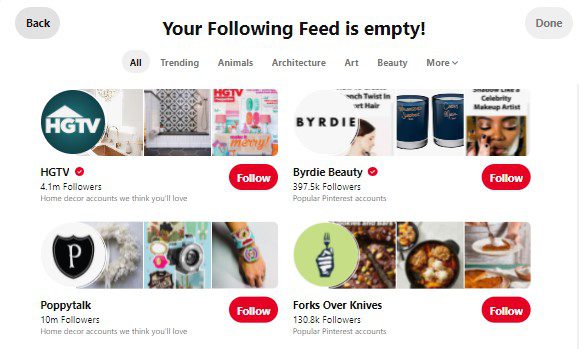 Choose a theme for your new Pinterest account. When you click the "Following" icon at the top left of your new home feed, you will see recommendations for specific accounts based on the topics you have selected as an area of interest.
See also: Pinterest Search Ads: All You Need to Know
3. Create a Pin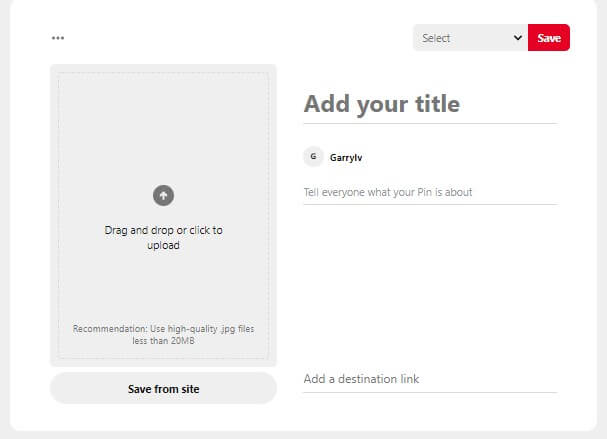 One of the best features of Pinterest is that you can easily save any content from the web as your Pin. Create a Pin from scratch by clicking the Add + sign in the lower right corner of your home page, or install a browser extension to easily store the content you want.
4. Create a Board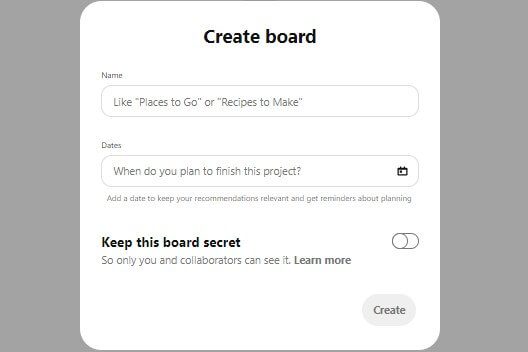 Pinterest Boards is a place where you save your pins. You can create new boards from your profile or by saving your Pin. Someone's Pinterest boards can be as varied as the person who created them. The more you use Pinterest, the more types of items you can pin, which often means creating new boards. Here's how we do it:
At the top right of the Pinterest profile page, click the Add + button.
Select a board option.
Enter a name for your Board and click the box below the dates to add an end date or date range
Toggle switch to keep this Board private if you want to keep it a secret
Click Create
Once you understand the basics of boards and pins, you can start searching, connecting, and sharing with other Pinterest members. Use the Pinterest search bar to enter keywords of interest. You can refine your search with tons of additional keyword suggestions from Pinterest or use the dropdown menu to narrow your search and filter by different types of Pins, boards, and videos.