Spotify is the world's largest music streaming platform with over 350 million users. Whether you're an independent artist or a professional producer, you can reach a large audience by publishing your music on Spotify.
However, not everyone can afford to pay for distribution services which can cost hundreds of dollars. So, if you're looking for a way to put your music on Spotify for free, you've come to the right place. buy spotify plays contact us.
Step 1: Make Sure Your Music is of High Quality
Before you upload your music to Spotify, it's important to make sure that it meets the platform's quality standards. Spotify requires that your music be recorded and mixed to professional standards and that it's free of any audio errors such as clipping, clicks, and pops.
Additionally, the platform recommends that you encode your music at a minimum bit rate of 320 kbps. This will ensure that your music sounds clear and vibrant on the platform.
Step 2: Choose a Music Distribution Service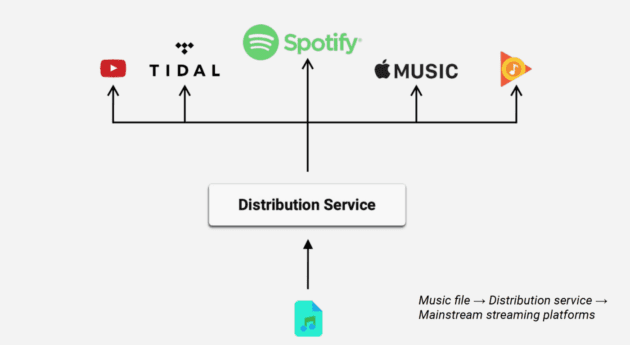 Distributing music on Spotify is not free, there is usually a fee charged by a music distribution service provider. However, there are some providers that offer free distribution, that you can use to publish your music on Spotify. Some popular options include DistroKid, TuneCore, and Amuse.
These services will allow you to upload your music, create your artist profile, and manage your tracks but they often have limitations such as the number of songs you can upload or the countries where your music will be available. It's important to carefully read and understand the terms and conditions of these free services before signing up.
You can see other free Spotify music distributors curated by mastrng.
Step 3: Upload Your Music
Once you've chosen a music distribution service, you can start uploading your music. You'll need to create an account with the service and follow the instructions provided. You'll be asked to upload your music files, album art, and other information such as track titles, artist names, and genre.
It's important to be accurate and consistent with the information you provide, as this will help your music be found by potential listeners on Spotify.
Step 4: Wait for Spotify to Approve Your Music
After you've uploaded your music, you'll need to wait for Spotify to approve it. This process can take anywhere from a few days to several weeks, depending on the distribution service you've chosen and the volume of submissions the platform is receiving. During this time, you can track the status of your submission through your music distribution service.
See also: Spotify vs JioSaavn: Which Is the Better Music Streaming Service
Step 5: Promote Your Music
Once your music is approved and live on Spotify, it's time to promote it.
You can start by sharing your music on social media, reaching out to your network of friends and fans, and collaborating with other artists and playlists. You can also consider running social media ads or reaching out to music bloggers and influencers for coverage. The key is to get your music in front of as many potential listeners as possible.
Step 6: Engage with Your Audience
Finally, it's important to engage with your audience on Spotify. This includes responding to comments and messages, following other artists and playlist curators, and actively promoting your music through playlists and social media. Engaging with your audience will help build your reputation on the platform and increase your chances of being discovered by new listeners.
In conclusion, putting your music on Spotify for free is possible through the use of music distribution services. By following these steps, you can reach a large and diverse audience, engage with your fans, and build your reputation as an artist on the world's largest music streaming platform.
Remember, the key to success on Spotify is to consistently produce high-quality music and actively promote your tracks to potential listeners. Good luck and happy streaming!