Since the day Instagram launched Reels Feature, we all wanted to have detailed insights just like we get to see in feed posts or IG stories. But till now, only the public metrics like views, comments, and likes were available to see on reels posted by the users. To make this feature more useful for Business and Creators accounts, today, the company has launched new Instagram insights for Reels and IG live, which will help content creators to understand what type of content their followers are liking or not. Check the complete details about these new insights here and how they can be beneficial for your accounts.
Check: Latest Facebook & Instagram Updates
Everything you need to know about New Instagram Insights for Reels and IG Live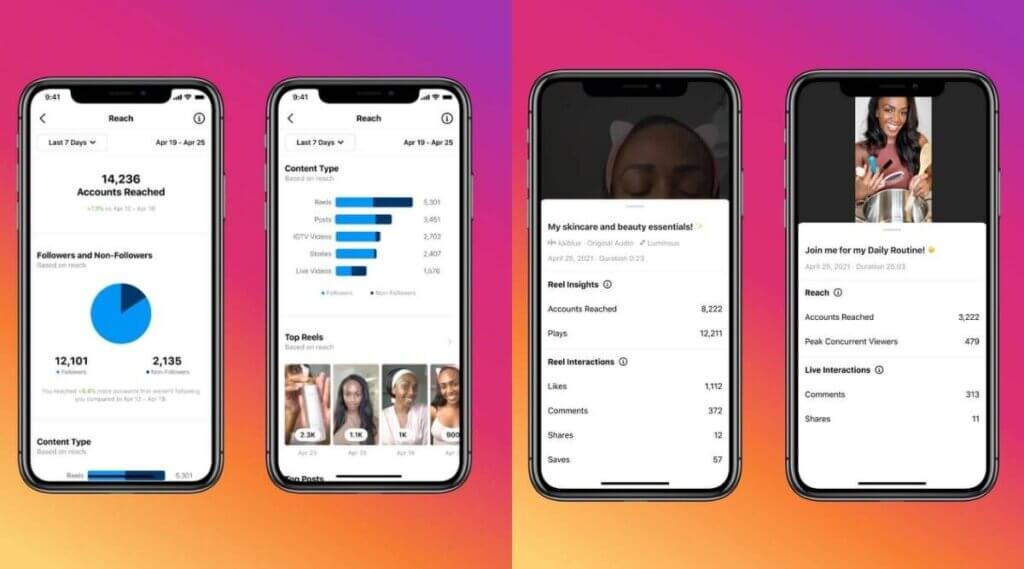 Instagram stated that these new insights would help creators & businesses understand how their content performs under the live and reels section. These new Instagram insights will include metrics like Plays, Accounts Reached, Likes, Comments, Saves, and Shares for Reels. For IG Live, new insights will include metrics such as Accounts Reached, Peak Concurrent Viewers, Comments, and Shares.
Also, the company is planning to introduce new preset time frame options in insights, expanding beyond the last 7 and 30 days in the future. Also, the new Instagram insights for Reels and IG Live will share with the users the breakdown of the accounts they are reaching and which content format is generating maximum engagement so they can plan their content strategy more effectively.
How will these latest Instagram insights be helpful for Creators and Business accounts?
Previously brands and creators were using Instagram reels and live options to showcase their products and services but with fewer available metrics. With more detailed insights and analytics, brands will understand their followers' behavior, interest, location, and content type more precisely, which will indeed increase their inclination towards Reels and Live features than the static post.
With the increase in response towards the Reels feature, the in-app shopping purchase via Reels will also increase, which will give a required boost to the content creators and business accounts. The famous rival company Tiktok has also announced its partnership with specific brands like streetwear label hype to test its new in-app sales feature for creators, but there is no confirmation about this feature yet. So, these new Instagram insights combined with the in-app sale will definitely create a storm amongst users in such a scenario.
Also Check: How to use Instagram latest pronoun feature
Final Words!
Instagram has also stated its plans to introduce additional new features and insights beneficial for business and creators accounts, which means we can expect few more advanced features from the social media giant soon. We will keep updating you about the latest features of Instagram and other social media platforms. Stay tuned and safe!