Spring, the merch company and OnlyFans have just announced a new partnership that will make it easier than ever to find the swag you need. Keep reading to learn all about the exciting new merchandise now available on Springs!
OnlyFans is pleased to announce that it has partnered with Spring, a digital commerce platform, to offer merchandise collections and drops. With this partnership, OnlyFans is opening up new possibilities for creators to monetize their fan relationship through the sale of physical merchandise. The launch celebrates creators working with OnlyFans, and offers them innovative ways to reach fans worldwide.
"As a creator-first platform, there are over 3 million content creators on OnlyFans, meaning over 3 million small businesses now have access to a new monetisation way,"
said Ami Gan, CEO of OnlyFans, in a press conference.
OnlyFans isn't taking a commission from the transaction, but the feature incentivizes content creators to integrate their businesses more intensely within the platform. Last year, the company generated $433 million in profit and is on track to earn $2.5 billion in gross revenue this year;  so OnlyFans is not exactly hurting for cash.
Related : Grow OnlyFans account with more Followers and Likes
What is Spring?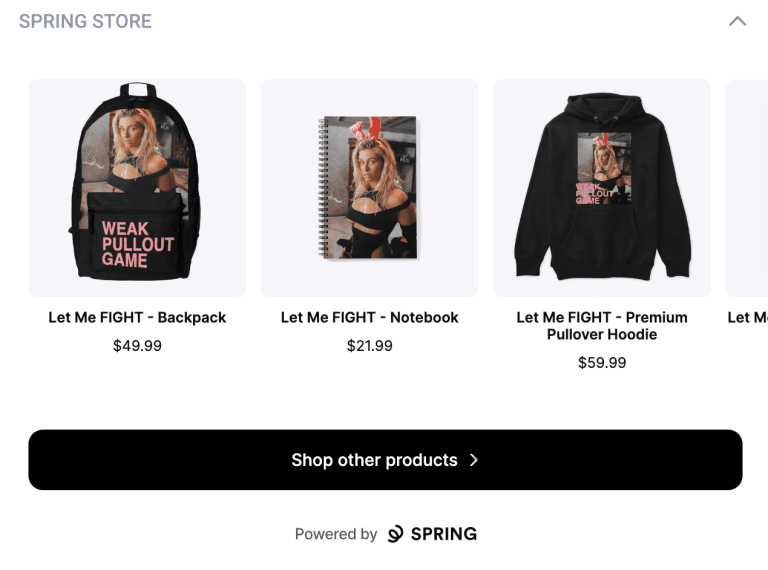 Spring,  the merch company formerly known as TeeSpring that just got acquired by Amaze, is a platform that gives creators a simple way to use their influence to launch mini-stores and verify their own custom branded merchandise. Springs provides creators with a wide array of products, from apparel and accessories to home goods and tech gadgets. Plus, they offer low minimum order quantities, no setup fees, no shipping costs, and fast turnaround times — allowing artists to ship orders within 2–3 days of purchase.
With the new partnership between OnlyFans and Springs, the platform's creators will have access to even more options for selling customized merchandise. This includes t-shirts, hats, mugs and other physical products featuring their designs. Creators will also be able to leverage exclusive deals from partners like Nasty Gal, Reebok, ASOS and Keds with off-the-shelf accessories.
How will this Merchandise Selling Process Work?
Partners who wish to sell merchandise through the OnlyFans/Springs platform will be able to use the "Merch" tab on their account page to take advantage of this new offering. This tab will be available for all types of partners, including creators, models, and partners with subscribers.
The process begins when a partner creates a product with visuals from their content library. Partners can select from clothing items such as long-sleeved shirts and tank tops that bear designs featuring logos and images used by the partner. The partner selects colors for the items and then creates an observable image for marketing or promotional use on the website front page or within follow-up emails sent out after purchases are made.
Once a product has been created, it is displayed in an online store through Springs where customers can browse and purchase different item colors in various sizes and styles. Once an item is purchased, Springs stores inventory and fulfillment while tracking customer information as well as printing (if applicable) and shipping the selected products directly to customers automatically ensuring ease of use for both partners and customers alike.
Partners receive payments instantly minus processing fees depending on their chosen payment method setup via Springs. All transactions are encrypted with secure 128-bit SSL technology processing which helps protect confidential information during billings processes, thus protecting its users' data integrity.
What Types of Merchandise Can be Sold?
OnlyFans has partnered with Spring to offer its partners the chance to increase their money-making potential. This new collaboration will now enable users to sell merchandise ranging from exclusive t-shirts, hoodies, hats and mugs, to limited edition items such as posters, custom Phone Cases and accessories. Merchandise items are available at various price points and all proceeds will go directly back to the creator. Additional products may be added in the coming weeks.
The advantage of selling merchandise on OnlyFans is that it allows you to express your own personal style and creativity as an influencer while still making money with a product you can physically keep or use in daily life. All items have been designed by premium The Springs creative agency experts and customers have the option to personalize some of these products. Furthermore, creators can share their designs and market them through multiple channels such as OnlyFans' integrated blog content feature or other social media platforms in order to reach out wider audiences.
Furthermore, creators now have access to tools that allow for organized inventory tracking and accurate reporting for orders and sales figures which makes operating an online merch store easy even for those unfamiliar with ecommerce tools. By partnering with Springs, OnlyFans partners now have access more merchandise options exclusive only on springs like Pet Carriers & Clothing!
Conclusion
In conclusion, the recent partnership between OnlyFans and Springs is set to provide a new revenue stream for content creators to tap into. Not only can they now offer a variety of merchandise and apparel featuring their names and logos, but they can also control the design, pricing and promotional strategy of their product lines. Both platforms are committed to providing social media influencers with creative ways to earn extra income through their content. We look forward to the growth of this collaboration as both companies have already achieved success in their respective fields.