Twitter is tackling its competition in its own new ways. They just suspended their open-source rival Mastodon's official account and hours later they are blocking users from tweeting links to servers for Mastodon.
Mastodon, which was released in 2016, gained popularity only after Elon Musk took over Twitter. There is another platform, Hive, which gained popularity and users after Musk's takeover. One such feature that distinguishes Mastodon and other networks is that the platform does not feature any advertisements, and the posts in the news-feed appear in chronological order and are not mastered by an algorithm.
Also read: How to create an account on Mastodon
As per reports, Twitter is also stopping users from adding links to their Mastodon account in their bios — calling them "malware".
Twitter users who are attempting to post links to their bios will receive an error message instead, which says: "We can't complete this request because this link has been identified by Twitter or our partners as being potentially harmful."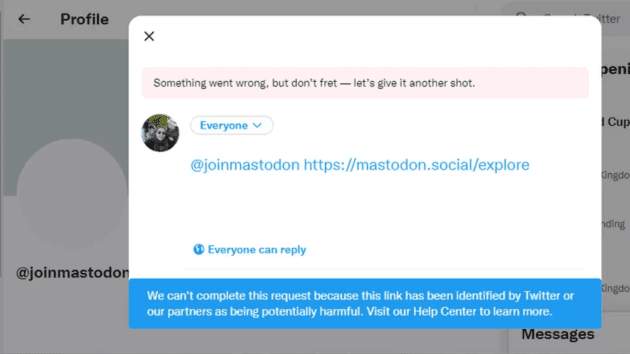 While the reason for banning Mastodon's official account on Twitter is still unknown, it is a speculation that Twitter suspended the account for promoting Elonjet on it's platform. This happened just a day after banning Elonjet and its creator Jack Sweeney on Twitter.
Elon Musk in a tweet clarified that any account which is found to be doxing real-time information of any person will be banned from the platform. Musk called it a threat to physical safety.
ElonJet that had more than half a million followers at the time of suspension tracked Musk's flights. The account was owned by 20-year-old student Jack Sweeney.
Related : Why are Twitter users switching to Mastodon? 
Jack , after being suspended from Twitter, headed to Mastodon to inform his followers about the suspension. He said that he wasn't given any prior warning or notice before the ban and that he was informed through email that his account was suspended for violating Twitter's rules against "platform manipulation and spam."