Looking for quick tricks to use Telegram for business? To know more about it, you must know about some handy Telegram channel features, discussed in this article.
Telegram is a social messaging app, allows you to communicate with anyone available on the network. It is quite similar to WhatsApp, in addition to it, Telegram offers other interesting features that WhatsApp doesn't have. However, the comparison between the two states that Telegram can be used to promote business/brand/content in many ways. For instance, on Telegram you can create groups, channels, subgroups, and even bots, all these tools are useful to grow your business.
Please note that Telegram enables you to create a large group of people, say over 200 members are added. And those members can further be upgraded to Telegram supergroup writer, which can be of up to 1,00,000 members. Therefore, this possibility of expanding and inclusive nature of Telegram makes it a grand marketing platform. You can easily announce updates and share information to so many subscribers at one time, this is a new kind of empowerment which was missing in other social networks.
How Telegram channels work for business?
Telegram channels are business channels as you can share posts, images, video, documents and more at one time with numerous added members. This feature is similar to a Facebook page where sharing information can depend on a different purpose and not particularly related to business.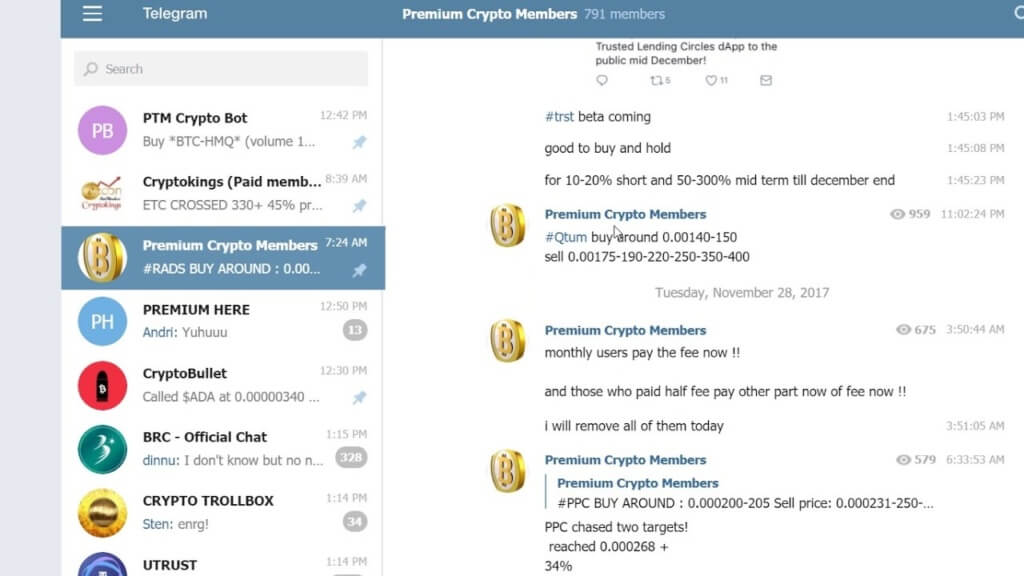 Both public and private channels can be created on Telegram, these channels have specific links so that they can be shared on the website and social media networks. These links allow anyone to access, search (only public channel) and be a part of that channel. Whereas private channel links can be joined by using the link, such channels cannot be searched for.
The best part about Telegram is you can access it on your desktop, or mobile. Plus, the chats on Telegram are secure on Cloud, and your mobile phone is not mandatory to be connected.
Set-up your Telegram channel
•    Name of channel
Create a channel and choose the right name for it. It should explain what the channel is about. Channel members should get an idea about it in precise words.
•    Display Picture
A high-quality logo or photo is recommended to be added. Add a photo that is suitable for the given size and shape of the profile picture.
•    Description
Add a brief detail about the channel, what is the purpose and what kind of content will be shared on it. As it is visible to the members, it has to be introductory, engaging and meaningful.
(See also: Content Promotion Strategies on Telegram)
•    Type of channel
Whether it should be public or private, you should decide it depending on the objective of the channel. For example, if it is about news updates, it can be public. But in case it is about the internal matters of an institution, it should be private.
Please note that private channels can be joined only when someone decides to invite you and shares that unique link.
•    Links/URL
You can create either public and private links for channels to share it with others. A public link will look like t.me/username. This username would differ from profile to profile, you can access it anytime.
Whereas, a private link looks much more complicated and includes unique characters, which are generated for one-time use to invite others.
Edit settings
Once you set-up your account, you can make changes later. By logging in, click on your channel, go to 'channel info'. You can easily edit all the details such as Name, photo, channel type, description and more.
You can also choose to activate 'Sign messages'. By activating this, all your messages will have your name attached to it and not the channel's name. This option is turned off by default, so that channel name and logo appear with the messages.
(See also: 10 Amazing Tips to Increase Telegram Channel Members)
ELEMENTS OF TELEGRAM YOU SHOULD KNOW ABOUT
Telegram Groups
Telegram groups are almost similar to Telegram channels, the only difference is that participants of a group are allowed to start a conversation, which is not the case on a channel. You can simply add contacts and create a group to communicate with each at one place.
Like channels, groups are visible on the contact list, and when the messages pop up, they appear at the top of the list. However, there can be up to 2,00,000 members and it is not always soothing to receive so many messages frequently. Therefore, Telegram also enables you to control and manage the group with the help of additional tools.

Telegram even allows you to add new members so that they can read the previous chats when they were not a part of the group. Also, you can appoint more than one admin to a group, with some extra privileges.
Telegram Secret Chats
These chats on Telegram are encrypted from sender to receiver, which means no one can access the data as it is stored on Cloud in an encrypted format. This is again similar to WhatsApp end-to-end encryption policy.
Telegram secret chats have history saved on the devices of the two, who were in conversation. This means that the user can create a self-destructive message, which would be visible for a limited time and to add to this, not all phones allow you to take screenshots. So, this can be a safety feature to use, if your data is a secret that you cannot afford to be leaked.
Telegram Passport
This is a space allotted to you to store personal identification documents, such as a passport. Once you upload the document and verified it, you are allowed to use Telegram Passport at selected financial institutions, which ask for your KYC.
Such a transaction is mostly for digital currencies like Bitcoin, Blockchain, and others. Telegram groups are quite a popular medium for cryptocurrency transactions. Most of the companies, choose Telegram to start with Initial Coin Offering (ICO).
In the community of cryptocurrency, Telegram is a great platform to provide solutions.
Summary
To make Telegram helpful for your business, you need to understand the use of the above features and manage them as suitable to your profile. Make sure you add relevant contacts to the channel and circulate the public link on all social networks, and forums. With quality content, you can expand your community and make the best use of the marketing tools available.