Disboard is a Discord server listing and discovery website. It allows users to browse and discover thousands of Discord servers across a wide range of categories and interests, including gaming, music, art, education, and more. The servers are listed and ranked based on various factors, such as the number of members, the level of activity, and the overall community quality.
In addition to browsing and discovering servers, Disboard includes features such as server tracking, customizable banners and descriptions, and the ability to advertise your server to a wider audience.
Overall, Disboard provides a convenient and user-friendly way for people to find and join new Discord servers, as well as for server owners to grow and manage their communities. Getting your server listed here will significantly improve exposure and engagement of your Discord server.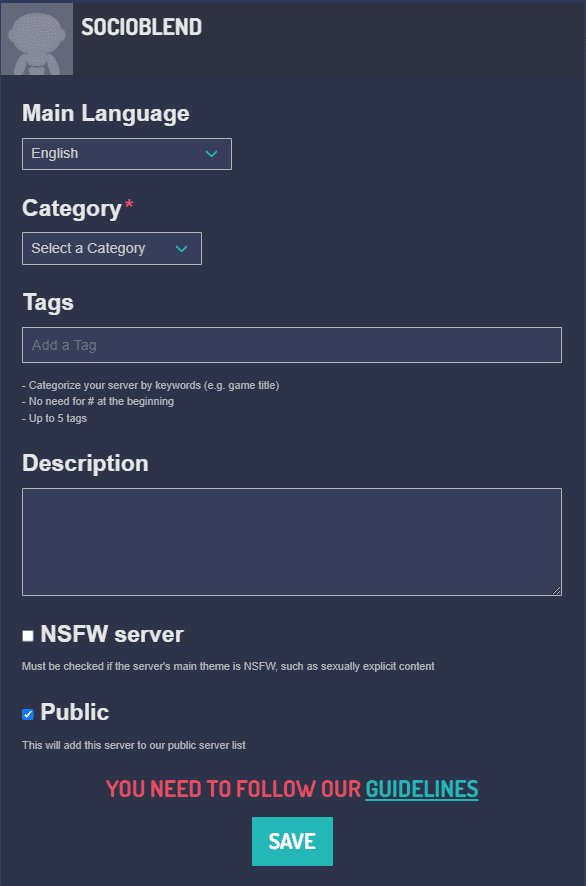 To put your Discord server on Disboard, you need to follow these steps:
Go to Disboard.org: Start by visiting the Disboard website (https://disboard.org/) and logging in with your Discord account.

Submit your server: Click on the "Submit Your Server" button on the main page and fill out the form with your server's information. You will need to provide your server's name, description, and invite link.

Verify your server: Disboard will send you a verification code that you will need to enter on your Discord server. This is to confirm that you are the owner of the server and to ensure that your server meets Disboard's guidelines.

Set up categories: Disboard allows you to categorize your server based on the type of content it offers, such as Gaming, Anime, Music, etc. Select the appropriate categories for your server.

Set up tags: You can also add tags to your server to make it easier for users to find. Examples of tags could be "Fortnite", "Roleplay", "Art", etc.

Finalize: Finally, review your server's information and make sure it is complete and accurate. When you are ready, submit your server for review. Disboard will review your server and, if it meets their guidelines, will add it to their directory.
3 important rules that you need to follow on Disboard
It's important to keep in mind that Disboard has strict guidelines and they may reject your server if it violates any of their rules. Make sure to review their guidelines before submitting your server to ensure that it will be approved.
The specific requirements for joining the Disboard Discord server may change over time, so it's always best to check their website for the most up-to-date information.
See also: Buy Discord Members
Confirming that you're not a bot: Disboard may require you to complete a CAPTCHA or other verification process to prove that you're a real person and not a bot.

Following the server rules: Disboard may have specific rules for behavior in their Discord server, such as no spamming, no hate speech, or no posting of inappropriate content. Be sure to read and follow these rules to ensure that you can continue to use their services.

Participating in the community: Disboard may require you to be an active member of their Discord server and participate in the community. This could include responding to questions, sharing your experiences, or helping others discover new Discord servers.

These are just a few examples of the requirements that Disboard may have for joining their Discord server. Be sure to check their website for the most up-to-date information and requirements.
Disclosure: This article was written with the help of an AI and curated by our editor.
Quick Access