With the advancement in technology, millions of data are generated daily by millions of marketers online to grow their brands or services. But most of this content is in text format, designed mainly for search engines. While the text content is suitable to rank on search engines, it is not always the best way to convey your idea or story behind a particular product/service. Sometimes all you need is a compelling infographic to convey the relevant information in a visual format instead of long paragraphs. While infographics can be highly beneficial as a content strategy tool, only a few marketers effectively use it in their marketing strategy. Today, we will disclose eight crucial reasons why you should use infographics as your content marketing strategy to grow your brand better. Let's begin.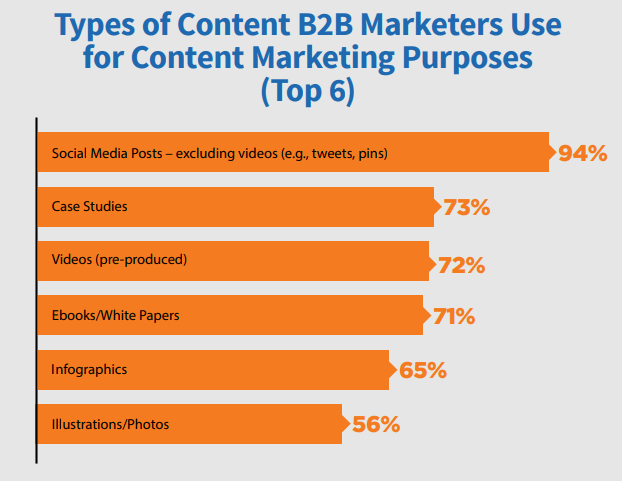 Check: How to Create Engaging Content
Why you should use Infographics more in your marketing strategy? – 8 Remarkable benefits & advantages
1) Visually more attractive and understandable
As we all know, the human brain processes visual information 60,000 times faster than text content. Furthermore, according to the research, the human brain is 40% more responsive towards visual content as it is more attractive and straightforward to understand than long textable content.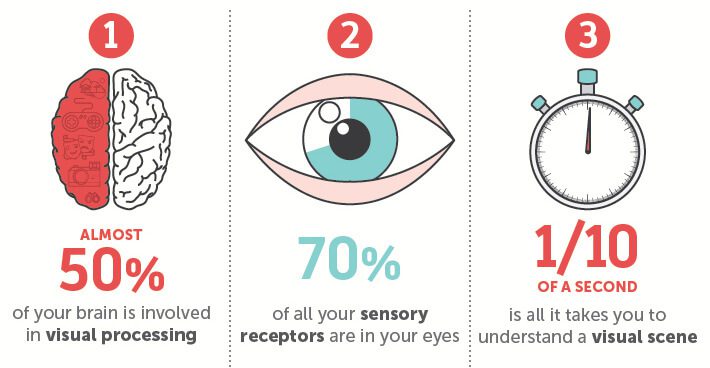 Both text and graphics are crucial tools of communication and incomplete without each other. You cannot process the text content fully until there is no graphical representation related to it. Similarly, a graphic with irrelevant text is of no use. So, to convey the information simply and attractively, infographics can be a great medium but when created with the relevant information.
2) Can easily catch your targeted audience's attention
We tend to get attract towards compelling visual data like facts, figures, stats, and other graphical elements more than the boring text content. It is always easier to capture your target audience's attention with a compelling graphic than some long paragraphs filled with lots of information.
There is a high probability that your audience might miss some valuable lines you want to grab their attention to just because it is written in long text paragraphs. But they will undoubtedly remember the information you are trying to provide using a compelling graphic as it captures their attention.
3) Great Way to tell stories or ideas
Visual graphics has always been a better way to tell stories or share your ideas using less text with relevant pictures. When you present a story or a statement in a visual format, it comes to life, and people start imagining it in their minds. Same results you cannot achieve with a press release or a blog post as it will lose the essence of your idea or creativity. So using a compelling infographic, you can convey your concept or stories to people in the right way.
4) Can Increase your brand awareness
One of the significant benefits of Infographics is that you can use all your crucial brand elements smartly, like your brand logo, email id, contact details, call to action, etc.
According to the research, Infographics increase your website traffic by 12% by showing people what your brand is all about, which you might fail to explain in some long paragraphs.
5) Easily can be viral
Visual content is more likely to be shared by users as a form of information than text content. So if people find an infographic valuable and relevant, they tend to share it among their circle and on their social media platforms, making it easy to get viral.
6) Perform better on search engines
Infographics are not only a powerful tool for your content marketing strategy but can also improve your search rankings. When people find your infographic valuable and relevant, they tend to include it in their blog post by giving you a source link. The more links you will get, the more authority your site will get on google, which will improve your ranking position on Google and other search engines.
You can also improve the search ranking of infographics by including keywords in your title, alt text, and meta description.
7) Portable and easy to share on multiple platforms
While you cannot share the long text paragraphs or website links everywhere, you can definitely share a compelling infographic on almost every social media platform to spread the word, making it portable and easy to share.
Also, other people can easily integrate your infographic into their blog post or website by copy-pasting the embed code, which will automatically link your site as an attribution for using your content.
8) Easy to track with analytics
Infographics can be easily tracked to understand your audience insights using the embed code. The analytics will provide you all the crucial data, such as how many times your infographic is being clicked, viewed, or shared by other people, which will help you understand which content is performing well and which one requires more improvement.
Also Check: Best Tools for Content Creators
Final Words
With these eight crucial reasons, now it must be clear why you should use infographics as a powerful content marketing tool and how it can improve your site ranking & search results. But to get the best results, infographics must be well researched and well-informative so that other people can get benefit from them. Don't see Infographics as a tool to build links only, as they are certainly more powerful & valuable than that.
You can use free online tools like Canva, Piktochart, etc., to create compelling infographics for free. If you have any queries related to these tools or other social media platforms, get in touch with us in the comments. Keep learning, keep growing.