For the past few weeks, the famous microblogging site Twitter is continuously launching new features from "Super Follow" to "Tip Jar" to enhance the user experience on the platform. In addition to that, Twitter will soon launch two exciting features on the platform: Tweet Reaction Picker and Unmention Yourself from the unwanted tweets, according to the Reverse engineer Jane Manchun Wong.
Jane Wong has shared the screenshot of this latest reaction picker feature on which the platform is working, and according to him, the company will launch it anytime soon. Here is everything you need to know about these two latest features to use them like a pro in future.
Check: Latest Twitter Super Follow Feature
Everything about Twitter Latest Features: Reaction Picker & Unmention Yourself
Twitter Reaction Picker:
This feature will give users five different emojis, including 'Like,' 'Cheer,' 'Hmm,' 'Sad,' and 'Haha,' to choose from, as per the image shared by Jane Wong. The emojis for "Hmm" and "Haha" will be similar to the Facebook emojis, and the rest three seem to have hearts (as a placeholder) for different reactions.
Jane or the officials has not yet revealed the release date of the tweet reaction picker feature, but since the platform is working on it for quite a time, you can expect it anytime soon.
Unmention Yourself from Tweets: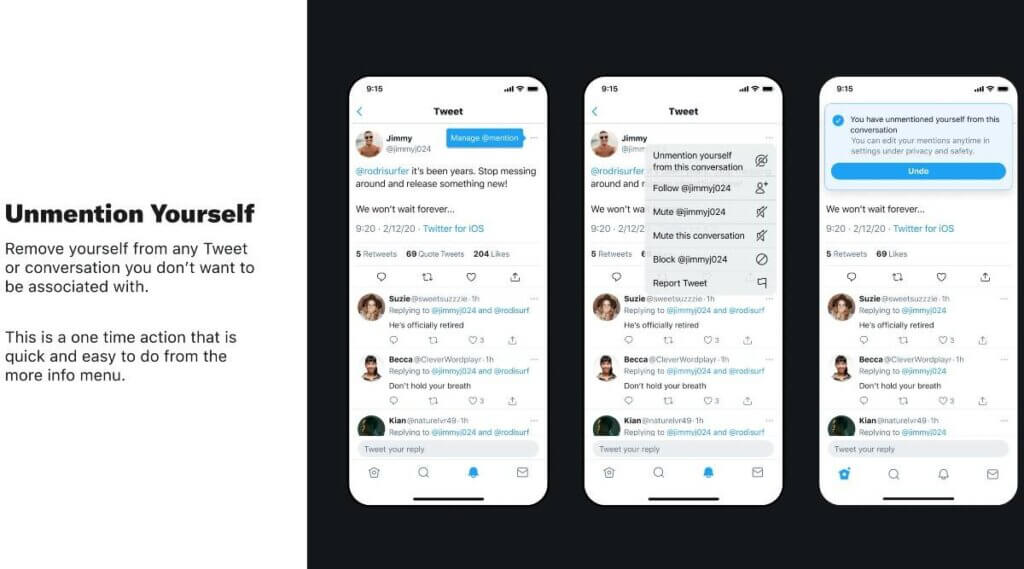 Apart from the reaction picker feature, Twitter is also working on another unique privacy feature that will allow users to unmention themselves from the unwanted tweets done by the people they don't know or follow.
A Twitter engineer, Dominic Camozzi, posted a series of tweets explaining how this "Unmention Yourself" feature will work for users. According to the tweets revealed, If a user is not following a person who mentioned him/her in any tweet, then they will get a special notification to "unmention yourself" from there.
The option will be available in a three-dot menu next to the tweet, allowing the user to untag him/her from that particular tweet. Once you untag yourself, the tweet author will not be able to mention you again. This feature is an early concept to control privacy & unwanted attention.
Users will also get a different option to restrict particular accounts from mentioning them by selecting the duration from "three days" or "seven days." These additional features will help users protect their privacy and control whom they want to interact with.
Also Check: Twitter Fleet Ads for Brands & Creators
Final Words!
Although the company has not officially revealed anything about releasing these two exciting features, we can expect them anytime soon as the platform is rigorously working towards retaining the users for a long time. We will keep updating this thread once the officials reveal the release date and other important information regarding these features. Till then, stay tuned with us & keep checking the latest social media & technology updates on our blog.